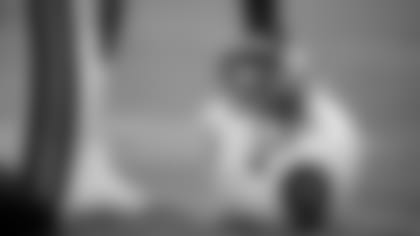 ](http://www.titansonline.com/news/ask-jim.html)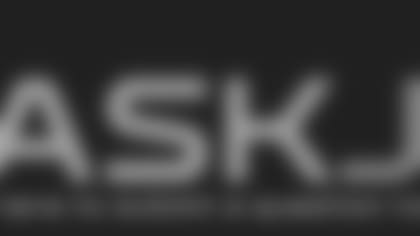 ](http://www.titansonline.com/news/ask-jim.html)
NASHVILLE, Tenn. – Well, the day is finally here.
The Titans kick off training camp on Saturday at Saint Thomas Sports Park. The first practice is scheduled for 2:40 p.m.
Let's pass the time with a Titans mailbag.
Nick Reinhart from New Riegel, Ohio
Question: Going to be going to my first Titans training camp this year I was wondering if they have set schedules on when they are going to be in pads practicing. Thanks.
Jim: Hey Nick. The first padded practice will be on Monday, at 8:55 a.m. So you'll have to get up early to see it if you come to town. There's no set schedule on when the pads will be on after that, but Titans coach Mike Mularkey likes the team practicing in pads. Only a few of the practices will feature the goal-line drills we all love to see, but there will be contact.
---
Doug Sullins from Johnson City, Tennessee
Question: Dear Jim. What Titans should I choose for my fantasy football teams?.............GO TITANS!
Jim: Well Dave, I usually hesitate to give advice for fantasy football. It's not that I don't have opinions. I just don't want to give away secrets to my competitors. :)
Did I mention I won my league last year?
---
Ryan Stowe from Bradenton, Florida
Question: Hiya Jim. I wanted to know your personal input on what you think Corey Davis could improve on to transfer his ability to dominate corners in college to doing the same against NFL corners and defenses? What do coaches Terry Robiskie and Frisman Jackson bring to the table in building him up to be another Julio Jones perhaps, seeing as though Robiskie helped coach him up back in Atlanta. Thanks in advance for your input and as always, TITANUP!
Jim: Hey Ryan. Corey has the body to dominate. He's big and physical, and has strong hands. I expect him to catch a lot of balls in the 8-10 yard range this fall, and turn them into big gainers by breaking tackles. And he has the perfect mindset for Robiskie and Jackson. Those are two no-nonsense guys, and that fits Corey's personality.
---
David Hosein from Surbiton, England
Question: The Titans are now one of 6 teams that have not played in London. One assumes it is due to the Titans not wanting to give up a home fixture but will they have to play soon under NFL rules?
For most of their time in Tennessee they have been a run side first and pass sparingly. Do you see us changing style in a big way or just being more effective in the passing game.
Obviously looking forward to seeing Adoree Jackson all over the field. But do you think the coaches have good idea who will start now  on secondary with a tweak or is everything up for grabs? With the DL, LB's, OL one feels that most slots are filled bar injury.
Jim: Hey David. This is really the NFL's decision. I really expect it to happen at some point, and I think it would be cool. As for the offense, I think it could look different on a game-by-game basis. Yes, the team is still built to run with DeMarco Murray and Derrick Henry. But with some of the weapons on offense, and a playmaking quarterback in Marcus Mariota, the team is going to throw it around on a lot of Sundays, especially if teams load up the box. As for the cornerback position, there's a lot to be determined. Camp will provide a lot of answers.
---
Rafa Ochoa from Saltillo, Coahuila, Mexico
Question: Hi Mr. Wyatt! Last year you help me out a lot when I went to Nashville, and you even autographed a hat for me! Really thanks. This year I need your help in another town, I am traveling to NRG stadium for the October game, with another 20 Mexican Titan fans. All we want to know are a few thing, maybe you can´t answer all of them, but at least 1 would be awesome. What's the tunnel section at NRG stadium that the TITANS use for entry/exit?? Is there a better place to get an autograph at that stadium? At what time does the team arrives at the stadium for warmups?
We are anxious to buy the tickets, and don't want to be far behind if someone buys them first. Keep up the good work. Dr. Rafael Rodriguez Ochoa.
Jim: Hi Dr. Ochoa. Sorry to decrease the value on the hat with the sig! Looks like the best sections to be by the tunnel in Houston are 132-133. I think that's your best bet to get photos, possibly autographs, and a shout-out. The players usually start taking the field a few hours before kickoff, so when the stadium gates open you should come in to get the best spot until ushers clear the area for fans in those seats. And hopefully you'll be lucky enough to find tickets low in that section, or around it.
---
Mr. O Titan from Bay Area, California
Question: Jim- Happy to say I'll be attending my first Titans game in Nashville on opening day vs. the Raiders. In my case I'm excited the season is so close. My question is this … based on our current WR position group I cannot  see Harry Douglas making the team (my opinion only of course) so based on this what is his current contract status and would you see my trade value, say for another DB?  I like Harry and apologize if this question sounds cold but I am thinking with a football "business" mind on this. Trying to keep this short but thanks for all you do for us Titans fans!
Jim: Hey Mr. O. It's a fair question. I can get to four really quickly at the receiver position in Davis, Rishard Matthews, Eric Decker and Taywan Taylor. Assuming Tajae Sharpe is good to go coming off his foot injury, that's five. And that's not country Eric Weems, which would make six. A lot of others are also in the competition, including Tre McBride. So the competition will be fierce. But you never know what can happen in camp, when coaches and GMs pray they can avoid injury. As for trade value for Douglas, well, I'm sure other teams have done the math on the Titans and their receivers as well. Not everyone is going to make it, so teams might choose to be patient and see who shakes out before giving something up. That's just my thinking. I also know this: Douglas won't go down without a fight, and he has value on the team because of his experience and leadership role.
---
Jay D from Boston, Massachusetts
Question: Hi Jim. Do you think the Titans will use 3 or 4 WR sets more this upcoming season now that we have a wealth of talent at the position?
Jim: Hey Jay. As I mentioned to David, I could see things changing from game to game. But I do expect to see more 3-4 wide sets this year. The team is suddenly very talented at the position, and I suspect coaches will take advantage of it.
---
Bradley Dion from Camden, Tennessee
Question: Hey, Jim. I've been a Titans fan for most of my life, but I have to say that I'm more excited for this season than any in the past. Do you think the addition of Corey Davis will make an instant impact on the deep ball game for Mariota? I know he's at his best closer, but I'd love to see what he can do with a true #1 receiver down the field.
Thanks Jim, and #TITANUP!!!
Jim: *Hey Bradley. You're not alone. I can sense fans are fired up. I do think Davis will make an immediate impact for Mariota. But I'll also say this: Mariota has more options than ever, so I think a lot of guys will get fed.  *
---
Patrick McManus from Charlotte, North Carolina
Question: Hey Jim. First off I want to say thanks for live tweeting the games! I am usually glued to my phone following your posts because I am in Charlotte and the Titans are never on TV here.  My question is why aren't they releasing the autograph schedule this year?  I am coming Nashville for training camp the week they practice with the Panthers and going to the game.  I was planning on making another day trip whenever Marcus was scheduled to sign.  Any tips would be greatly appreciated!!  Thanks for all you do Jim!
Jim: Hey Patrick. Glad to enjoy it. I sometimes hesitate to live tweet games so much because some on my Twitter feed think it's annoying. I know a lot of them are watching it live, and I also know the TV broadcasts are behind the live action, so sometimes the tweets ruin the surprise. But I also realize folks like you are out there relying on it to stay updated, so I appreciate you letting me know. I don't plan to do play-by-play during games, but moving forward will continue to hit the highlights. As for the autograph schedule, it is new. The guys signing won't be released in advance, but more guys will be signing each day, probably 15-20 on open practice days.
---
Steven Crosio from Brick, New Jersey
Question: Can we expect big trades coming up in Training Camp or during the middle of the Preseason?
Jim: Hey Steven. Well, with Jon Robinson you never know. The Dorial Green-Beckham-Dennis Kelly trade happened in August last year, and we've seen him pull the trigger on a lot of deals. I suspect he wants to see how some things play out in training camp to help him decide where he might need help. So we'll have to wait and see. But nothing would surprise me with JR.