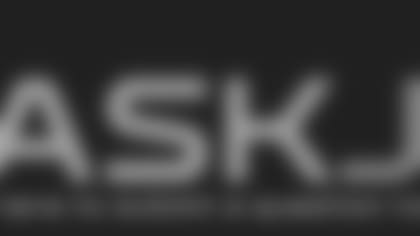 ](http://www.titansonline.com/news/ask-jim.html)
The NFL Draft is still a few months away, but some of the top prospects will come into better focus at the NFL Combine in the coming week.
I'll be in Indianapolis, so make sure to check Titans Online for updates.
First, let's open some mail. Thanks for the questions …
Kevin Donahue from Wharton, Texas
Question: With all the positions that need to be filled, would it be wise to trade the 1st pick?
Jim: Hey Kevin. Personally, I like the idea, but there's a lot to be determined between now and then. Might the Titans fall in love with one of these draft prospects in the coming months? Will another team be willing to move up, and give the Titans what they want in compensation? With plenty of needs, I'm all for getting extra picks. But I wouldn't want to move too far back in the first round either. Some great prospects will be available early at a number of positions.
---
Dave Clark from Ocoee, Florida
Question: Hey Jim, enjoy your work and following you on Twitter (golfdoctor911). Keep up the good work! A lot of the questions I have read on here are ones that I have wanted to ask myself, so I am going in a different direction here. Who decides the uniform options for home and away games? Bud was a huge fan of employing the Columbia blue in the uniform from the Oiler days. Even in Tennessee we used it in our alternate jerseys as well as our away game pants. And what about "code blue"? I actually miss the light blue in the uniforms and wondered if there were any talks of bringing it back or changing things up a bit? The all white is so vanilla and I wasn't a fan of the all blue, home option. Thanks Jim!
Jim: Hey Dave. Appreciate the question, and for following me on Twitter. Ownership makes the call on the uniforms, and the decision is made long before the season starts on the uniform color. Mr. Adams loved the Columbia blue, and that's why you saw the Titans wear those uniforms back them. Tommy Smith, who initially took over after Mr. Adams passed away, wasn't a fan of the light blue, so that's why the team moved back to the home whites so often. Now the navy blue is back, and I expect we'll be seeing that a lot again in 2016. Keep in mind teams will be wearing the alternate uniforms again in 2016, so there's a wild card that will need to be factored in. Will the Titans wear the light blue uniforms like they wore in Jacksonville last season? Might they break out some new red uniforms? Stay tuned…
---
Donny Bee from St Louis, Missouri
Question:I'm a former diehard Rams fan who takes his broken heart to Titan country. With relatives and just a fan of the state of Tennessee it seemed like a natural fit. With that said I don't know a ton about the players besides the obvious Marcus Mariota, DGB, and Delanie Walker. Oh, and that DT Jurrell Casey -- I thought he looked like a stud the few times I seen them play. So what's the big needs going in this year? Also any suggestions on how an out of towner can catch the games? Whether it be TV or radio?
Jim: Hey Donny. Welcome aboard. You definitely hit on some of the key players. The Titans could use a back like the Rams have in Todd Gurley. Think he'd be willing to join you in making the switch? Seriously, the team needs to improve at running back, and up front on the offensive line. Mariota was sacked 38 times in 12 games last season, and that can't happen again. The team needs more consistency at the receiver position, where some help could be on the way. Help is needed in the secondary. As for watching games on DIRECTV, the NFL package is clutch. Games can also be heard on Sirius/XM.
---
Wes Aymett Ashland city, TN
Question:  Jim, I really enjoy hearing your comments on 104.5. With Jon Robinson coming from Tampa, do you see a possibility that the Titans might go after Doug Martin in free agency?
Jim: Hey Wes. Thanks for listening, and for the question. I like Martin. And he's coming off a heck of a year. Two things could complicate things for teams interested in Martin, however. I read somewhere Martin is looking to "hit the jackpot" in free agency. That's a little intimidating, especially at a time when running backs are being devalued. Plus, I suspect the Buccaneers will try to keep him. I think the Titans need to get better at the position. Whether that comes in free agency or the draft will be interesting to watch.
---
Isaiah Allen from Nashville, Tennessee
Question: Hey Jim. I have been a Titans fan since 2008 and really want the team to succeed next season. I feel like there is a lot of potential at Wide Receivers and Tight Ends -- for example, Dorial Green-Beckham, Kendall Wright, Justin Hunter and Delanie Walker. I feel like they will improve under the new head offensive coordinator but do you think that that the Titans might draft another talented receiver using the No.1 pick? Thanks and Titanup.
Jim: Hey Isaiah. Thanks for the question. The Titans do have some potential at receiver, but Hunter and Wright are both headed into the final season of their respective contracts, and so is Walker for that matter. DGB showed potential in his rookie season, but he needs to be consistent in his approach and production moving forward. Now, to your question. I believe the team will add to the cupboard this offseason, but I can't necessarily see it with the first overall pick. Frankly, I'd be surprised. Ole Miss WR Laquon Treadwell is regarded as the top WR available in the draft, but I don't think he's worth of No.1. I love some other WR prospects in the draft, like Oklahoma's Sterling Shepard. I was impressed with Ohio State's Braxton Miller at the Senior Bowl. Some other good ones will be available in the draft, and free agency. The Titans will address the position, but not at 1. At least that's my thinking.
---
Deanny Scott from Red Boiling Springs, Tennessee
Question: Jim, I know I'm just a girl. But I know a little about football, and my dad has been a season ticket member since the Titans have been in Tennessee. But besides that, are you think Derrick Henry could be a second round pick? I was reading the other questions people were leaving you and you said he could second round pick the draft, but I'm just a little confused on how Henry could be a second round pick, I mean is was the Heisman Trophy Winner? But what about Leonard Fournette, is it possibly we could get him? I really just think we need somebody to block for Marcus. Is there anybody in the 2016 NFL Draft that could block for Marcus? Sorry for so many questions, just really excited to see what the 2016 Seasons is gonna be like. Thanks, and titan up!
Jim: Hey Deanna! Thanks for the question. You're welcome here any time. Sounds like you're in the know. Props to pops? Henry was a great college player, but running backs just don't fly off the board like they used to in the NFL Draft. And most consider Ohio State's Ezekiel Elliott a more well-rounded running back, so the thinking here is he'll go before Henry. As for Fournette, I really like him, but he's not eligible for this year's draft. He's a special player who could definitely go early when he comes out. And yes, the Titans are eyeing players who can block for Mariota. That's key.
---
Steven Tilton from Safford, AZ
Question: Hi Jim, just want to say thanks for doing such a great job keeping all of us informed.  I love reading about the Titans since I don't get to watch many games living in Arizona. As the offseason for the Titans progresses now that a coaching staff is in place, I was just wondering about the general atmosphere and routine in "the office" at this time of year.  I understand players are gone doing various things and the Senior Bowl just wrapped up, but is the coaching staff working every day and if so, what seems to be the focus these days?  I think they get time off and some point, but wondered what kind of activity will be happening around our football team in the next couple of months.  Thank you again for your time and efforts in keeping us all in the loop!
Jim: Hey Steven. It's been a pretty hectic stretch for coach Mike Mularkey, as he was busy putting together his staff. General manager Jon Robinson has been busy, too. Last week, the scouting staff was in town for pre-combine meetings, and the team is making moves – Michael Griffin released, Craig Stevens re-signed. Everyone will head to the combine in Indianapolis next week. Players have been in the building working out, but the offseason program doesn't start until April 18. But there will be a lot of activity between now and then. Free agency begins next month, and there will be visits from free agents and draft prospects leading up to the NFL Draft. In others words, there's rarely a dull moment around the facility.
---
Andrew Steck from Salt Lake City, Utah
Question: Hi Jim. Long-time fan here, this segment is a great way to include fans like myself in things involving the franchise. My question is, and I know this may be a little biased, but I believe that there is a very skilled RB coming out of the University of Utah, Devontae Booker. He has great hands out of the backfield, is a very skilled runner with great hands and hardly puts the ball on the ground. From all I've seen as far as mocks go they have him as a 3rd or 4th rounder, he was the feature back for the Utes for 2 years often carrying the ball 30 times given the offensive scheme. What's the perception of him within the franchise? Should he be worth a look at the combine? I feel he could fill a huge void in the Titans backfield and be a steal in the draft.
Jim: Hey Andrew. I like the looks of Booker, and the sound of him, too – thanks to your scouting report. Booker is regarded as one of the top backs in the draft behind Elliott and Henry. He's projected as a second- or third-round pick. I know he suffered a knee injury at the end of last season, so he'll need to prove he's healthy and ready to go. But he's definitely an intriguing prospect. I'll keep an eye on him at the combine.
RECOMMENDED: