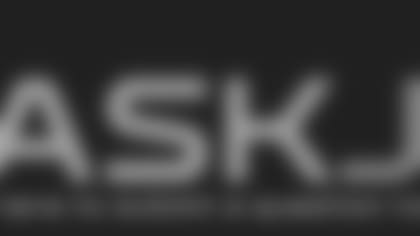 ](http://www.titansonline.com/news/ask-jim.html)
Well, it's the last mailbag of February.
Time is flying by, which means free agency and the draft continue to edge closer.
I leave for Indianapolis, and the NFL Combine, in a couple of days.
But first things first. Let's knock out some mail….
Mike Kopriva from Las Cruces, New Mexico
Question: Hi. What is the real status of Jace Amaro? A 6'6" possession receiver that has good hands and focus, and is as fast or faster than Delanie Walker would seem to be a slam dunk to be playing. I don't care if he is labeled as TE, play the guy as a WR. Comes down to it, Mike Williams is pretty much the same speed as Walker.
Jim: Hey Mike. The story on Amaro is he needs to become a better blocker. That shouldn't come as a surprise. It was the big question about him coming out of Texas Tech, where he caught a ton of passes, and it remained with him in New York before the Jets waived him. I thought Amaro looked good in practices, and when he got a chance in games, he made some plays. He just needs to keep improving, and coaches will continue to work with him. I think he's a guy who could develop, and help. But he's a tight end. Sure, he could line up outside, but he's a tight end in the Tennessee offense.
---
Chris Harris from College Station
Question: Hey Jim. Any idea on who John Robinson's top 5 receiver candidates are in this year's draft? I'd like to do my own homework.  Thanks Chris.
Jim: Hey Chris. No way he'd tell! Nice try, though. :)
---
Sadhish Siva from Manchester, Tennessee
Question: Hey Jim. Longtime reader, first time emailer. Absolutely love your work and enjoy your Ask Jim column.
My email has to do with the Titans logo on the helmet. Given the reference of the "Flaming Thumbtack," it really doesn't represent the might of the Titans it symbolizes.  As was mentioned previously there is going to be an upcoming uniform change and I hope that the symbol on the helmet can be updated to more accurately reflect the Titans of mythology.
I humbly submit my suggestion and hope you can pass it along to the decision makers on my behalf:
I envision a rendering of the Titan Atlas on the helmet, with his arms and body forming a "T" for Tennessee with the world in his shoulders. Inside the globe could be 3 stars also in reference to Tennessee state flag or even the current sword.
I think it would be a huge improvement over the current flaming thumbtack with homage to both the state of Tennessee and a reference to a namesake of the team itself. Would love to hear your thoughts on this.
P. S. If this idea ever gets chosen I would love to get a signed Mariota jersey for my contribution 
Jim:  Hey Sadhish. Interesting take. It's my understanding the adjustments will be to the uniform, and not necessarily the logo. But I'm not in those discussions. The "fireballl" is how Titans GM Jon Robinson likes to refer to the logo, instead of the "flaming thumbtack." If your suggestion gets used, I'll make sure you get that jersey signed, though. :)
---
Austin Miller from Chattanooga, Tennessee
Question: Hi Jim, I just wanted to say that you do an excellent job, and everything you do is really appreciated. I know you have had to answer a lot of questions about the draft, free agency, and roster, so I won't ask any of those. Something I noticed about the Titans this year is that the camaraderie on the team seemed to be stronger than ever. Even though the goal last season was to develop a winning culture, I would say they emphasized a family culture. Do you think this sets the Titans apart from other teams in the league?
Jim: Hey Austin. I appreciate it. I can't speak to other teams since I'm not around them on a regular basis, but I will say this: the camaraderie, and locker room atmosphere, has improved dramatically compared to recent years. It wasn't too long ago when some of the players seemed more like "me" guys. I'm not going to name names here, but some guys were more worried about their individual accomplishments than team goals. The bad apples have been weeded out. Robinson and coach Mike Mularkey deserve credit for identifying the right guys, but the players have done a good job of policing one another, and getting everyone to buy in as well. DeMarco Murray has said on several occasions he's been impressed with how the players on offense and defense mingle with one another. He said it's different than any place he's been. Tim Shaw's involvement brought the team closer together as well. It's a much improved locker room, and I think that helps on Sundays.
---
Randy Phillips from Mount Vernon, Illinois
Question: Call it a dream scenario but I would love to see the Titans address the secondary in FA by signing Eric Berry and A.J. Bouye or Trumaine Johnson, and then get Marcus Mariota a few 1st round weapons by drafting Corey Davis (my 1st choice), and Mike Williams or O.J Howard. I don't know about you but I am a little leery of Alshon Jeffery and T. Pryor at WR. I would rather see the Titans spend big money on proven defensive players, and draft the best available skill position players early in the draft.
Jim: I hear ya Randy. On some of the free agents you mentioned, I'm curious to see if their current teams are going to find a way to keep them from hitting the market before March 9. I like some of receivers in the draft, but the GM hasn't clued me in on what he's thinking as far as rookie vs veteran. I think it will be a combination of the two. I do know free agency is going to impact what happens in the draft, so we'll get some clues soon. See ya at Steak 'n Shake.
---
Randy Howard from Kennett, Missouri
Question: Hey Jim! Thanks for all the updates! My question is about our wide receiving corp. We all know that it has been one of the areas that most people have critiqued over the past years, yet we are a staunch run first type team. My question is, have the coaches given any indications as to how many WR's they would like to keep for our final roster? I know we love to use our tight ends in slot positions and with a beast like Walker, Why not! But, if we do go after Davis, Williams, or Ross, not to mention anyone we pick up in free agency; how does that fit in to the number of spots the coaches want to have dedicated to the position? Thanks again for the updates and all things Titan! #TITANUP #2017OURTIME
Jim: Hey Randy. As far as numbers go, I'd say five or six end up on the 53-man roster. It depends on how many are worthy of a spot, and how many can help on special teams. Rishard Matthews, Tajae Sharpe, Harry Douglas and Tre McBride all remain under contract for 2017, but not all can be considered locks at this point. So look for additions in free agency and the draft, at least that's what I am expecting. And then the battles will be fun to watch.
---
Mario Bradford from Indianapolis, Indiana
Question: Hey Jim, thanks again for replying to my last inquire I wrote a few months ago… I enjoyed your input so much I had to write again lol.  Not sure if anyone has asked this question, but I'm almost positive they probably have but if so I missed it and apologize for asking again.
Like most of us that write to you I am a loyal Titans Fan, and have been since the switch over from the Houston Oilers. We are excited about the up rise of our team and are looking forward to them being contenders in the near future. We did amazing in 2016, so much better than the years before excluding the Steve McNair era.  But of course we have much room to improve on if we are looking at Playoff status and can't even start to talk about Super Bowl yet until those holes are filled.  My opinion is if we can't defeat our own divisional teams, The Texans, Colts, or Jaguars next season I hardly see us looking at a Playoff chance yet again in 2017. Our run game is on point with DeMarco Murray and Derrick Henry and our O-Line has improved dramatically, which is a huge step for us but we are only working with a one dimensional offense right now.  I love the fact we can run the ball extremely well, but after so long it becomes predictable, and every team starts expecting you to do that and only that. I also understand defense is a huge factor in winning games and more importantly Championships and we need some improvement there as well. I'm guessing that's why I keep seeing most 2017 Mock Drafts so defense heavy. The importance of stopping power is real, but being able to score quickly and against another defense power is just as equally important. What I'm getting at is do you believe we can be contenders, Playoff worthy, or even Super Bowl capable with predominately a run game, dominate O-line and strong defense with mediocre passing ability or would we be projected to win more games if we finally get our number 1 Wide Receiver?  Would that not open up our field options and possibilities in scoring power?  I just examine other teams that have more in-depth offenses like Atlanta… although I believe they should have ran the ball more in that last quarter and finish the game with that ball down your throat approach!  Even the Colts have a depth there, with Frank Gore, T.Y. Hilton, and of course Andrew Luck. That scares me for next season, and out of teams we will face, the Colts mostly because they seem to have our number.  Psychologically, I think the two games against the Colts will either break us or make us for 2017.  If we can snap this losing pattern against them not only will it give us a huge chance at winning our division, but it will also boost our confidence and possibly continue to increase the culture of winning in Nashville. But if not… I believe that alone with hinder us from moving forward.  What's your opinion?
Jim: Hey Mario. Every team needs balance. Yes, the Titans want to run the ball, but finding weapons for Mariota is key as well. And based on what he showed most the season, Mariota can lift the passing game above "mediocrity." Give him more playmakers and the offense can take it to another level. As far as the Colts, the Titans have to find a way to beat them. But it's not all about beating Indy. They need to also find ways to consistently beat the Texans and Jaguars. Mularkey talked about it this week, the importance of winning in the AFC South. It's no doubt a big key for 2017. Appreciate your thoughts.
---
Mickey White from Austin, Texas
Question: Jim- Thanks for taking a look at my question. I want to address the elephant in the draft room, and that is the position of quarterback. Nobody seems to be looking at this. Considering our franchise quarterback ended his first 2 seasons on IR, might management be looking for a late round sleeper? Given our recent history of injury prone qb's (Young and Locker) does that make sense at this point? Thanks for all you do in keeping us informed.
Jim: *Hey Mickey. Alex Tanney remains under contract, and Robinson mentioned him among the options when discussing the position this week. I really think Mariota's injury – and recovery time this offseason – makes things interesting at the position not only for 2017, but moving forward. Everyone expects Mariota to be back, and as good as new for the season. But what about the offseason work? Well, it's TBD at this point. Robinson said they'll look at options in the draft, and free agency. He mentioned veteran Matt Cassel earlier this week. But right now, your question is a valid one, and it's unanswered.  *
---
Jerry Bell from Smyrna, Tennessee
Question: Hey Jim, Love your column. Keeps the intrigue going during the offseason. It's only February and I'm already fired up for the season. My question is, do the Titans have a need for a guy like Derrick Barnett based on where he is projected to go in the draft? He has an amazing motor. Could he also be utilized as a linebacker in the Titans defense? Thanks a bunch for the info and keep it coming. It's a long summer!
Jim: Appreciate it Jerry. I like Barnett. He's a "game-wrecker," as Mularkey likes to call difference makers. I think every team has a need for a guy like that. But can the Titans afford to take a defensive end with other needs? Well, what if the team fills some needs at other positions in free agency? That would open up possibilities in the draft. So stay tuned. I do think Barnett is strictly a d-lineman, though.
---
Eddie Lujan from El Paso, Texas
Question: Hey there Jim! Always wanted to ask a question and finally decided to pull the trigger. My question is: with the Titans having both the 5th and 18th pick in this years upcoming draft, everything points to WR with the 5th pick and DB with the 18th pick. Is there any indication of the team going after 2 DBs with both picks and potentially going after a WR in free agency like Victor Cruz??
Jim: Hey Eddie. I wouldn't rule out two CBs, but it's hard to say at this point. Again, free agency will impact the draft. If the Titans land a CB in free agency, the team wouldn't necessarily need two in the first round. It is a strong, deep draft for cornerbacks, so the Titans could get quality corners in the third-round, too. At least that's something to keep in mind.
---
Dustin Rogers from Durham, North Carolina
Question: Hey Jim, thanks for answering us Titans fans questions. I'm wondering what you think we need to improve on to really take a hold off our division next season, aside from personnel? I think we could have done better against our division but exceeded expectations against non-division teams. A sure path to the playoffs is to win 5 of the 6 division games. I'm sure the coaches are looking at this so I would love your take. Thanks again. #TitanUp
Jim: No doubt, Dustin. Mularkey said this week the team began scouting their division opponents earlier than he's ever done in his coaching career. He wants to know everything about them. A 2-4 mark isn't acceptable to anyone around the team, I guarantee you that. Finding a way to consistently win against division opponents is one of the biggest keys to success.
---
Nick Reinhart from New Riegel, Ohio
Question: I've just been thinking about this but is there any possibility that the Titans would look at trading Demarco Murray to try and get some needs or are they just going to have him help mentor Henry in the backfield and let his contract ride out into free agency. Just saying this because I think that just from Henry's rookie season he had some good numbers for the amount of snaps he got and I think after year 2 for him if he keeps on improving that he could take the reigns in the backfield and be as much of a workhorse as Murray was in the backfield. Thanks
Jim: Hey Nick. Can't see that happening. Murray is more than a mentor. He was the team's best running back last season, when he led the AFC in rushing. Mularkey said this week Murray will be "the guy" again in 2017, although I'm sure Henry will get plenty of opportunities as well. Mularkey also said he loves the one-two punch Murray and Henry bring to the offense, so they need both to keep it going.
Have a great weekend everyone!