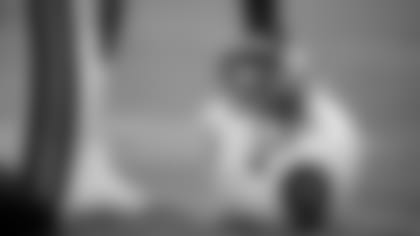 ](http://www.titansonline.com/news/ask-jim.html)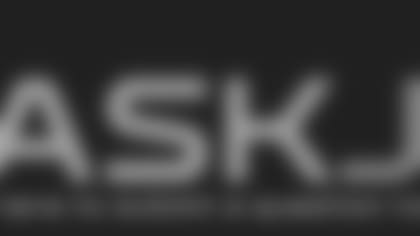 ](http://www.titansonline.com/news/ask-jim.html)
NASHVILLE, Tenn. –** Now that was a bounce-back performance in Jacksonville, huh?
Now the Seahawks are headed to town.
But first, let's leap into another mailbag, Adoree Jackson style…
Steve Smith from Great Falls, Montana
Question: Jim, white jerseys, this Sunday? My wife and I are coming in from Montana and don't want to wear our dark blue Titans' gear and look like a Seahawks' fan!
Jim: Hey Steve. Pack the blue. The Titans will be decked out in the dark jerseys on Sunday. I know that's a surprise to some fans, considering it's going to be a warm one. But the jersey colors have to be turned into the league well in advance.
---
Gabriel Pilcher from Ridgeley, West Virginia
Question: Hey Jim! I'm a Tennessee native living in West Virginia but I'm still a diehard Titans fan. I LOVE reading your mailbag every Saturday morning when I'm on break. Okay I have a question and a concern:
Do you think we might add a WR on the active roster if Corey Davis is a no go? With Harry Douglas and Tajae Sharpe gone and Eric Weems having little experience as a WR that would leave is with only Rishard Matthews, Eric Decker and Taywan Taylor. Seems risky.
Concern I have is about our uniforms for the next season. I have a nice Mariota jersey and a million shirts, hats etc with the current Titan logo and colors. If the uniforms change a LOT then all my stuff will be throwback gear lol
Regardless keep doing what you do, I love it! #Titanup
Jim: Hey Gabriel. Appreciate the question. Hope you're enjoying your break. :)
Well, Davis is a no-go, and Zach Pascal was the receiver added this week. He previously spent time with the Redskins, and he'd been on the practice squad since the beginning of this month. But expect more out of the other three you mentioned. Taylor has been getting better each week, and is going to be a factor.
As for the uniforms for next season, they're changing, as the owner has said. But I can't reveal how much they'll change. But I wouldn't throw any of your current collection out!
---
Luis Murra from Torreon, Mexico
Question: Hi Jim! What a bad news the Aaron Wallace injury.... It's sad because the guy was a very important one rotating in there. My question is about Kevin Dodd. What is happening with him? Is he already a bust? The Wallace injury will allow him to play? Thanks man!
Jim: Hey Luis. Yes, tough luck for Wallace. He played really well in the preseason, and was going to help this year. Now Dodd could get a chance. Coach Mike Mularkey mentioned him as a real possibility to step up and help. But it's unfair to call him a bust. The guy has had two foot surgeries in a little over a year, so it's not like he's been full-strength the whole time. Does he need to step up now? Well, he has a chance to get some momentum going at least.
---
Question: Hey Jim. Big Titans fan from across the border here! (Not a whole lot of us here). Planning to head down to Arizona to catch the game this year but still need to make it to Nashville for a home game.
My question is, what needs to stand out (or improve) the most in order for us to beat Seattle this week? The running game got back on track against Jacksonville and we have a couple questionable tags with Corey Davis and DeMarco Murray. Seattle has struggled on offense this year obviously but it feels like they could be due for a much better output by their offense soon.
Curious to find out your thoughts. Thanks Jim! Big fan of these mailbags.
Jim: Hey Russ. I think more of the same is needed. I'm sure you've seen by now Davis has been ruled out, and DeMarco is questionable. But the Titans still need to have a mix of run and pass to be successful against Seattle's defense, which is tough. Carlos Hyde went for 124 yards against Seattle's D last week, so Derrick Henry (and Murray if he plays) will be looking to pound away as well. On defense, creating turnovers like last week would be key. And a special teams spark is always helpful. The Seahawks are good, no doubt. But they've struggled on offense in the first two weeks of the season. Russell Wilson definitely scares you, though, so the defense will have to contain him.
---
Bill from Spokane, Washington
Question: Mr. Wyatt. Corey Davis has been largely unavailable since January. Adoree Jackson is a fine little punt returner, but lacks the length to defend WR1's. Going forward, why not trade first round draft slots for multiple picks in later rounds, say, a couple of third-rounders, or a second and a fourth?  Great teams (see Foxborough) rarely have first-rounders on the field when it counts.  Thanks!
Jim: Hey Bill. I can't endorse this move. You're really ready to dismiss Davis after Week 2 of his rookie year? And Adoree' Jackson has provided more reasons to believe than doubt at this point. I think both of those guys could end up being special players. The hit rate on mid-round picks is far less than on the first-round. The NFL Draft comes with no guarantees, but I'd like as many first-round picks as I can get.
---
Chandler Jacoby from Minneapolis, Minnesota
Question: Hey Jim! Big-time Titans fan all the way from Minnesota! I absolutely love your insight and writings on the Titans. It really helps me stay in tune while being out of state. Anyway, while I was watching the game this week I was really encouraged with what I saw from safety Curtis Riley. I know Johnathan Cyprien was a great free agent addition, but with him sidelined by a hamstring injury, it seemed Riley seized the opportunity. My question is what did you think of his play this week and even when Cyprien comes back, will he see some playing time?
Jim: Hey Chandler. Appreciate it. I think Riley has a chance to stay in the mix, especially if he keeps making plays. He's improved so much as a player in the past year as he made the transition from cornerback to safety. Cyprien will reclaim his spot when he's healthy, but Riley should have a chance to stay in the mix as well. He can also help on special teams.
---
Paul Bakke from Huntsville, Alabama
Question: Hi Jim. I have been a huge Titans fan since they temporarily moved to Memphis.  I grew up a Steelers fan in the 70's in Memphis, and my dad and I used to talk about how we wished we had a local NFL team.  My parents have had season tickets since the beginning, and my 18-year old son and I are big Titans fans in North Alabama.  We are coming to the last game of the year on his Christmas break from college and we hope the Titans will be playoff bound by then looking for home field advantage with a win. My question is about the defensive backs.  I have heard some fans say that we don't have true boundary corners, with the idea that Adoree Jackson and Logan Ryan are not tall enough.  I agree there is a prototype of size, but a few inches can be made up by cover and ball skills, anticipation and football smarts, quick twitch ability to turn and explode to the ball, timing, tackling skills, etc.  After two games, we really have a small sample size but our secondary has done a great job of holding their own.  They are a new unit together with potential to grow into a very solid group.  With Jackson's return skills, the Titans have a dynamic difference maker in two key areas of need.  What are your thoughts on the philosophy of picking up Jackson and Ryan in free agency even though they don't have ideal size?  I have chosen to trust John Robinson on these things.  I believe Titans fans have lots of reasons to do so after the change we have seen in team play and both the physical and mental aspects of the type of players selected since he joined the staff.  Thanks for your work!        
Jim: Hey Paul. I appreciate the question. Some GMs look for certain players (body types, skill-set, etc). I think Jon Robinson was looking for a guy who could help in a number of areas when the team drafted Jackson, after getting Ryan earlier in free agency. Jackson plays the ball extremely well in the air, as we've seen already. He's been a better tackler than I thought he would. I thought the entire secondary tackled well against the Jaguars, in fact. Size is important, but it's not always the determining factor. I think the GM is looking for playmakers, and he's looking for speed.
---
John Peay from Christiana, Tennessee
Question: Hello again Mr. Wyatt. A few questions for you, and a comment. I noticed that Jack Conklin had more calls on him than I've seen in any of his previous games. Do you think him achieving "All Pro" status has brought more attention from the referees. Also Delanie Walker after two Pro bowls, and an incredible start to the season his presence on the field is definitely felt. My question is do you remember the last time a tight end got two "Unnecessary Roughness" calls in back to back weeks? Here are my closing comments. Great game Sunday in all three phases. Also huge props for Rishard Matthews! I honestly believe he is the toughest receiver in the NFL. Have a great day.
Jim: Appreciate it John. Interesting question on Conklin. I'm not so sure he's getting more attention from refs. If anything, you'd think the accolades would get him the benefit of the doubt. Watching the tape, I think he's earned the penalties he's been called for so far. As for Matthews, the guy is underrated, and he is tough. He's proven he's not afraid to go across the middle and make some really tough catches while getting hit.
---
Steve Allen from Springfield, Tennessee
Question: Hey Jim. In one of your articles this week you mentioned Mr. Henry blowing Jalen Ramsey up on the goal line. Loved that play. Last year against the Jaguars Mr. Henry did the same to Mr. Ramsey on a touchdown run to the right. I noticed another play in yesterday's game in which Mr. Ramsey was given another bruise by Mr. Henry. Is it time for a highlight reel of Mr. Henry stiff-arming, bowling over and otherwise leaving bruises on opponents? Thanks.
Jim: Hey Steve. That highlight-tape is definitely growing. The guy is a bruiser. I sure wouldn't want to try and tackle him.
---
Eric King from New Albany, Mississippi
Question: Hey Jim what's going on? I think we Titans fan can feel a little good the Jaguars game. We started out slow but finished strong. I love it #TitanUp. I have two questions so I'll make it short. To me it's like the coaches are trying to do a little too much coaching. Taking away some players natural instinct. So my first question is do you think Mularkey and Robiskie will start putting a fullback in front of Demarco Murray? In my opinion he's a much better runner in the "I" or offset formation. Downhill behind his pads and a lead blocker. The second is do you think the coaches and critics have gotten Marcus Mariota trying too much? To me he's proven he can be a pocket passer but it's like he's lost that tuck and run instinct. I get it, pocket passers have a longer career but the injuries and INT's have all come on plays where if he would've just taken off and ran he could've gained 6-7 yards. Gotten the 1st down instead of taking a sack or throwing a pick. Preciate all u do keeping us informed. Go Titans!!
Jim: Hey Eric. Not sure I agree with you here. The team has some packages with the fullback, Jalston Fowler, but most the time Murray and Henry are on the move with space in front of them, and it seems to be working. As far as Mariota goes, being able to tuck it and run is part of his game, but I wouldn't want it to be the biggest part. He'll still go when he needs to, but with more weapons around him and with a better understanding of the offense, his best plan on most plays is to find the open receiver and deliver it. And keep in mind he's only been sacked twice in two games.
---
Alex Henderson from Antioch, Tennessee
Question: With Demarco Murray's injury lingering through the first two games and Henry's production last week, how do you see the carries being handed out between both backs this week?
Jim: Well, Murray is questionable for Sunday's game after returning to practice on Friday.
Mularkey said this after practice Friday regarding Murray: ""It's the kind of injury where we'll watch and see how he is when he wakes up (Sunday) morning. … We'll talk it through. We've been pretty smart to this point, we're not going to subject anybody to further injury."
*So this falls in the TBD category. I expect Henry to get plenty of work whether Murray is active or not, however.
*
---
Ben C from Nashville, Tennessee
Question: My question involves what I consider mistakes that a third year quarterback shouldn't make. Mariota threw a pick right in front of two Jags on Sunday that was particularly ugly. Had those players not even been there, the pass was still way behind the intended receiver, I believe Jonnu Smith. In addition to some of the passes he threw Sunday that were overthrown, I just feel like every week, Marcus has several passes that are either boneheaded or just straight up poor. I know Marcus is going to be a great franchise qb and some of the plays he makes are fantastic (and maybe I'm asking too much), but what are your thoughts on these aforementioned mistakes, and do you think he'll overcome these struggles and become the consistent, top 5 NFL quarterback everyone wants to see?
Jim: Hey Ben. Sure, I firmly believe Marcus is well on his way. Is he perfect? No. But look around the league and not many quarterbacks are, especially young guys. Keep in mind Mariota still hasn't played in 30 career games. His red zone numbers are off the charts, however, and he's made great strides in just about every area. Look at his improvement from Year 1 to Year 2. At the start of Year 3, I see him getting better and better. But I'd cut him a little slack at the start. You mentioned Smith – he's a rookie.  So is Corey Davis, and Taywan Taylor has played in exactly two games himself. He's still developing chemistry Eric Decker. While he's clearly on the same page with Delanie Walker and Rishard Matthews, some of these connections take time.
---
J Gaiser from Jackson, Tennessee
Question: Hi Jim. Thanks for your excellent work. I might be able to help you with the question (from last week) about Mariota's broken leg. In the past 6 years, I have broken my right leg 2 separate occasions in different locations. I have 3 plates and at least 20 two inch screws according to my x-rays. I have completely recovered. There are no plans to EVER remove my "hardware". I hope this answers the question. Thanks again. Your friend, "LUCKY"
 Jim: Well, thanks for the background J. And stay safe!
Have a great weekend everyone!
TitansOnline.com looks back at the all-time series against the Seattle Seahawks. (AP Photos)