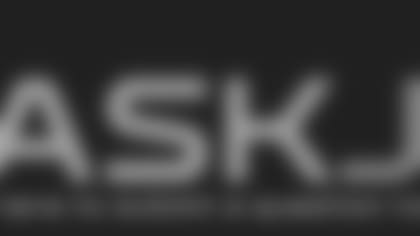 ](http://www.titansonline.com/news/ask-jim.html)
NASHVILLE, Tenn. – The Titans have their general manager (Jon Robinson), and head coach (Mike Mularkey). Mularkey is in the process of putting his coaching staff together, and he has his coordinators in place – Terry Robiskie (offense), Dick LeBeau (defense) and Bobby April (special teams).
Here, the mail is stacking up. Let's open a few…
Steven Amundson from Eugene Oregon
Question:  Hi Jim. Been a Titans fan since 2000 and have stuck through the lows and highs. I have more of a rant, then I'd like your opinion on with a simple yes or no question at the end. So here goes nothing. With the first pick of the draft I think we need to take the #1 corner. Jason McCourty is solid but with the chance to get a blue-chip guy on the roster at that position really would help solidify our defense. Our pass rush is relentless and I feel like if we had one more solid corner out there our pass rush would be able to get some of those sacks that were barely missed. I think our offense is close and we can compete with a solid pick up or two along the offensive line via free agency. So what do you think the chances are that we go get a top tier corner with the first pick? Steven 
Jim: Hey Steven. This isn't as easy as "yes" or "no" but here is goes. There's a chance the Titans could go down this road, and Florida State's Jalen Ramsey is the best defensive back available. Is he worth the No.1 pick? That's debatable. General Manager Jon Robinson said earlier this week he'll consider all options with the pick, and mentioned the possibility of trading it. So stay tuned.

---

Kenny Gore from Horse Cave KY
Question: I will not try to act like I am happy with the HC hire or the scam that led to the hire. There was no "HC Search"....OK now I am done whining. I will TRY to get behind the team. I just hope/pray this is not headed back to the direction of Mike Munchak and the offense he attempted to run in his first few years. The NFL is a passing league. You cannot ride the clock anymore and expect to win. You have to score points in bunches; something this team has not done consistently. When we do we win. Example: Saints/Bucs games. When we don't we get mauled.
What about the Terry Robiskie hire as OC should we as fans look for and have to be excited about? Mularkey & Robiskie leading an offense screams of a slow, run heavy, OLD NFL offense. I DO NOT want to see this team trying to ride the clock in attempts to not lose. I want to see this team pushing opposing teams and playing to win. I have not seen this from Mularkey in any of his HC spots. Granted he did not have much to work with; but teams hire a HC to fix problems like a slow offense & weak team. NOT to use it as an excuse for why you failed.
Jim: *Hey Kenny. Sounds like you need some convincing. I get it. Hang in there. Of course the team hired Robiskie in an attempt to make things better. I've heard good things about him, especially from receiver Harry Douglas, who spent a lot of time with him in Atlanta. Douglas said Robiskie will install on offense that will allow players to play fast, and not be slowed down by a complicated system. That should help young players like receiver Dorial Green-Beckham, and quarterback Marcus Mariota. The Titans need to improve in the run game. It's been an issue since Chris Johnson left. But Robiskie wants to run a balanced offense, and if the Titans can improve in the run game, it should make things easier for Mariota. *

---

Michael Vogt from Bemidji, Minnesota
Question: Hey Jim. How are you? I have been a long time Titans fan and have been watching them since I was little. I have many autographed cards to prove it and hopefully more to get, especially Mariota one day. My question is since the Titans were the last team without a head coach wouldn't it have been a better idea to look around more for a head coach than Mularkey? It's nothing against him but I would assume that there were other coaches out there with better experience and more proven records then hoping he can work out. It just kind of makes me uneasy to think they were just trying to rush and get it done instead of taking their time and doing it right. Thanks for your time.*
Jim:* Hey Michael. That's a popular line of questioning. I'll say two things about it. Controlling owner Amy Adams Strunk liked Mularkey from the get-go. It's no secret. So keep that in mind. That weighed as much as anything, and contributed to the search not being wider. But the team also didn't want the search to drag on too long because it would have hurt the chances of putting together a quality staff. The longer the wait, the better chance some of Mularkey's coaching targets would've landed elsewhere.

---

Michael Newsome from Drexel, NC
Question: Jim, I'm one of the many that's disappointed with the coaching hire, but I am ready to move on and expect the best out of this team, again.  I'm ready to talk about the draft.  What do you think is the best value for the Titans with the #1 overall pick:
a) Draft Laremy Tunsil and move Taylor Lewan to RT
b) Trade #1 to Cowboys (who could want to move ahead of Cleveland for Goff), moving us back to #4 and picking up whatever amount of blood we can squeeze from that turnip
Jim: Hey Michael. This is just me, but I wouldn't move Lewan to left tackle. The team picked him 11th* overall, and he's a left tackle. And the No.1 is too early to take a right tackle. I think the best-case scenario is to trade back and get as many picks as possible. The Titans need the quarterbacks available in this draft class – you mentioned Jared Goff – to have their value skyrocket. It would help the Titans.*

---

Brandon Knowles from Rock Falls, Illinois
Question: Hi Jim! I have always been the fan who looks for every positive through a negative situations for the team. I see such an uproar over this Mularkey hire whether its "we will go 2-14 again" "This team ownership doesn't care about winning or about us fans" and list goes on. I personally feel like this hire is truly justifiable. Mularkey did best he could in a situation set to fail when taking over. He truly did show leadership, accountability, and character in such a tough time. This hire allows the ownership to see him show is idea of where this team can go, especially with how well he helped Mariota with what he had left. I just feel people need to allow Mularkey his staff, an offseason, and a full season before assuming who he is as a coach. How do you feel about this ownerships direction in hiring Mularkey and do you believe that Amy Adams truly is about making this organization better? 
Jim: Hey Brandon. I like Mularkey, too, and think he deserves a chance. He's a good football coach, and players like him. And whether fans like it or not, it's the decision that was made, so it's time to move on. Amy Adams Strunk is very involved. She was in on every GM interview, and every head coaching interview. She wants what is best for the team. She grew up watching her dad run the team, and wants to make the organization better, no doubt. Time will tell if she made the right call. 

---

Randy Phillips from Mount Vernon, IL Question: How long does it take the Titans new GM Jon Robinson to accomplish what I believe is a top priority by getting Delanie Walker a nice fat contract extension? Delanie is a young 31 having played behind Vernon Davis for so long, and I believe he is the type of player the rest of the players should strive to be like. He brings it ever play of every game!

Jim: Hey Randy. Delanie has definitely earned his keep. He signed a four-year deal when he joined the team prior to the 2013 season, and he's now headed into the final year of the deal. I'll spread the word you'd like to see him locked up to another long-term deal.
---
Doug Gately from Notus, Idaho
Question: Jim, thank you for keeping Titans fans informed! I have been a Titans fan since 1998 and always buy the NFL ticket so I can watch every game. My Question is this: Is there any truth to the news that Peyton Manning wants to buy the Titans? Thanks in advance, Doug

Jim: *Hey Doug. You should swap out the word "news" for "rumor." Because that's all it is right now. Titans President and CEO Steve Underwood has said on numerous occasions, on behalf of ownership, the team is not for sale. Could Peyton Manning express an interest in getting into ownership or into a front office position in the NFL one day? I guess it's possible. But right now he's preparing to play in the AFC Championship. *
---
Chris Chapman from Hermitage, TN
Question: Hello Jim!!! My hat is off to you, Amie (Wells), and Mike (Keith) for your diligence this year -- you guys have done a phenomenal job this season. As a fan I am frustrated with the way the team has played since coach Jeff Fisher left. However, I believe that coach Mularkey has the ability to turn things around for us. My question is, since we are not in the market for a quarterback, do you see the Titans brass possibly working a trade to include Zach Mettenberger and our 1st pick in order to acquire multiple picks since we obviously have needs on both sides of the football? GO TITANS!!!!
Jim: Hey Chris. Thanks for the feedback. I'll spread the word to Amie and Mike. As for Mettenberger, I can't see the Titans trading him. I certainly can't see him being packaged with the No.1 pick, which has enough value as it is.

---

Kitty Johnson from Eugene, OR
Question: So, if you don't think the Titans will be drafting a running back or OL with the first pick, what position do you see them trying to fill with that pick?
Jim: Great question, but right now it's way too early to say. Help needed on the offensive line, receiving, running back and on defense, especially in the secondary. I like the idea of trading back and getting multiple picks to fill several needs, but we'll have to wait and see if offers come.

RECOMMENDED: