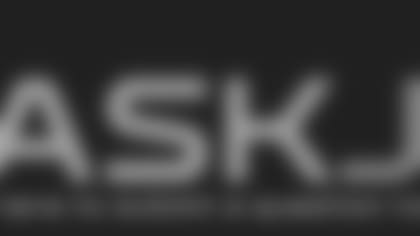 ](http://www.titansonline.com/news/ask-jim.html) The Titans rookies are in the middle of a weekend minicamp, and we're about to get in the middle of another Titans mailbag.
Thanks for the questions. Here we go …
Devon Chester from Memphis, TN
Question: Hey Jim. I've been a Titans fan since I saw them play at the Liberty Bowl here in Memphis. I was wondering with rookie minicamp going on this week are the veteran players allowed to come watch the rookie players or do they have to wait for training camp to see these youngsters? Thanks Jim. Look forward to your answer.
Jim: Hey Devon. Not many folks went to those games in Memphis, so good for you. The veterans and rookies actually worked together on the field in the offseason program earlier this week. So they've mingled, and they will take part in organized workouts and a minicamp with the rookies in the coming months. This weekend belongs exclusively to the rookies, however.

---

Rick Davidson from Paducah, Kentucky
Question: Hey Jim. The Titans have made many upgrades on the team so far but I think the defensive secondary could still use a little more help. Do you think there is a possibility that Jon Robinson will look around and see if there are any CB's on the market that might fit in our system? We need to get stronger quickly. All AFC South teams are making big strides. Some analysts are saying in 2-3 seasons the AFC South may be the strongest division in the NFL. Take care!  Rick D.
Jim: Hey Rick. Robinson will be looking, but keep in mind some new guys have been added to the secondary since last season – veteran safety Rashad Johnson and cornerbacks Brice McCain and Antwon Blake joined the team in March, and the Titans drafted a pair of corners in LeShaun Sims and Kalan Reed. Also consider this: the team has the No.1 spot on the waiver wire, so Robinson will have a chance to snag a guy if he likes him.

---

John Choate from Hopkinsville, KY
Question: Hey Jim. Just want to say starting out that you are doing a great job covering the Titans. I appreciate your efforts.  My question is: With the free agent acquisition of Rishard Matthews and Dorial Green-Beckham potentially having a break out year, how do you see the WR group sorting itself out? How do you perceive that Coach Mike Mularkey and the Titans would like for it to shake out? Certain local media reporters think Kendall Wright will be reduced to strictly a slot guy and his role will greatly be reduced. My opinion is even if he's primarily in the slot, he will still have a large role in this offense with him and Delanie Walker opening things up for each other in the middle of the field -- the area that Marcus Mariota had his best production last year. Thoughts?
Jim: Appreciate it, John. It's definitely a position to keep an eye on. Kendall is going to be involved, and he'll line up in a number of spots. He's very talented, and the team needs to find a way to get him involved more, not less. I'm anxious to see how Justin Hunter looks in his recovery, too, because he could be a factor on the outside if healthy. This is the final year of his contract and he'll be plenty motivated. Harry Douglas is also in the fold, and from what I've seen and heard of draft pick Tajae Sharpe, he'll have a chance to contribute as well.

---

Tom Montesion from Livingston, New Jersey
Question: Hey Jim. Thanks for the outstanding job as always. I still have my fingers crossed for a uniform update, get Amy's ear when ya can!! Anyway, I think that Jon Robinson has done wonders in his short time here. There is no doubt that we are finally getting serious about rebuilding and trading the #1 pick for a haul, while some disagree, was the most logical thing to do when you have as many needs on both sides of the ball as we did. I am more excited for this season than I've been in decades. That being said, there is no denying that between FA and the draft, the Jaguars D is looking pretty ominous with Jalen Ramsey, Myles Jack and now Dante Fowler back. The Texans also did pretty well. Do you think that although we are still improving, have these two clubs basically blown our doors off in the division or have we done enough so far to make a run? Keep up the great work my friend. #Titanup #luvyablue
Jim: Hey Tom. Appreciate it. I firmly believe the Titans have made great strides in personnel, attitude, and mindset. There's a different feeling in the building this offseason, and the personnel is better at several key positions. With that said, I'm with you on the Jaguars – I love Jack and Ramsey, and if Fowler is healthy he's going to be beastly. The Texans have a new quarterback, and the Colts have their old one back. The division should be a whole lot better this season, so it's not going to be easy.

---

Bryan Thomas from Pawleys Island, SC
Question: Looking at the current roster with the pickups, I have a 2-part question. Do you see Bishop Sankey and David Cobb getting the axe with Antonio Andrews and Dexter McCluster making the cut and Andrews possibly being put on inactive a lot of Sundays? Also, with the WR group I tend to see the line up being a lot of (pending a full healthy WR corp) Wright, DGB, Matthews and Hunter either having Douglas either being cut or being inactive. If Douglas gets cut...can u see us picking up either Boldin or Roddy?
Jim: Hey Bryan. Fair questions, and straight to the point. Obviously DeMarco Murray and Derrick Henry are on the team, and I suspect at least four backs will make it. Andrews was the best of the returning backs last year, but is he too similar to Henry with his bruising style of play? I think Cobb has a good chance to stick, but he has to stay healthy and convince the new regime he's worthy. McCluster brings extra value with his ability as a returner, but could another returner emerge from another position and put him on the bubble? Sankey definitely needs to step it up. So yeah, a ton of questions at the running back spot and we won't have answers for a while. As for the receiver positions, we'll have to see how things play out there, too, but I wouldn't bet on the Titans adding older vets to the mix.

---

Joel Rohm from Yuba City, CA
Question: Hey Jim. Great job covering the Titans. I appreciate all the great work you do. My question is more of a suggestion that I hope you will pass on. The jerseys. I know it's kind of a "dead horse" conversation at this point as I've seen it more than once in your mailbag questions with fans calling for the red ones and even a new jersey design all together that you've published. But my suggestion is that maybe they could just switch up the uniform combinations a little more. There are seven different uniform combos that they can use now with the uniforms they already have without changing anything at all. Why not switch it up a bit? Maybe take a page out of Oregon's book! It's something that I'm sure the players would really enjoy as well and I think the fans would like it too (I know I would). Personally I would like to see them implement a red uniform, but we can only wish! Thanks again for all the great work you do for us fans and TITAN UP.
Jim: Hey Joel. Thanks for the comment, and suggestion. I'll pass it along.

---

Chris Chapman from Hermitage, TN
Question: Hello Jim. It was great to see you in Mt. Juliet (at the Caravan). I didn't get much of a chance to introduce myself in an effort to keep the autograph line moving. I'm a 100% willing to take on your task with starting a movement to get the NFL to bring the draft to Music City!!! I'm sure the weather here would be far better than what you had to deal with in "Chi-Town"!!!! I'm very stoked about the new GM Robinson and what Mularkey and his staff have brought to the Titans. Pete Prisco as well as others called the drafting of Derick Henry a "head scratcher", really??? Two bruising smash-mouth running backs is hardly a head scratcher to me; what do you think? My real question here is this: Do you believe that Bishop Sankey has had ample time and opportunity to prove his case here? I myself believe he doesn't have a case at all. I believe Murray, Henry, McCluster, Andrews and Cobb are who we should keep and dump the rest. In my opinion Andrews and Cobb can provide the same 1-2 punch in the event something bad happens, you agree??? As always you Amie Wells and Mike Keith do an awesome job!!! Keep up the great work!!! JON ROBINSON FOR PRESIDENT!!! Give em Hell Titans!!!!
Jim: Hey Chris. Thanks for the email, the questions, and the enthusiasm! It was good to see you on the Caravan. Believe me, I'd love to see the draft in my hometown. The city could pull it off, I have no doubts. I liked the Henry pick myself, and in time I think every Titans fans will. He's a good back, and look at the players picked directly after him. Tell me which one you'd rather have than Henry. Sankey is going to need a solid offseason, no doubt about it. I know it, you know it, and the American people know it. (Or at least Titans fans do.) I'll say this about Sankey – maybe he benefits from a new regime. I think he lost his confidence, and he needs to regain his confidence. He was a good back in college, so I don't think he's a lost cause like some apparently do. Obviously he's not competing for a starting spot, but he has some unique skills that should give him a chance in the competition. 

---

Skipp Whipple from Hendersonville TN
Question: What is the plan at WR?  There still isn't anyone there I think any D is real concerned about!?
Jim: Hey Skipp. Kendall Wright, Dorial Green-Beckham, Justin Hunter, Harry Douglas and Rishard Matthews are the veterans in the mix. Youngsters Tre McBride and Andrew Turzilli also in the mix, along with draft pick Tajae Sharpe. Keep in mind the team has some pretty good pass catchers at tight end as well, namely Delanie Walker. Some guys in this group can beat defenses, especially if DGB develops. 

---

Julie Crenshaw from Newport Beach
Question: Hi Jim. Why does the NFL have a rule about wearing #2?
Jim: Hey Julie. Players can wear No.2. Remember, kicker Rob Bironas wore it well for the franchise. But Derrick Henry can't – even though he's wearing it now -- because running backs have to wear numbers between the 20s and 40s. So he's going to have to change it.
Here's the actual rule:
Rule 5, Section 1, Article 2 of the Official Playing Rules
PLAYERS NUMBERED BY POSITION. All players must wear numerals on their jerseys in accordance with Rule 5, Section 4, Article 3, Item 3. Such numerals must be by playing position, as follows:
(a) quarterbacks, punters, and placekickers: 1–19;
(b) running backs and defensive backs: 20–49;
(c) centers: 50–79;
(d) offensive guards and tackles: 60–79;
(e) wide receivers: 10–19 and 80–89;
(f) tight ends and H-backs: 40–49 and 80–89;
(g) defensive linemen: 50–79 and 90–99;
(h) linebackers: 40–59 and 90–99.
If a player changes his position during his playing career in the NFL, and such change moves him from a position as an ineligible pass receiver to that of an eligible pass receiver, or from a position as an eligible pass receiver to that of an ineligible pass receiver, he must be issued an appropriate new jersey numeral. A change in jersey numeral is not required if the change is from an ineligible position to another ineligible position, or from an eligible position to another eligible position, provided that the player has participated at least one season at his position prior to the change.
Any request to wear a numeral for a special position not specified above (e.g., H-back) must be made to the Commissioner. During the preseason period when playing rosters are larger, the League will allow duplication and other temporary deviations from the numbering scheme specified above, but the rule must be adhered to for all players during the regular season and postseason. Clubs must make numerals available to adhere to the rule, even if it requires returning to circulation a numeral that has been retired or withheld for other reasons. See 5-3-1 for reporting a change of position.

---

Dan Topf from Sioux city, Iowa
Question: Jim. What will Derrick Henry's permanent number on his jersey going to be? I along with many other Titans fans who have asked me this as well. Speculation is one of Henry's college numbers #27 could be worn if Eddie George gives him the ok? Thanks. Staff Sgt Dan Topf Air Force veteran aka Titan Fan Dan ...  a Houston Oilers fan/Titans Fan since 1978. Favorite all time players #1 Earl Campbell, #2 Warren Moon, #3 Eddie George.
Jim: Hey Dan. That falls in the TBD category. It depends on which running backs make it, and which ones don't. As for George, I think that No.27 is one of the few ones that should be considered sacred around here. That's just my opinion. I see you like Eddie yourself. Thanks for the question, for your service, and for your loyalty to the franchise.
Have a great weekend everyone!