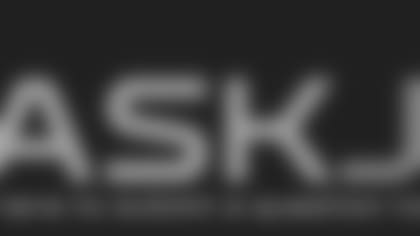 ](http://www.titansonline.com/news/ask-jim.html)
NASHVILLE, Tenn. – Spent the past week in Mobile at the Senior Bowl, and must admit I saw some pretty intriguing prospects there. So did Titans general manager Jon Robinson and the team's scouting staff. I'm supposed to consult with those guys over the weekend. (Just kidding).
The NFL Combine is now right around the corner, this is true.
But a batch of mail is upon us. Diving in now…
Michael Vogt from Bemidji, Minnesota
Question: Hey Jim. Since free agency is right around the corner I'd like to ask your opinion on it. Have they said if they are going to be aggressive this year and try to get some veteran talent? I am really excited to find out who Jon is going to try and get. In your opinion what positions do you think they should try and focus on? Thank you for your time.
Jim: Hey Michael. I do think the team will be relatively aggressive. I'm think there will be roughly $25 million in cap room available, maybe more, depending on some roster decisions. Help is needed at plenty of spots, from the offensive line to receiver to running back, along with plenty of needs on defense. A year ago the Titans made some nice additions via free agency, especially by adding linebacker Brian Orakpo. Safety Da'Norris Searcy was a nice add as well, along with right tackle Byron Bell and tight end Anthony Fasano. Veteran Harry Douglas added leadership. They'll pick their spots this offseason with free agency as well.

---

Chris Harris from College Station, TX
Question: Jim, I realize we, the Titans, have a lot of needs to address this off season. I have two questions. 1. Are there any potential free agent offensive lineman (A-grade) available that would improve our run game and protection of Marcus?  2. If so, what is the possibility that we sign a couple of o-lineman in free agency and draft Ezekiel Elliott with the first pick?
Jim: Hey Chris. Right now, it's hard to say which veteran o-linemen will be out there. That's what is so tricky about free agency, is teams will hang onto their guys with extensions or a new contract leading up to free agency, so a lot of projected FAs are off the board late. But I feel certain some o-linemen will be target. As for Elliott, I like him myself. But I can't see the team going with a running back with the No.1 pick.

---

Kenny Gore from Horse Cave KY
Question: Very glad Dick LeBeau came back for another season. I know many wanted Jim Schwartz back, but I really love the passion, respect, and experience LeBeau brings to the job. I have 2 questions.
#1 We all know that retirement is on the horizon for LeBeau. I hate the idea of losing him as DC/Asst HC. Here's the question: Lou Spanos has a golden ticket to watch/learn from the best (IMO) defensive teacher in the NFL. Has LeBeau started to take Spanos under his wing? I am really hoping that LeBeau is guiding Spanos toward becoming a great DC in the mold of the Legend. I know no one will be the same as LeBeau. However, having one of his final students graduate to take over our defense seems like a great idea IMO. This team likes to promote from within; it would be amazing to have someone waiting on staff making the transition smoothly.
#2 New receivers coach Terry Robiskie seems like a guy who can make an impact on DGB. I thought the same thing about Shawn Jefferson who worked with Calvin Johnson. Do you look for this year to be a break out year for DGB or do you think his development will be slower? I really hope to see DGB show up as that dominant WR this team has been lacking for years!!
Jim: Hey Kenny. That's a good observation on Spanos. With Ray Horton off to Cleveland, I do see someone working closely with LeBeau, like Horton did last year. And I think Spanos is that guy. He's well respected, and sharp. I think they'll be spending a lot of time together. As for Dorial Green-Beckham, the Titans need it to be a break-out year for him. I thought he has a solid rookie year, and is on the right track. And I think Robiskie's mindset should help him in the offense. Robiskie has been preaching physicality and aggressiveness and DGB has the body and toughness to develop into the kind of guy he loves. Now, he has to do it.

---

Josh Bomar from Knoxville, TN
Question: So we officially have our new coaching staff in place. Every Titans fan I know is blasting the fact we chose Mularkey, but I really like the choice. He is a players coach, and we need someone to motivate the talent that we have. I was sold on him after seeing how emotional he was in the press conference after his first when filling in for Whisenhunt. Robiskie did a great job in Atlanta developing Roddy and Julio. I'm excited to see what he can do with DGB and Hunter. As far as the draft goes, many projections have Derek Henry falling into the second round. Do you believe it's possible we could trade back and still have a shot at a power back like Henry? With the right coaching I believe he could be a back that can not only plow through defenders and pick up those first down we desperately need, but also be a huge help in the blocking game to help protect Marcus. Your thoughts?
Jim: Hey Josh. Thanks for the comments. Mularkey definitely cares, and wants to win. He now has his chance to turn things around. And I agree the addition of Robiskie should help the young receivers. As for Henry, I like him. He's a bruising back who could change the look of the offense. I expect him to be a 2nd round pick, and would be intrigued myself. I want to see him at the NFL Combine, though, and I need to get a better read on some of these others backs over the next few months as well.

---

Tyler Chappel from Caldwell, Idaho
Question: I know we have not been to a playoff game since 2008 and lot of fans want our team to be on the winning side again. In my opinion, I do not see any player coming into the draft that is worth a number one pick. I think the General Manager hire was a great choice and I think our Head Coach has some interesting ideas for our football team. The Offense Coordinator and Defense Coordinator is a great fit for the team, so the Titans now have a group of experienced staff members. Marcus Mariota is one of those guys that can move the ball down the field with any offensive scheme and players on offense to support him. The Titans need to trade the number one pick in the draft to get a lot more picks to build a team for the future with Mariota. They just need to focus on defense and offensive lineman for the draft and on the free agency market. Do you think the Titans should trade the number one pick Jim?
Jim: Hey Tyler. I'm with you on this. Right now, I like the scenario of trading out and getting extra picks. The key here is to get some to want to move up and make a trade.  Stay tuned.

---

Matt Thurmond from Chattanooga, TN
Question: Jim, Long time Titans fan. And I'm a little worried about our direction. And rumors of us tanking in order to move the team to a new city. Like St Louis or Las Vegas or etc.... I hope we aren't actually living out the movie major league. Where the owner tanks to move the team. I hope this isn't a possibility... just wondering your thoughts.
Jim: Hey Matt. You can quit worrying about this. The team isn't moving. And you really think owners "tank" to move a team?

---

Troy Patterson from Iowa Falls, Iowa
Question: Hi Jim, I was an Oilers fan growing up and followed them to Tennessee.  I live in Iowa so I don't get to see many games. I feel the team needs an identity in the same way McNair and George did. The Titans have had problems with guys like Kenny Britt and Pacman Jones. What is your thoughts on if the Titans tried to pursue Ray Rice? I know he hasn't played in a couple of years. I think he still has some years left to play. He has won a Super Bowl and I think he could give the team the leadership and experience they need to get things turned around. I think he has his head on straight and is trying to make is life better. I'm sure there would be people that don't agree but I think he is the identity the team needs. They have nothing to lose at this point winning only 5 games in 2 years and a fan base not happy with the HC hire.
Jim: Hey Troy. Thanks for the email. I agree, the Titans need help at the running back position. I disagree with your opinion on Ray Rice. I wouldn't go there, and I can't see the team making a run at him either. If you've noticed, no one else has been knocking on his door either.

---

Peter Kemp from Cedar City, Utah
Question: I have been a Titans fan since I was a kid growing up in Salt Lake City and I love reading your stuff Jim. Anyway, who do you think the top free agent targets of the Titans are this offseason? Personally, I believe we should offer Alex Mack from Cleveland a ridiculous deal to lure him away. I have been unsatisfied with the interior line and it would be a strong move. We could put Jeremiah Poutasi in at LG which is a more natural position for him and resign Byron Bell at RT. I also would like to see a big name receiever too, perhaps Alshon Jeffery? Then we shore up DB and depth at OLB in the draft. Any chance you see any of these things happening? Thanks, Peter Kemp
Jim: Hey Peter. I must admit, I like where you are going with some of this. The Titans need a reliable veteran up front, so I could see them signing at least one guy in free agency and drafting another. I do think Poutasi ends up at guard, and we'll have to be patient to see what happens with Bell. Former GM Ruston Webster liked him, but it's Jon Robinson's show now and I don't know what he thinks of him yet. The Titans need help in the secondary, and another OLB behind Orakpo and Derrick Morgan. As for Jeffery, I like him, but I'm not so sure he gets out of Chicago despite his injury-shortened 2015 season.

RECOMMENDED: