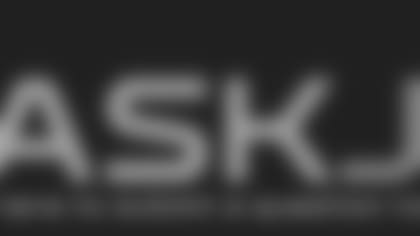 ](http://www.titansonline.com/news/ask-jim.html)

The mailbag is on the move this week.
Yes, it was delivered in Indy.
After running the 40 here at the NFL Combine, I took a break to answer some questions.
Bill Ramirez from Knoxville, Tennessee
Question: Mr. Wyatt, Please advise the Titans' draft room that the SB champion Patriots lineup on the field for their game-winning touchdown included 2 free agents, 1 7th rounder, 1 6th rounder, 1 5th rounder, 3 4th rounders, 1 3rd rounder, 1 2nd rounder, and only a single 1st-rounder. Moral? 1) Invest in your scouting and player development staff; 2) Exchange your 1st round picks for a bunch of cap-saving 3rd-4th-5th round picks; and 3) stock your roster with players who believe in the Patriot - er, Titan - way. Your thoughts?
Jim: *Hey Bill. I didn't go back and check, so I'm trusting you on this, but that's impressive research. And you can bet Jon Robinson, with a background in New England, would love to follow a similar plan in Tennessee. He's already proven to be a shrewd negotiator with a good eye for talent. He's also preached about the type of Titans he wants on the roster, and they sure sound like Patriots.  *
---

Tyler Beene from Nashville, Tennessee

Question: Hi Jim. As free agency nears it's no secret that the Titans have deep pockets this year. Could you please tell me and others how the cap works? For example, let's say the Titans resigned Marcus Mariota to a 6 year 75 million dollar contract with 25 million guaranteed. How does that affect the cap? Is it determined by annual salary, guarantees? Does the cap also apply to coaches and executive personnel? If I have confused everyone reading this I apologize. Thanks Jim
Jim: Hey Tyler. The word to know when it comes to salary cap is "proration.' A lot of these deals are tricky, and teams and agents negotiate deals that spread the money out over the life of a contract in different ways. Some of the up-front money is guaranteed early in the deal, and some of it comes in bonuses, from signing bonuses to roster bonuses. But let's say a guy gets a straight $30 million signing bonus on a six-year deal. To spread it out over the course of the deal, it's prorated evenly where $5 million would count each year. Most of the time, the smaller salaries are in the front part of the deal, and the bigger numbers are on the back end. Add the yearly salary to the prorated signing bonus and you have your cap number. So if a guy is making $2 million in 2017 as part of that six-year deal we talked about, add the prorated $5 million to it and his cap number is $7 million for 2017, as long as other bonuses aren't included. If his salary of $4 million in 2018, add the prorated $5 million and his cap number would be $9 million. The cap does not apply to coaches and executives. Hope that helps!
---

Nathan Hird from Battle Creek, Michigan

Question: Hi Jim! I'm a first time writer long time reader! My question may seem a little odd since I'm not asking about the team this time. I grew up in Hermitage and moved to Michigan because of my parents work! I'm currently 24 and I'm in the process getting married in August and I'm house shopping. Wife says I get a man cave, can't think of anything better than all Titans! My question is this, I see the videos of interviews in the meeting rooms with the Wallpaper of Nissan Stadium on a gameday, I can't think of a better way to watch the Titans than feeling like I'm at the game! How does one obtain this wallpaper!? I've been searching feverishly online with no luck. Any info would be greatly appreciated! Next time I watch the Titans play a meaningful game I'll be married! #Titanup
Jim: Well, congrats on getting the approval for the "Man Cave." Sounds like you've found a great partner! Man, I'm not sure where that wallpaper can he purchased, though. I'm thinking you might be referring to the banners behind where the interviews are done? But I'm sure there is some kind of Titans wallpaper out there. I'd keep looking, and when I get back to Nashville I'll ask around.
---
Eric Brown from Bend, Oregon
Question: Hey Jim. How's it going? I would like to know your thoughts on Alex Tanney is he ready to take the next step & be the backup. How do you think it will play out? It's the year of BLUE #TITANS/DODGERS See you next season.
Jim: Hey Eric. I like Alex. He's a hard worker, and he's done well when he's gotten a chance. With the signing of Matt Cassel this week, though, Tanney is still a year away. The Titans will continue to develop Tanney. I think he has a chance to stick around the league a while myself. And yes, go Dodgers!
---
Maurice Müllee from Trier, Germany
Question: Hey Jim. I am a huge Titans fan. Unfortunately I live in Germany and don't have the chance to visit a Titans game live. Is there any chance the team will play a game over in Europe in the 2018 season?
Jim: Hey Maurice. There's a chance. I was actually pretty optimistic about the Titans getting an international game in 2017, but it didn't happen. The Titans are one of the teams still without an appearance in one of the international games. So it's safe to say the team is due.
---
Joseph Arnold from Smithville, Tennessee
Question: Hey I really enjoy reading your Ask Jim question and answers. Thinking LB's are on the Titan list what about Zach Cunningham from the other side of town and as far as WR goes is Victor Cruz ex-giant on the radar even though I feel Harry Douglas is way to under used I am also a Falcon fan I know he is a sound receiver and very good blocker.
Jim: Hey Joseph. I'm a big fan of Cunningham from Vanderbilt. Saw him play a bunch in college. He's fast, he has great instincts and he is smart. As for Cruz, haven't heard a lot of buzz about him. Douglas is definitely a do-it-all guy. The receiver spot is definitely one to keep an eye on. There will be some new additions, there's no doubt about it.
---
Chris Chapman from Hermitage, Tennessee
Question: Hey there Jim! Its been a lil min since i posted a question on your site for fear of being redundant. The draft and free agency are crazy times during the offseason. Thats not to say that i havent gotten up every Saturday morning over the past fews and not looked for your column cos my bro thats how i wake up every Saturday morning; well that and coffee of course. Guess if your Saturday "Ask Jim" column ceased to exist we fans wud prob be lost. Now for my question. Listen, i try not to put a whole lot of stock into what the analysts and beat writers at NFL Mobile write as far as predictions for whatever but dude i read something this past week that i truly hope doesnt happen. It was about the prediction of QB Nick Foles coming here to become Marcus' back-up. Plz tell me that dude isnt about to pack his bags and come here. Honestly, i was a lil skepticle about QB Matt Cassel when he 1st got here last spring but over the past season I along with alot of fans have seen that he's a very viable back up along with Alex Tanney of course. I havent seen anything in the past that wud lead me to believe Nick Foles would be anything more than an excuse as to why we lost this game or that 1 should he be needed of course. What you think? Alex Tanney is a better QB than Foles plus he and Matt already have our system down. I see Marcus coming back stronger and ready to light it up. Im glad he's doing well and on pace. The team's brass is being very smart by not rushing him back for Spring training. He's played this game long enough to know what he needs to do with the rest if his body in order to get ready for Training Camp and Week 1. I hope you're doing well and i look forward to seeing you when the team hits the tour bus this Summer. GO TITANS!!! You guys enjoy your time off, we look forward to watching y'all this August!!!
Jim: Hey Chris. Appreciate the email. I showed this to the decision-makers earlier this week, and not long after the team re-signed Cassel, per your advice, in case you missed it. :)
Seriously, I think it was a good move. I like Cassel myself. He's been a good influence on Mariota over the past year, and he's going to play a bigger role this offseason as Mariota recovers. Have a good one.

--------------------------------------------------------------------------------------------------------------------------
Isaiah Young from Aberdeen, Mississippi

Question: Hi Jim. I'm a big fan and you do a fantastic job. My question is coupled with an assessment for my beloved Titans. I am excited from the improvement shown this year but after watching the tape, the major deficiency I could see is SPEED. Running the "exotic smashmouth" offense with 2 BEASTS often require additional guys in the box for the opposition. That said, we need WRs that have the capacity to get behind guys. If nothing else, he'll be a decoy on run plays and give an added spatial dimension for Delanie, Matthews, & Sharpe. We also need it at the LB position. The secondary and pass rush could be addressed by FA and later rounds of the draft since this class has so much depth. So I lean to your expertise, please let me know if this makes since to you????..... FA......Trumaine Johnson or Logan Ryan. (McCourty shifts to #2 CB) FA.....Corderelle Patterson Pick 5.....Foster Pick 18.....Ross 3rd.....Evan Ingram, DB depth 4th through 7th.... Pass rusher, OL Depth picks
With these moves we have more team speed, our middle LB star of the future, upgrades and depth at CB, and another Playmaking TE. This is predicated on the idea that we stick and pick AND we couldn't get Eric Berry. I must say I like our safety combos as unconventional as it is. Byard has to keep getting reps. I look forward to hearing from you.
Jim: Hey Isaiah. Appreciate the email. And the word for this year's draft I think is "speed." The team wants to get faster across the board, on offense and on defense. Your pitch is an interesting one. I can't necessarily endorse any of these moves at this point, but I must admit, some make sense. Free agency will tell a lot, starting March 9. And it will play a huge part in what happens in the draft. It might even change your plan. Stay tuned.
---
Mike Kopriva from Las Cruces, New Mexico
Question: Hi Jim. First I want to thank you for this mailbag. For those of us not located near Nashville, you are a godsend. Now to the question. You hear a lot about WR and CB this cycle as you should. But when you dig into things it's a bit more complex. The case in point is the Defensive front seven. Here is the scenario. It looks like the Ravens will lose their NT (williams?) to FA. If Tenn could pick him up, it would make a lot of sense to take Foster at 5. In most cases I advocate solving problems with large teeth, and small to medium size bites. IOW, trying to be strong everywhere means you are weak everywhere. But a front seven with Williams, Foster, Casey, Johnson, Orakpo, and Morgan would be a nightmare for opposing offenses for 10 years or so. If you manage to sign a solid WR and CB in FA (very possible), we are so golden.
Jim: Hey Mike. Appreciate the email, and the kind words. Forwarding this email to the boss! :) I'll say this: I expect Jon Robinson to be in a position where the team could possibly take the best player available early. With money to spend in free agency, some needs are going to be addressed before the draft. Plenty of them could be addressed, in fact. And if that happens, I'm not completely ruling out a surprise pick, at an unexpected position, with the first of the first-round picks. Not sure if you've seen the Foster development from last night, but that's going to need to be looked into by NFL teams, too. And, of course if Robinson makes a trade and slides back, that could open up even more possibilities among the prospects.
---
Kyle Leach from Peggs, Oklahoma
Question: Hey I'm a Titans fan from Oklahoma and I know Jake Butt is hurt but do you think they will look at him as draftable TE? What do you think about them drafting Peppers as a safety and using him like a troy polamalu type player? thank you and #titanup.
Jim: Hey Kyle. Just heard Butt talk at his combine presser today. He's a heck of a player, but he does have some injury questions, like you mentioned, that will need to be sorted out. I'm a big fan of Alabama tight end O.J. Howard, too. Personally, I think tight end is a position of need. The team needs some youth in the room, and another playmaker at the position. As for Jabril Peppers, I like him, too. But I'm also intrigued by some of the other safeties here at the combine. I'll have a better read on those guys at the end of the weekend.
Well, I have to run. I'm next on the bench press. Have a great weekend everyone!
Titans GM Jon Robinson, head coach Mike Mularkey make their media rounds at the 2017 NFL Scouting Combine in Indianapolis. (Photos: Gary Glenn)