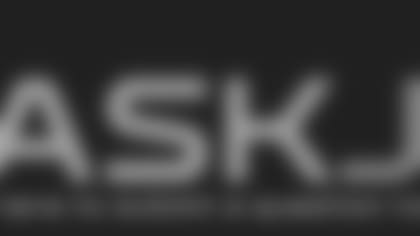 ](http://www.titansonline.com/news/ask-jim.html)
Another week into the offseason, and another week closer to free agency, and the NFL Draft.
Senior Bowl practices, and the Pro Bowl are coming up. And, of course, the Super Bowl.
Then the NFL will turn its undivided attention to the 2017 season.
My focus right now is on this mailbag.
Takashi Terauchi from West Lafayette, Indiana
Question: Hey Jim! So I understand Titans need help on their defense, especially in the secondary. I believe in all mock drafts I've seen, I see the Titans drafting a defensive player with at least one of two first round picks.  I'm not saying I disagree with drafting defensive player in first round, however I can't stop thinking of the idea of drafting Mike Williams 5th overall and O.J. Howard with 18th overall pick.  With Marcus Mariota healthy and his weapons being Williams, Rishard Matthews, Tajae Sharpe, Delanie Walker, and Howard, our passing game could be one of the most dangerous in the league.  With Walker and Howard, this offense could draw comparison to 2012 Patriots offense with Gronkowski and Hernandez, but they didn't have a top 5 running game with them. Combining our potential passing offense with the 3rd best running offense from last year, I don't know if anybody in the league can stop this offense.  On the defensive side, we can possibly sign players such as A.J. Bouye and Stephon Gilmore in free agency for secondary help, and also use rest of the draft picks on defense.  Our defense might not improve much, but the offense will have potential of being number one in the league.  What do you think of this idea? Can you see this scenario happening?  Go Titans!
Jim: Hey Takashi. Well, it's fun to envision, at least. Williams and Howard are both dynamic players. I'm looking forward to seeing Howard up close at Senior Bowl practices this week. And we've all seen Williams. The guy is talented, no doubt. I know Jon Robinson and Mike Mularkey want to surround Mariota with even more playmakers in 2017. The secondary needs to be addressed as well. These improvements will come in free agency and the draft in some fashion. Keep in mind it's a good draft for the cornerback position, and that could influence the thinking.
---
Steven Crosio from Brick, New Jersey
Question: What is the plan with the pick we got from the Rams (No.5 overall)?
C. Draft the top player in the draft so far
Jim: You left out E: All of the above are possibilities. :)
---
Sayvonne Hinson from Thomasville, North Carolina
Question: Hey Jim, I am a Titans fan in North Carolina and I've been staying up to date with the mock drafts and I see now they have us taking the safety Jamal Adams from LSU and I'm just wondering could that be a possibility? In my opinion that's wouldn't be bad at all to have him and Byard at the two safety positions.
Jim: Hey Sayvonne. I've seen Adams projected as the pick on a lot of mock drafts as well. He's listed as a top 5 player by a lot of draft analysts. Could he be the pick? I'm sure Jon Robinson and Co. have already done plenty of homework on him, but it's very early in the process. A lot needs to be sorted out over the next few months. Now I definitely see new additions coming in at the position. Keep in mind safeties Rashad Johnson and Daimion Stafford have expiring deals, although there's a chance they could be retained. But whether other additions comes in free agency, or with an early or later pick in the draft, remains to be seen. And just to throw this one there: Mel Kiper has Adams going No.4 to the Jaguars in his first mock draft.
---
Thomas Malone from Simpsonville, South Carolina
Question: I am a long-time Vol Fan and Titans fan. Now that Eric Berry is a FA, wouldn't it be wise to sign him and have a Pro Bowl Safety anchoring your defense? It would also be a huge draw for Tennessee Vols fans to come see EB play. It could increase in ticket sales, by bringing home the Legend.  What say you?
Jim: *Here's another option at safety. Well Thomas, even as a life-long Vandy fan, I've always liked and admired Berry myself. He's a great player, a courageous individual, and a guy any team would surely like to have on a football team. With that said, why would the Chiefs let him walk? I get asked about Berry a lot, and I can't keep from thinking the Chiefs probably love him as much as Vols fans do. *
---
Max Merenz from Pasco, Washington
Question: I felt the Titans offense improved when Chance Warmack went down with the injury. I haven't felt that Chance has lived up to his draft position. You will probably have to be tactful with your answer... would you agree with my assessment?
Jim:* Well, I certainly don't think there was a drop off. Josh Kline stepped in and played well, which probably doesn't bode well for Warmack's future in Tennessee. That's just my thinking. He's another guy with an expiring contract. *
---
John Hook from Norfolk, Virginia
Question: Hello Jim from VA. Great job covering the Titans I appreciate all the hard work that you do. I know that this has been discussed several times but the with draft coming and possibly Damion Stafford and likely Rashad Johnson not being around next season and Jason McCourty to put it lightly is "losing a step" at the cornerback position. Is it more likely IYO that he'll finally be moved to safety stay at corner or be released? Also, I'm no NFL quarterback but I think Marcus Mariota needs take a page from Aaron Rodgers and pay more attention at the line of scrimmage and try to catch defenses trying to make late substitutions for a free play or 5 yards. He had several opportunities this season to do so and it could quite possibly changed to outcomes of a few games. And we all know after this season that EVERY GAME COUNTS! Also with new uniforms coming in 2018 PLEASE it's time for RED color rush jerseys! I like the all dark blue look but no more two-tone! And instead of the "fireball" logo on the helmet, definitely keep the helmet white but instead of the logo just have the flames but bigger from the face mask back kinda like the Vikings or Eagles. Just my opinion! Thanks Jim GO TITANS
Jim: Hey John. Appreciate it. McCourty has been asked a lot – by reporters -- about moving to safety, and I get it. His twin brother did the same in New England, and made the transition with success. But the Titans coaching staff has never asked McCourty about making the switch, so it's all speculation at this point. As for Rodgers, he's definitely the master at catching teams with extra players on the field. I'm sure every team would love to see their QB be able to pull that off with regularity. As for the uniform colors and designed, I'll pass it along! Have a good one.
---
Ryan Kennedy from Murfreesboro, Tennessee
Question: Hey Jim, Do you think QB2 should be a 1st or 2nd round draft pick if the team feels they can come in within year 1 or 2 and play? Maybe a player like Deshaun Watson who reminds me a lot of Steve McNair? Most people would say: "That's crazy! WTH would anyone pick a QB2 that high in the draft?" Answer: Because of the fallout that happens to the team if/when Mariota goes down? Lose a starter or two at any other position and you might still make it to the playoffs. Lose your starting QB and you either don't get in or you are a quick out of the playoffs. The most telling fact though is one of recent history. When was the last time a Titans starting QB finished a full season? Mariota hasn't finished one season yet. If history repeats itself this year, do you really trust Cassel or Tanney to lead the team? I sure wouldn't! Worst case scenario, you have VERY good trade bait for more draft picks from teams needing a QB1 if you don't use him. I would waste a 1st round draft pick on a player that doesn't play during his 1st season if I end up needing him during a playoff run (like the Raiders needed) or if a team wanting to get into the playoffs trades a boat load of picks. Your thoughts?
Jim: Hey Ryan. I get your line of thinking, but I'm not subscribing. I just think the team has too many other needs at this time, and those first-round picks are just too valuable to use on an insurance policy. But that's just me. I appreciate the question, though, and there's no doubt drafting Kirk Cousins a few years back has paid off for the Redskins.
---
Carter Cheeseman from Nashville, Tennessee
Question: Hey Jim! Thanks for another great season of work keeping us fans in the loop. I have been reading your latest questions from fans and wanted to say a couple of things and make some points. First of all I think it is clear that our areas of greatest need are the receiver and cornerback. Many people are wanting to use the 5th pick in the draft to address the WR position citing the reason as we don't have a real WR 1. I would like to say that if Rishard Matthews hasn't proved this season that he can be that physical go to guy who is always trustworthy, I don't know if anyone ever will. He had an amazing season. I think if we draft a receiver it doesn't have to be with our first pick. What I really would like to see is a speedy guy who can blow the top off the coverage as a complement to our receivers already in place. And as for cornerbacks, I think LeShaun Sims will be great for us next year and we could use one guy to be opposite him while moving McCourty to the slot position. So, basically we are less needy than some might think. We had the talent to win far more games than we did this year but it takes some time to completely change a culture of consistent losing to the alternative of winning. We were close though. Also important to remember that draft talk is not all that important until after free agency. I think Jon Robinson has proven to be a wizard in this department and am looking forward to it this year. Well sorry for the longevity, but thanks for reading!
Jim: Hey Carter. Thanks for the email. I agree that Rishard had a great season. He was a big addition in free agency, and he's going to be a big piece of the puzzle for years to come. But I do think the team needs at least one more playmaker at the receiver position. Even Matthews said so himself at the end of the year. Whether that player comes in free agency or the draft, or possibly both, that's the big question. As for Sims, I liked what I saw from him, too, but the team is going to have to make some additions around him in the secondary.
---
Chris Chapman from Hermitage, Tennessee
Question: Hey there Jim!!! A very Happy New Year to you buddy. I realize you're getting a lot of draft and free-agency questions this time of year, I started asking my questions I think about week 14. I'm sitting here about to watch the New England Houston game I really hope that at the end of this game Texans are sent home. I realize as an AFC South and that we should be rooting for an AFC South team in the divisional matchups but personally I can't stand the Texans!!! The Jaguars really really messed up our plans we should be in the divisional matchup but one thing's for certain next year every AFC South team better watch out because we are coming with guns blazing BOOYAH MY BRO!!! I personally cannot wait for free agency in the draft to get here I can't wait to see what Jon Robinson coach Mularkey pull out of their hats no matter what decisions they make there going to be good ones and the Titans are going to be a massive force to be reckoned with next year that's for certain!!! I would love to see us draft a John Ross type receiver we need a big-bodied go get it guy by all means don't get me wrong Rishard Matthews earned his money this year and I can't wait to see what he would do with another receiver like him or better. My question is this as I was sitting here about to watch the game I was just curious as to why the NFL doesn't try for a few seasons to mix it up a little bit and just scramble the whole AFC NFC team divisions? I mean really mix up the teams. I realize that will prob never happen but it would be something really diff if say every 4 or 5 seasons throw all NFL teams into a hat so to speak and reconfigure each division and maybe even let certain diehard fans name the diff divisions. I personally would like very much to see some sorta change along those lines to happen where each individual division teams aren't stuck playing the same teams twice each season. I think its at least worth a try even if just for a ratings spike. What are your thoughts bro? It sounds weird i know but if you think about it that would really shake up the league and its down ratings. Anyways, i didnt wanna ask the same questions about the same few players. All us fans know that Jon Robinson and Coach Mularkey will most def shake up our team this offseason and i cant wait cos those guys along with their staff and especially our players have my complete trust 1000%. Have a good 1 my bro. As always thanks for all you do man!!!
Jim: *Hey Chris. Well, you got your wish on the Texans. Appreciate the question. Sorry to disappoint, but the massive division shakeup probably isn't going to happen. It's a fun thought, but I just can't see it. Have a great week. *
---
James Ellison from Nashville, Tennessee
Question: Hi Jim, I love the direction our team is going but I just wanted some of your thoughts on the upcoming draft and free agency. I personally think Jon Robinson will pursue Alshon Jeffery in free agency and build mostly on the defensive side in the draft. I personally like Quincy Wilson and Desmond king at the 5 and 18 spot, I think that will be a lethal combo at corner. But seeing what Jon did last year I could also see him trading down while in the same token getting some second rounders with it. What are your thoughts on this?
Jim: A lot of scenarios are out there. I like Jeffery, but some question marks surround him no doubt. Desmond King is another guy I'm interested in seeing at the Senior Bowl, too. But his real test will come when he runs at the combine. He needs a good 40 time to put himself anywhere near the conversation about being an early pick. I haven't seen him rated that high so far.
---
Jon Losa from Ferndale, California
Question: Hey Jim, I have a question about the tight end position. I know Delanie is getting old but still has some good years left in him. Anthony Fasano is old and isn't a big weapon in the passing game but his blocking makes him quite valuable in our run game, do you see him being on our roster at the start of next season? I know everyone thinks we will add a tight end in the later rounds of the draft to add some youth to that group but I'd like to know what the deal is with Jace Amaro? He's young and can be a weapon in passing game more than Fasano and Supernaw. I assume coming out of an offense at Texas tech his blocking probably isn't as great as the other three guys we have but our coaches should be able to change that. Do you think there is much of a chance he could have a future with the Titans and take the place of one of the older guys?
Jim:* Hey Jon. I'll stick with Amaro here. He remains under contract, and I think the year in the system should help him. I watched him in practices every week and he's a pretty talented guy. He catches the ball well, and is a good athlete. I think he'll be in the mix in some capacity heading into next season, but the question on him is definitely his blocking. He'll have to improve in that area. Who surrounds him – and Delanie Walker -- at the position will be sorted out in the coming months. *
---
Randy Howard from Kennett, Missouri
Question: Hey Jim! As everyone has said, Thank you for all of the updates and work you do to keep us on top of everything involving the Titans. It's much appreciated! My question is regarding free agency rather than the draft. It's pretty obvious that the two positions that we are needing the most upgrade at is Wide receiver and Cornerback. That being said, there is a lot of top tier type talent in Free Agency this year at both positions. Do you have any indication on which FA the team is focusing on, early as it may be? Stephen Gilmore and A.J Bouye are the two I have been looking at for the secondary, along with Alshon Jeffery and Desean Jackson at Wide receiver. Again, thank you for your input and here is the Titanic 2017!!! Titan up!
Jim: Hey Randy. I'll be completely honest: I can't tell you who the team is focusing on in free agency, partly because I haven't heard, but mainly because I'd get fired if I spilled the beans. I'll say this: It's early. Right now, there's a ton of uncertainty. Who will get franchised by their clubs? Which guys will sign extensions and stay put? How much money is a player looking for on the market? Some of this will come into focus by March, but right now it's hard to say. I think you're right on with the positions of need, but being able to peg the players of interest this early is tough.
---
Shane Lahure from Calgary, Alberta, Canada
Question: Hey Jim. Thank you for all of your diligence and updates. My question is in regards to free agency. Last year I think it is fair to say that was the most exciting for us in many years. Props to Jon Robinson and the rest of his peeps. Do you think the free agent focus will be offensive or defensive? My eyes are on AJ Bouye, Von Miller, and Fletcher Cox. Not sure the Titans will ever pay Von Miller $$$$ but wow if we could get the pressure up front maybe will relieve some of the pressure on our defensive backs? Are there any free agents that you think the Titans might be looking @? Thank you and Cheers, Shane
Jim: Hey Shane. Thanks for the email. If you made it this far, you probably saw my response to Randy. But I like your wish list. Thanks for the question and stay warm!
---
Nancy Kay Miller from Alberta, Canada
Question:  Who is the man leading the celebration song in the locker rooms?  Is he a coach on staff or an ex player?  Just wondering. Thanks.
Jim: *Back-to-back from Alberta! Hey Nancy. You're referring to Keith Willis, the team's assistant defensive line coach. He's a pretty animated guy in those videos, and a pretty good dancer, huh? *
Have a great weekend everyone!