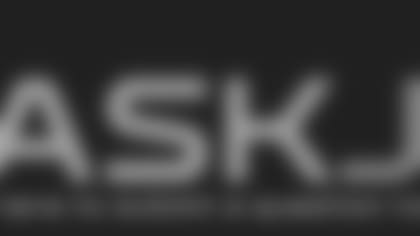 ](http://www.titansonline.com/news/ask-jim.html) The Senior Bowl, Pro Bowl, and Super Bowl are in the rear-view mirror.

The NFL Combine begins later this month, and the NFL Draft is on the horizon.

Lots of questions out there, and sorry in advance that I couldn't get to all of them here. The mailbag was overflowing during my recent travels. I'll do my best to catch up in the near future.

Let's kick this round off with an outside-the-box idea about the #TitanUp slogan. I'm not endorsing it here. I'm just showing the wide range of topics on the minds of the fans ….

Tyler Velin from Missoula, Montana

Question:Hey Jim. I've been a Titans fan for a long while now and I think during my undergrad in journalism I exchanged a couple emails with you. I don't know who to email about this, but figured you might be a good place to start. I am writing with a potential suggestion for online branding of Titans material. Currently we are rolling with #TitanUp, but I think that this might be shortchanging the efforts and neglecting the younger fan base (which will grow as the win column does). Though simple and easy to remember, I wonder if the slogan is too simplistic and therefore not really communicative of anything. What does it mean to "Titan Up" (I know I'm parsing things not really meant to be parsed in social media, but the critique still stands)? Also the slogan doesn't incorporate much brand identity for marketing purposes outside of borrowing the name of the organization (in other words it isn't building anything). Lastly, speaking as someone who works almost exclusively with college students, there is an unfortunate awkward sexual undertone to it. Crude and immature yes, but I've seen first-hand the giggles it produces in person and on message boards. My suggestion comes also with a knowledge that a uniform change is scheduled for 2018. With this change there is a potential to use different aspects of the current logo to build branding, product sales, and visual identity. This suggest is: #BearTheSword. While I love the visual aspect of our current logo, the "flame" isn't top of mind with the noun "Titan." However, the sword is. It also communicates a clear purpose combined with a "smashmouth" (see what I did there) feel. It brings a new level of identity and also creates a type of buy-in where both Fans and Players can tweet it and communicate a joint cause (fans can bear the sword via apparel and pride, players bear it on the field of battle). It provides a connection point which #TitansUp attempts to do, but falls slightly short. This can be built out in numerous ways both small and large (the latter would be combined with uniform change as using the sword allows Ms. Strunk to keep the current aspects of our logo, while also having freedom to emphasize new components such as the sword). Other options I have mulled over are #CarryTheSword (though not as active in tone), #WieldTheSword (which I like better but realize the difficulty of spelling "wield" right could be a downside), and the biggest downside to #BearTheSword is the word "bear" which is tied both to Chicago and University of Arizona. I know you probably get stuff like this all the time, but if this is interesting or helpful I would love to discuss it more. Thanks

Note: For the record, I exchanged emails with Tyler on this. I told him I like "TitanUp" because it's short and catchy, like "Roll Tide," "War Eagle," and "Anchor Down," just to name a few. But I included it here just to see if it generates any discussion. While I thank Tyler for taking the time, I think he should #BuryTheSword on this one.

Now, on to some more questions…

---

Billy Kealoha from Honolulu, Hawaii

Question: Aloha Jim, I was wondering, since there has been a lot of talk about possibly taking a safety in the Draft, why isn't anyone talking about switching Jason McCourty to safety? He seems like he has decent tackling skill for run support and coming from CB, he should excel in coverage. I know I read somewhere that he has not mentioned interest in switching but I think it would be a win-win situation for the team and him especially if the Titans are looking for new play makers at CB. He has been a class act and I would rather see him stay with the possibility of contributing in a starting role at safety while adding several more years to his career with the Titans rather than being pushed out by new talent. Being an athlete especially at that level, sometimes players don't recognize that they may have lost a step. If he isn't talking about it, don't you think it is an appropriate discussion the Coaches and GM should initiate instead of a potential blindside with an option of becoming a back-up or shipping him out altogether. I would hate to see any of those options play out. Sorry for long winded question, feel free to edit if you plan to use this question. Mahalo

Jim: Hey Billy. Thanks for the question. This has actually become a pretty popular one of late, and I get it. The switch worked for his twin brother with the Patriots. At season's end, Jason McCourty had not been approached about the possibility. And I'm not so sure this is something that will develop. He's always been a corner, and that's where his strengths are on the field. Could it happen? Well, I guess you never say never. But I know he has a pretty high cap number for next year, and I know some others will be considered in the draft and free agency. So we'll have to see how things play out in the coming months. You're right on about Jason being a class act. He's as good a guy as I've been around covering the team.

---

Luis Murra from Torreon, Mexico

Question: Hi Jim! I would love to see the Titans trading down a little bit and getting a 2nd round this year. What do you think about Christian McCaffrey? If you want speed, separation and good matchups the Titans could pick O.J. Howard and McCaffrey. McCaffrey is "the Jabril Peppers" on the offense. He could take the Marc Mariani spot on the roster, so now you have a kick returner, slot wr and a 3rd and long back... and you can do a lot more of course with him. He is a Tavon Austin, Tyreek Hill kind of player. Everybody is saying we need a WR. I think we need a weapon who can create separation and not necessary a WR. What do you think about it?

Jim: Hey Luis. I'll be honest – I haven't thought too much about the possibility of McCaffrey. Don't get me wrong: He was a great college player at Stanford, and I think he'll be successful in the pros. I just think the team is in good shape at running back, and I could see the return guy coming from the receiver or secondary, a dual threat guy. But it's an interesting thought.

---

Matthew P from Hendersonville, Tennessee

Question: Hey Jim. I hope you are doing OK with all your traveling for the last two or three weeks. From the Senior Bowl, to Pro Bowl, and now the Super Bowl that is a lot of air miles. So I'm sure you're ready for a break and you need one. Anyways I e-mailed you a three part question a few weeks ago just prior to the Senior Bowl and gave you a heads up on one of the players playing in it. Which brings me to my question because everyone is talking about all the other Wide Receivers at the Senior but Josh Reynolds. I don't know if he is an all-out practice/workout beast. But what I do see in him is a game day/playmaker monster. Please tell me what you saw from him during practice and during the game. Because for a guy that wasn't even talked about that much the whole week or even after it. Did put up a lot of good numbers during the game posting six receptions for 96 yards and a touchdown. One of those receptions being a 39 yard touchdown. Which to me the fan means big play abilities with everything on the line with all teams GM's, scouts, coaching staff watching. I think he would be a steal in the later rounds. What are your thoughts on this young man and maybe ask Jon Robinson his thoughts too but don't post them just yours. I don't want everyone to know what he is thinking just want him to look at the man. Take care and get some rest.

Jim: Hey Matthew. Good call on Reynolds. Guys like Eastern Washington's Cooper Koop and East Carolina's Zay Jones got a lot of attention among the receivers at the Senior Bowl, but I thought Reynolds had a good week as well, and you mentioned his game. He definitely helped himself in front of NFL scouts, and he has a chance to improve his stock even more in the coming months. Sure, guys like Mike Williams, Corey Davis and John Ross will dominate the conversation at the combine and leading up to the draft, but I think Reynolds is among the 10 best receivers in the draft class.

---

Marco Antonio Alfaro del Angel from Mexico City

Question: Hi Jim, my question is about Cody Riggs. I have wonder about this for long time and haven't find an answer. It's clear that our major weakness, by far, was the CB position and it was surprising for me to notice, when it happened, that Cody Riggs was downgraded to the practice squad and then released because, prior to this season, the opinion of many (included me and you) about him was very high (also due to his value in ST). In fact, I thought at the beginning of the season that he could eventually get a chance as CB2 or at the slot given how looked the situation at the position. What happened exactly with him that led to this fall and exit of our team? 
*
Jim:* Thanks for the question. I like Cody Riggs. I like his competitiveness. I just think the decision was made to stick with some of the veterans and ride the upside of rookies like LeShaun Sims and Kalan Reed over Riggs. He got caught up in a numbers game, and a few injuries didn't help his cause either.

---

Gómez Luis Carlos México City

Question: Hi Jim. First, thanks your work, it's really important for fans. I've been fan since 1991 with Warren Moon and offensive system run and shoot, that offensive was wonderful. My dream it's to visit camp training and see an official regular season game in Nissan Stadium. I've been saving money for long time and I hope to go this year. My questions: Is there a possibility to select Corey Davis WR and Jamal Adams FS in first round and if it's possible could Robinson get a trade for the Titans to receive a pick in second round in the draft? Thanks!! Go titans!!

Jim: Mexico is well represented in this mailbag! Good work! Well, Gomez, in Todd McShay's most recent mock draft for ESPN he has the Titans taking Davis at 5, with Adams going right before him to Jacksonville. So if that's the value other teams have on them, it would be hard to get them both with picks 5 and 18. As for picking up a second-round pick, Robinson would love to do it. He's said as much. But he's going to have to work some draft magic to make it happen.

---

Kevin Jones from Carthage, Texas

Question: Hey Jim. You're doing a great job! I know you're getting a lot of questions about the draft and free agency but I was wondering more whom the people behind the scenes? Like scouts, who evaluate free agents, who is in the war room on draft day, what role do the coaches play in evaluating talent, any info you can provide without crossing any lines on how they come up with draft grades or their grading system? Sorry, I know it's a lot of questions but I have a lot of interest in those things and sure I'm not the only one. Pass a Thank You to all those folks behind the scenes that may not get the recognition that Jon gets even though it's well deserved. Thanks again, Titan up!!

Jim: *Hey Kevin. I appreciate it, and good questions. The scouts do a lot of behind the scenes work, along with other members in personnel, guys like Ryan Cowden (Director of Player Personnel), Blake Beddingfield (Director of College Scouting), Brian Gardner (Director of Pro Scouting), and many more. All those guys work tirelessly, along with the area scouts. The coaches do play a role, from Mike Mularkey to position coaches. Those guys went to the combine, they'll be involved in pro days and workouts, and they offer input. But I will say Jon Robinson and Co. are the ones making the biggest calls on the players, and doing the grading. And while scouting staff is in the war room during the draft, the assistant coaches usually remain outside, unless they're called upon in certain situations. *

---

Chuck Meadows from White House, Tennessee

Question:Hey, Jim. Curious as we get to NFL Draft time, do you see GM Jon Robinson play the role of Monty Hall and play "Let's Make A Deal" with a GM from another NFL team. Love for your answer, please. Thank you.

Jim:* *Hey Chuck. I certainly wouldn't put it past him. Heck, the guy made five trades in his first year on the job, and he's already been on record this offseason saying it would be a mistake to assume he's going to "stick and pick" at 5 and 18. So stay tuned.

---

Alex Whalen from Seattle, Washington

Question: Hi Jim, I am wondering about the futures of our players that we got in the draft this season. Especially the ones that did not play much, like Kevin Dodd, Austin Johnson, Sebastian Tretola, Aaron Wallace and Kalan Reed. Where do you think they might fit into our future and when? What does each one need to work on the most? Thank you very much, TitanUP!

Jim: Hey Alex. The one thing that's true with all those guys is they had veterans playing well in front of them, which contributed to them maybe not making a big impact in 2016. Dodd has to get healthy. The coaches are high on him, he just was hurt from the beginning. Tretola had to wait his turn behind vets, and the same can be said for Johnson, Wallace and Reed. Mularkey gathered all those guys on the way out the door after the season and told them the expectation level changes headed into Year 2. I'd expect more from every one of them.

---

Asa Fitzpatrick from Lutz, Florida

Question: Hey Jim! I know you have received a lot of questions about the draft, but in all the questions I have seen there hasn't been one about Marshawn Lattimore (CB) from Ohio State or Malik Hooker (S) from Ohio State. I think they are both amazing football players and would help our team tremendously on defense. Maybe take Marshawn with the fifth pick then trade up to get Malik? What are your thoughts? We definitely need a good corner and I think Lattimore can help us with that and Hooker had a HECK of a year at Ohio State and would really make the safety position in good shape! The only problem with this is that we then don't have a top WR... but we could always pick someone up in free agency or trade for one. Even if we don't pick up a top WR this year... we do have Tajae Sharpe and Rishard Matthews who will grow and work hard over the offseason no doubt! Just an idea! Do you think it's possible? Thanks, Jim! Have a good one!

Jim: Thanks for the question. Well, this is what's tricky about the draft. So many good players, and you can't get them all. I've heard a lot of good things about Lattimore. Some believe he's the top corner in the draft. Hooker is talented, too, but he's not going to be at the combine because of recent surgeries, so question marks surround him. Still, he's projected to go early by a lot of folks. Obviously the team needs more help at receiver, but just how early that happens remains to be seen.

---

Rick W from Honolulu

Question: Hey Jim. With the draft and free agency coming up, I know our secondary will be a key focus for JR.  However, can you give us any update on a Kevin Dodd's Rehab progress?  As a second note, I would love to see the Titans draft UT Derek Barnett. This kid is a beast and causes all kinds of havoc! Thanks for keeping us Island Folks informed on our Titans! Aloha, Rick.

Jim: Hey Rick. Sure you saw where I touched on Dodd earlier. He'll be ready to go for the offseason. He just wasn't himself mentally or physically last season. Even when he came back he didn't feel right, so the expectation is he'll be a different guy next year. Barnett is a heck of a player, no doubt. He could boost any pass rush.

---

Aaron Heiney from Roy, Utah

Question: Hey Jim, Aaron here all the out from small Roy Utah. 2 questions for you that I would like your input on. Now I have been reaching out to my inner Jon Robinson, and have put together a scheme that makes some sense. With Alshon Jeffery most likely to be hitting the FA market, Tennessee would be a perfect place for Jeffery to bounce back from a disappointing last 2 seasons with Chicago. It would also be giving a healthy Marcus another weapon on the receiving corps. And Jeffery has proved in his young career he can be an elite receiver in this league. Unless we absolutely fall in love with a receiver in this upcoming draft, someone like a Mike Williams or a JuJu-Smith, our 2 first round picks can all go into rebuilding our secondary. Perhaps a playmaking CB with the #5 pick and someone like I don't know; Adoree Jackson from USC with the #18 pick to fill in the secondary and also add an edge in the special teams game. I also wouldn't be surprised if either of those 2 first round picks are traded. Thoughts? Final question: Titans have made some noise in this league already and I felt that we were a year early. With big wins after our bye week, beating the defending SB champs in the Broncos, and going into KC and edging it out, we put together some huge wins against teams that made the playoffs this year. With that big turn-around, do you think the Titans earned a Sunday Night Football game? It's been a while since the last time I heard Al Michaels and Chris Collinsworth call a Titans game. Best wishes and always TitanUp.

Jim: Hey Aaron. Good stuff. Jeffery is talented. He's big, and he's a game-changer. But I don't have to tell you questions surround him, especially following his suspension last year. How much will that impact his status? I don't know. And you bring up a good point about the possibility of falling in love with a receiver or two in the draft. If that happens, Jeffery maybe wouldn't be as high a priority. These questions will be answered by folks way above my pay grade. I do like the USC guys myself. As for the Sunday Night Football possibilities, I certainly think the Titans are on the radar now. It's a team on the upswing, with five Pro Bowlers and plenty of marquee players. I have to believe the Titans will be considered for more primetime games in 2017.

---

Ginger Burke from Nashville, Tennessee

Question: They say the best defense is a good offense and with that said, do you agree? Do we go after a top WR or do we go after a top secondary play changer on defense. My main concern is our secondary defense. I know we improved as the last season ended but great teams have great defenses. Also, do we trade down from #5 to sweeten our pot? Thank you!
*
Jim:* Hey Ginger. I love weapons, and an explosive offense. So adding to the offense is tempting. But I also need help is needed in the secondary. There will be additions on both sides, but how they come – free agency or the draft – is part of the puzzle Job Robinson is working on. As for trading No.5 to sweeten the pot, I wouldn't rule anything out with Robinson.

---

Marc Richardson from Elk Grove, California

Question: Hi Jim…I have been a huge Oiler/Titan fan since the Earl Campbell days. I always enjoy when the team comes to Northern California as I get the opportunity to see the team live. Now that my kids are done with college, I'm going to treat myself and go to Nashville next season to see the mighty Titans play a home...can't wait until April when the NFL schedule comes out so I can pick the game for next season. Regarding my thoughts for the draft, I figure that the Titans will address either the CB or WR position in free agency or maybe both. There are plenty of CB and WR that have a first round grade that you can pick up at 18. With the Titans having the 5th pick that gives the team numerous direction they can go and it gives them the opportunity to upgrade at another position like inside linebacker or safety. I think a guy like Reuben Foster can really help out our front seven or a guy like Jamal Adams teaming him up with Kevin Byard would be our safeties for years to come. Both Adams and Foster are consider on most draft boards as a top 5 or 6 player available in the draft. At pick #5, I just feel the Titans should draft for the best available player not for need. Your thoughts

Jim: Hey Marc. Interesting you mention Foster. I was just looking at Daniel Jeremiah's mock draft, and he has the Titans taking Foster at No.5, and then Washington receiver John Ross at 18. Adams consistently has been a top 5 pick in a lot of mock drafts I've seen. As you know, so much will hinge on free agency – and who is picked 1-4 as well. I like Foster and Adams, but I admit, I like some of the offensive weapons in the draft as well. It's a tough call.

---

David Hosein from Surbiton, London, UK

Question: Been an Oilers/Titans fan since 83. After season really optimistic for future. How quick the O line gelled for a new group and how stopping run improved with little change in personnel. As one hopes they will not be picking under 15 for some years they select the best player available at 5 excluding some choices. Looking at defensive front of 7 starters the average age next year is 7. So a good LB/DE pass rusher seems a good choice even though they are set now. A lot will depend on free agency but they need talent at CB and that has to be a round 1 draft choice regardless. At WR you can get really good players at later rounds. I would like to see them get player like Adoree' Jackson who can return kicks/ CB and even WR... if only they had pick in round 2.

Jim: Well, that's two votes for Jackson. He's a heck of a player, so I get it.

---

Garrett Heckstall from Alexandria, Virginia

Question: Hey Jim. With Kendall Wright leaving this off season and a need at slot WR and returner, do you see us giving Tre McBride a shot to make the active roster and get some playing time if he shows the skills? Also do you see us going after somebody like Cordarrelle Patterson in free agency, who would feel a need at both returner and receiver? We need a playmaker who is electric with the ball in their hands.

Jim: Hey Garrett. McBride will definitely be in the mix, but he's going to have company as well. I think there could be as many as 3-4 new receivers in the fold next year heading into camp, from free agency and the draft. Rishard Matthews, Tajae Sharpe, Harry Douglas and McBride are the only ones currently scheduled to be under contract for 2017, so changes are coming.

---

Michael Liguori from Lelystad, the Netherlands

Question: Jim. Thanks for keeping us out-of-towners up to date on our favorite team. With special talent available at safety (Adams and Hooker) around where the Titans will make their first pick, which player do you think would fit better with Byard? There seems to be quite a bit of depth at CB later in the draft so it would be great to have two Pro Bowl-quality safeties to shore up the defensive backfield for the coming years. Can't wait to see what Robinson will do this off-season! Michael
*
Jim:* Man, we got questions from all over the map in this mailbag. Good question Michael. How about both? Well, that's not going to happen, so it's a tough call. Adams has been consistently ranked a top 5 guy, and Hooker has creeped up despite the health questions. I'd have to say Adams, but I need to study up more on both, so I reserve the right to change my mind on this one. :)

Have a great weekend everyone!