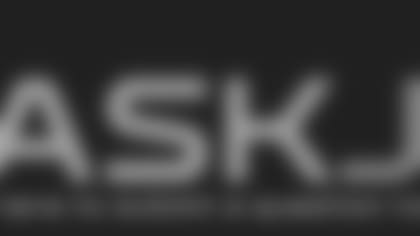 NASHVILLE, Tenn. – The Super Bowl now over, today every NFL team has turned its attention to the 2016 season.
The Titans are set to depart for the NFL Combine in a little over the week. I'll also be making the trip to Indianapolis.
First, let's dive into some mail…
Jesse Johnson from Woodbury, TN
Question: Hi Jim, Do you think with the importance of keeping Marcus Mariota upright this year that the Titans will use fullback Jalston Fowler more often? I feel like he could be a great addition to an offense with his athleticism and versatility he was the first FB selected in last year's draft. Fourth round is pretty high for a guy to sit on the bench.
Jim: Hey Jesse. They like Fowler, and I think he will be used more than he was in 2015. But I think he'll be used in certain situations, like in short-yardage and near the goal-line. I just can't see him playing a huge role in the offense on a regular basis.
---
Brian Hirschi from Franklin TN
Question: I hate to see Griff (Michael Griffin) go. How negatively do you think that will impact our defense? I also am curious how optimistic it is that we could at least have a winning season over .500 next year?
Jim: *Hey Brian. Griff was a durable, dependable player. He showed up every week, and was a good player. He'll be missed. How much he's missed will depend on how well the team does in replacing him. Some nice options are out there, and we'll see how things play out. I liked Griffin, and he was criticized too much by fans in my opinion. But I'll be honest: He had some tackling issues, and he's not getting any younger. The surgeries have also taken a toll on his body, and his speed. Time will tell just how much his departure impacts the squad, but the team is confident it can identify a replacement that could result in improved play on the back end of the defense. As for the chances of a .500 season, let's see how the draft and free agency goes. The team will take on a different look in the coming months. *
---
Kyle Suga from Sebastian, Florida
Question: Jim, now that Michael Griffin is gone, there is another open hole in our team. Granted, I believe (Daimion) Stafford has always had potential in that spot. But we need a ton of playmakers. What needs do you believe will be addressed during free agency? And what needs through the draft? As a fan, I would like to see, a veteran tackle, center, safety, and wide receiver signed with our cap space during free agency. Then spend our draft picks on a Cornerback, Pass Rusher, and Big name running back to lighten the load on Marcus.
Jim: Hey Kyle. You're pretty much addressing every position but QB there! I agree, the team has a ton of needs. Filling them will come with a combination of draft picks and free agents. Obviously, what happens in March will impact the draft. Help is needed on the offensive line, at running back and receiver on offense. Defensively, the Titans need help in the secondary, and depth at OLB. Wouldn't surprise me to see ILB help added as well.
---
Brandon Wall from Pulaski, TN
Question:I hate to see Griffin go, but it was time. Is there any chance we could be in play for Eric Berry? Would be a heck of an upgrade. He's a starter/def leader from day one. He could be closer to his brothers and family. Would help fill the stadium too.  But why stop there? Let's add Lamar Miller with great speed and low mileage. Move down a few spots and take O lineman in 1st and use the extra 2nd or 3rd to address wr and lb/cb. Good WRs will be there in 2nd or 3rd and there isn't much in FA. Am I asking too much Jim??
Jim: *Hey Brandon. Of course you're asking too much, but I don't blame you for dreaming! Berry would be a great add, but I'll be surprised if he gets out of Kansas City. I love the thought of adding a proven running back. And while moving back to get extra picks sounds like a great plan, the Titans are going to need someone willing to move up to No.1. Sure, it could happen, but the Titans are going to need some of these prospects to start generating a ton of buzz at the NFL Combine later this month, and in the pre-draft process. *
---
Clifton Knight from Woodbury Tennessee
Question: We have the first pick of the draft but I noticed that 2nd round we have a pick after the Browns. Why is that when we were beaten by them?
Jim: The Titans get the first pick because of the tiebreaker. When teams are tied for the same record (both 3-13), they alternate picks in ensuing rounds, which is why the Browns are No. 32 and not No. 33.
---
Tyler Beene from Knoxville TN
Question: Hello Jim. Great first season on your new position. This has been a very forgettable season to say the least. I have been impressed with the coaching staff Mike Mularkey has implemented. With free agency around the corner I expect to see a lot of new faces next season. We need help everywhere, mainly on O Line and Secondary. Is there a chance that Titians may go all out in getting quality lineman and DBs? Eric Berry for instance. I think we all would love to see him back in Tennessee. What's your take on this and the rest of free agency?
Jim: Hey Tyler. I appreciate it. I talked about Berry a little earlier with Brandon. He'd be a good get, but he has to be gettable first. We'll see if that happens. I think the team will definitely make some key moves in free agency, but with a new general manager in Jon Robinson, there's plenty TBD. But I'll say this: I expect the team will make some key additions in free agency and the draft.
---
Kenny Gore from Horse Cave KY
Question: Looking ahead to the draft, several people have Laremy Tunsil & Joey Bosa as the top prospects. I see a huge argument for Jalen Ramsey. He is a guy who can make a huge difference for any team. Especially this team. We have a huge need in the secondary & I believe Ramsey is the type of guy who can make a huge difference as a day one starter. Tunsil is a LT and I believe Lewan is more than capable at LT for us. Bosa is a great player. However, I do not believe he makes an impact as a pass rusher; the way Ramsey makes an impact on the secondary. We have to keep in mind Bosa would have guys in front of him as a pass rusher. Morgan & Orakpo where both off to a great start before Morgan's injury. If it is between these three prospects; who do you think is the best investment for the Titans?
Jim: Hey Kenny. Great question, and a tough one. I tend to agree with you on Tunsil. As for Bosa, I want to see more of him at the combine and pro day. After seeing what the Broncos did on defense, it sure makes pass rushers look valuable. But I really like Ramsey, too. The Titans are definitely going to get a good play at No.1.
---
William Gilstrap from Denton, Texas
Question: Hey Jim, How willing and/or capable would Taylor Lewan be if asked to move to the right side? Tunsil at No. 1 is a popular mock pick, but having two left tackles obviously isn't the same as having a competent pair of bookends for the line. If tackle is the first pick, a battle for the left side in camp would only delay the cohesion of the starting five. What are your thoughts about a scenario in which we draft a tackle at the top of the first round?
Jim: I just think Lewan is a starting left tackle in the NFL. It's why he was picked 11th overall. The wildcard here is no one knows what new GM Jon Robinson is thinking. I don't think Ruston Webster would've picked another o-lineman early in the first round, but Robinson is making the call now.
---
Aubrey Calvin from Essex MD
Question: Do you believe that Quinton Spain will have a chance to start next year?
Jim: I think he'll be in the mix, at both guard and right tackle. But he's going to have a lot of competition. At this point, I wouldn't bet on him being a starter, but the guy is talented and I thought he played well last year before getting injured.
RECOMMENDED: