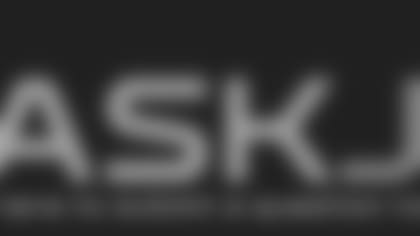 ](http://www.titansonline.com/news/ask-jim.html) It's almost here.
Players report for training camp on Friday, and the first practice is set for Saturday.
Let's hit the mailbag first…
Dustin Rogers from Durham, NC

Question: Hey Jim, thanks for answering all us Titans fans questions and your articles. They keep me going during these slow summer sport days. With camp starting what position group would you say needs to show the most improvement? Also what's the best concession food going to be served this year, I've been hearing about other stadiums stepping up the selection of food to some pretty amazing stuff not just the normal stuff. Anything different or crazy we should know about?
Jim: Hey Dustin. You're welcome. And thank you. I think the receivers are the ones really on the spot. Coach Mike Mularkey put the group on notice at the start of the offseason. He wants them to get into better shape, and he expects them to be reliable day in and day out. I liked what I saw from Kendall Wright this offseason. Rishard Matthews is going to help, and Tajae Sharpe has been a pleasant surprise as well during his first few months on the job. Dorial Green-Beckham is going to have to prove himself as a starter, though, and Justin Hunter is going to have to prove he's worthy of a roster spot. If the Titans are going to be a dynamic offense, the receivers are going to have to step it up. Another position to watch: Offensive line. The Titans surrendered way too many sacks last season, and they've retooled the group. The team should be better up front.
As for the concessions, there was a complete overall last season. But things continue to evolve. I'm told there will be more portables on the 100 level, and two more concession stands on the 300 level as well. A new gourmet burger – a fresh, six-ounce burger! – will be available at the stadium. Some new concepts are also in the works for the regular season so stay tuned. And one more thing: All the bathrooms have been resealed and painted. I'm still not sure I'd recommend eating the gourmet burger in there, though. May want to take the burger to your seat.
*
*
---
Rex Greene from Athens, Ala.


Question: Hey Jim. I have a couple of questions.

1.) About the roster, how come some positions have been OT and others T? And the LBs are not separated to ILB and OLB? Is there a reason for that?

2.) With the new kickoff rules, I'm just wondering about how the best option for returners in certain plays. For example, a high kick with covering team coming down hard and its inside the 10. A punt returner could let the ball go, but for a kick returner the ball is live. So what's the best option, fair catch inside the 10? Thanks, Rex Greene
Jim: Hey Rex. Appreciate the email. Not sure about the inconsistency with the listing for the tackle position, but I do know a lot of times the linebackers aren't listed as ILB/OLB because some guys play both spots. As for the kickoff, I'm expecting to see a lot of higher kickoffs aimed toward the corners. It can be dangerous for the kickoff team, though, because if the ball goes out of bounds it's great starting field position for the receiving team. I don't think you'll see many fair catches that deep, though.
---
William Gamble from Big Lake, Alaska


Question: Hi! As a young fan of the Tennessee Titans (Yet know all about their history and yes that does include the good Ol Oilers days) there has been something that has me thinking. This organization has retired 6 numbers yet they are all from the Houston Oilers era (That's not a bad thing at all I love watching Warren Moon and Earl Campbell.) Have you guys ever thought about retiring Steve "Air" McNair's number 9? He has done a lot for this organization and it would be great for a number to be retired from this Tennessee era. I even have an idea for it. You guys can put up Steve McNair's jerseys on the store the week of the retirement ceremony and all the proceeds go to the Steve McNair foundation. That was just my idea but I think its a good one. P.S. With the recent induction of Steve into Tennessee sports hall of fame it would be a good time. #TitanUp #AlaskaRepresent
Jim: Hey William. Thanks for dropping in from Alaska. You are right about the six retired jerseys. Now this is just me: I'd like to see the numbers from Houston unretired some day because it would free up a lot of numbers. I just like the idea of having the retired numbers being for the players who played in Tennessee, not in Houston. But again, that's just my opinion. As for retiring McNair's jersey, if the team decides to go down that road, he'd join Eddie George among the most worthy candidates.
---
Trejean Watkins from Mount Juliet, Tennessee

Question: Hi Jim. Love your coverage for the Titans. My question is do you seriously think Kalan Reed is in the competition for snaps at outside corner? He has such good ball skills and has the production to back it up. Also, I think Jurrell Casey had underperformed last year and maybe because of the injury to Derrick Morgan down the stretch, he got plenty more double teams. What do you expect production wise from Casey? Thanks Jim. Can't wait for this year. #TitanUp
Jim: Hey Trejean. Reed has looked good, but the Titans have depth at outside corner, so it's going to be tough for him to break into the defense. If he can make the team and compete on special teams as a rookie, that's a win. As for Casey, he is one of the most underrated players in the league. If the outside linebackers can produce a consistent pass rush, he's going to have another big year.
**
---
AJ Bova from Prospect, Connecticut

Question: Hey Jim. I am a huge Titans Fan Became a fan at 9 Years old watching the 2000 Bills Playoff game Music City Miracle. I love what you do, you always keep me informed about what's going on in Titans Nation. My question is based on older Titans. Those who have a special place in Titans history. I know that these two players numbers have been pretty much removed from circulation – McNair and George. But is there a chance that this year one of their numbers finally gets officially retired? Thank you AJ
Jim: Hey AJ. Thanks for the question. William hit me up on same topic. Stay tuned on this one. I haven't heard any chatter on this recently, however.
---
Jamie Konitzer from Manitowoc, WI

Question: Hey Jim! Greetings from Manitowoc, WI. Long time, first timer here. I've been a Titans fan ever since the Oilers drafted Eddie George. Living in WI, I get enough heat for not being a Packers fan but it is what it is. I like the idea of putting Marcus Mariota in the shotgun and having Derrick Henry on the left and DeMarco Murray on the right. Not only can Mariota fake the handoff to one and give it to the other but Mariota could run it as well or he could use the RBs as decoys and just throw it. This could be lethal if they ran upwards of 40% of these plays out of this formation. Do you see the Titans running 40% of their plays out of the shotgun with both RBs next to Mariota?
Jim: Hey Jamie. Now that sounds exciting, and I could see the team using that formation in 2016. But it's not going to be 40 percent of the time. I feel pretty safe in saying that. Stay strong in Manitowoc!
---
Aaron Holder from Mt. Pleasant, TN

Question: How do you plan on taking the AFC South.
Jim: Hey Aaron. This is an easy one. Win more games than the Colts, Texans and Jaguars! :)
---
Trevon Walker from Phoenix, Arizona

Question: Hey Jim. Despite the additions of Demarco Murray and Derrick Henry, do the Titans plan to keep Dexter McCluster involved in our offense as a change-of-pace back and for option plays or is he only going to be used on special teams???

Jim: Hey Trevon. All indications are McCluster will be back, and involved. Just how much remains to be seen. Just my thinking but if Murray and Henry are running well, they're going to be on the field most of the time, especially Murray. McCluster is a guy who could provide a nice change of pace, and I think he'll be on the field sometimes lined up to Mariota's right or left, creating a matchup problem for defenses. And he's definitely in the plan for special teams.
---
Cody Webb from Brentwood, TN


Question: Hey Jim. I ran into you after the longest Predators game in their history and we celebrated the victory together!  Anyway, have you heard any rumblings about the Titans getting a new jersey or updating their logo at all?  
P.S.: What do you think about the Predators acquiring PK Subban? Thanks as always, Cody
Jim: Hey Cody. Yes, I remember meeting. Thanks for stopping me. But I think that was after the single OT win in Game 6 wasn't it? Man, that sure was a fun night -- with a great atmosphere. I like the acquisition of Subban. He's a great player with a big personality. As for new jerseys or a new logo, it's not happening this offseason, I know that. The fireball is alive and well.
---
Jason Lloyd from Murfreesboro,TN

Question: Hi Jim. Thanks for all the Titans coverage. Really looking forward to camp! I think attending camp is a MUST for any Titans fan because that's the closest to the action they can get all year long! My question is more of a comment I hope you can pass along. Every year after practice when players are signing autographs, it's basically a free-for-all and every fan for himself. Whoever can push their way to the fence and hand the player an item to sign is the one who gets an autograph. I feel this process could be handled a lot better. Like setting up a tent or table after practice and the fans forming an orderly line, that way more fans can get autographs and the process would be sped up. I noticed many fans last year who after getting their autograph, remaining there in front of the fence and getting multiple things signed and talking to the players, while others trying to get autographs didn't get any at all. I just wanted to pass along my thoughts and hope you can pass them along to the appropriate people. Thanks again and go Titans!
Jim: Hey Jason. Appreciate the email, and the thoughts. I know some days are more hectic than others on the fence line. I remember a corral of sorts being set up last year to help get the fans through the line the day Mariota signed, and I imagine there will be a similar set-up this year when the big-name guys sign autographs. Thanks again and see ya at training camp!

---
Dustin Kennedy from North Springs, TN

Question: Hi Jim, just wanted to thank you again for talking with us on "The One Lane Road Podcast" this week. Bernard Pollard called in after you, and he said "Jim better watch his mouth" when we told him you said he'd be a good interview. Gotta love BP! So since right now it seems you have to answer a lot of the same football questions every week, I want to go in a different route with mine. We forgot to ask you something we like to ask our guests, and that's this: if there was one song on your iPod that you wouldn't want many people knowing what would it be? Bernard said his would be a song from the kid's movie "Rio." Can't wait to hear your response. Don't let us down, and please surpass the "Achy Breaky Heart" that is on mine. Have a good one Jim!
Jim: Hey Dustin. Thanks for asking. It was fun. And Bernard is a fun guy to be around. The iPod question… Do I really want to answer this?  OK – Caribbean Queen from Billy Ocean. (Thank goodness I recently removed Last Christmas from Wham!)
Have a great weekend everyone!