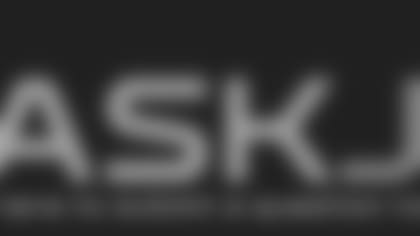 NASHVILLE, Tenn. – The offseason work is now a thing of the past for the Tennessee Titans.
The team wrapped up its minicamp this week, which followed ten days of organized team activities.
Next up is training camp.
But we're not going to let things get quiet here. You have questions, and I'm ready to deliver more answers in this week's Titans mailbag.
Josh Bomar from Knoxville, Tennessee
Question: Hey Jim! As always, thanks for all you provide for the fans year round. It really helps the off season fly by when we get to read your articles every day. My question is: After the heartbreaking loss in game 6 of the Stanley Cup Finals, do you think that fan support will carry over into the Titans home opener? If half of the Predators fans showed the same enthusiasm and support for the Titans, Nissan would be rocking every home game. That is something I feel the Titans have been lacking in recent years. Let's get back the Adelphia Coliseum days of old, and Titan Up like we used to Nashville!! In the words of Forrest Gump, "And that all I have to say about that."
Jim: Hey Josh. No doubt Preds fans were awesome during the playoff run, and long before that. But keep in mind many of those fans are also big Titans fans, and have been for years. It's a Nashville thing. It's a Tennessee thing. Winning creates a great atmosphere. We saw that last year when the Titans won nine games, and we saw it during playoff runs by the franchise in previous seasons. I sensed great enthusiasm from the Titans fan base at the end of last season, and that's what will carry over into 2017.
---
Oscar Cerna from Xalapa, Veracruz, Mexico
Question: Hi Jim, how are you? I think the 2017 draft elections were very good, however, there are still some areas to be covered in the starting team. For example, you need another interior linebacker to help Woodyard and Williamson, because in case of injury, the team would look less strong on the defensive, as would a passing rider to put more pressure on the enemy's quarterback. And one more opinion, the body of wide receivers is good but needs to be supported by experienced players, a great addition should be Eric Decker, this would be great. Thank you Jim for your space, and I am sure we will see titans again champion of their division. Regards. Oscar Cerna
Jim: Hola Oscar! Thanks for the question. First, at middle linebacker, Jayon Brown has looked really good this offseason. He's a fifth-round pick from UCLA, and he's fast.  So he'll be in a position to help. Nate Palmer and Justin Staples are a few more guys who can play inside and out, and coaches have been complimentary of them this offseason. Daren Bates, acquired this offseason from the Raiders, is in the mix as well. So the cupboard isn't bare. As for veteran receivers, I know GM Jon Robinson is evaluating all the guys available, as well as others who might become available. Decker was in the building this week, and watched practice. We'll have to see how that one plays out. Have a good one.
---
Michael Vogt from Bemidji, Minnesota
Question: With our new acquired players this year. Will we see more of a passing attack then last year? We seemed to really thrive last year in the 2 minute offense. I can only imagine with Corey Davis, Jonnu Smith and Taywan Taylor that it will be even more effective.
Jim: Hey Michael. I agree, there's definitely room for growth, and potential.  All three of those players you mentioned have looked good this offseason, and should help this fall. The Titans are still going to put a big emphasis on running the ball with DeMarco Murray and Derrick Henry, but the new weapons on offense will definitely help the passing game.
---
Jason Lloyd from Murfreesboro Tennessee
Question: Hi Jim. I have a trivia question for you. What do the following teams have in common with the Titans? Patriots, Texans, Cowboys, Chargers, Seahawks, Bears, Broncos.
They all have a version of a navy blue home jersey. If you include the Titans in that group, that makes up 1/4 of the league.
I said that to say, I know they are coming up with a new look to the Titans uniforms next year and I said that in hopes that someone will make the decision to go back to the light blue, which many of us call "Titans blue" - because that color is unique to them and not something they share with 1/4 of the league.
Jim: Thanks for email – and opinion – Jason. You forgot about the Bills, Colts and Giants! I know they're closer to royal blue, but the Bears aren't exactly navy either. Decision is above my pay grade obviously, but I'll spread the word.
---
Bob Shannon from Goodlettsville, Tennessee
Question: Are there organized Nissan Stadiumtours? Thanks, Bob
Jim: Hey Bob. I've received a lot of questions on this subject of late. Nothing right now, but been told it's being looked into and could happen in the future. So stay tuned.
---
Michael Bailey from Greensboro, NC
Question: Hey Jim! I apologize for continuously asking questions on here, but you are always spot on with updates, suggestions, etc. So it would only be right to keep asking...haha. My question this time is in regards to our division. I'm EXTREMELY tired of every analyst and sports news outlet continuously throwing in the moniker of the "WEAK AFC South." They use words that look something like "The Titans could be something to a very good team this year and make the playoffs. We're not saying they are going to win the Super Bowl or anything, but just making the playoffs will be a big step for them this year. They should have no problems winning a weak AFC south." I believe all 4 teams are teams that others don't necessarily want to play. I looked up a few things as confirmation: with divisional power rankings from 2016, AFC West was #1 and NFC North was #4. Our division played both of those divisions this past year.
TEN: beat 3 in the NFC North, and 2 in the AFC West (Lost to OAK by one score)
IND: beat 3 in the NFC North, and 1 in the AFC West (also lost to OAK by one score)
HOU: beat 2 in the NFC North, and 1 in the AFC West (also lost to OAK by one score)
JAC: Didnt beat any of them, but lost by 10 or less to DEN, KC, GB, DET, and MIN
Few more league wide stats:
HOU: ranked #1 Overall defense, #2 passing defense
TEN: ranked #3 rushing offense, #2 rushing defense, #11 Total Offense
SO my question is: where are they getting off calling us a "WEAK AFC South"? When do we get some respect?
Jim: Hey Michael. Great research. I'll say this about the AFC South: The division earned the ridicule in the past, but things have changed. I agree, the division has improved significantly. And your numbers/stats back it up. I'm expecting all four teams in the division to be much improved this fall, and with it might also bring more respect.
---
Steve Crosio from Brick, New Jersey
Question: Which of the wide receivers on the team has the most pressure guiding this team to the playoffs this season?
---
Jim: Hey Steve. It's going to be a team effort, but I'd have to say Corey Davis. Yes, he's a rookie. But he was the fifth overall pick, and he's extremely talented.  A lot will be expected of him out of the gate, but from what I've seen, he's capable.
---
Matthew P from Hendersonville, Tennessee
Question: Hey Jim. I hope you and the team are all doing well with all eyes on Nashville, the Titans and Predators. So I have three questions for you. With the Predators in the Stanley Cup finals and Nashville showing what we can bring to the table with superstar support and Broadway pregame shows. Do you think the NFL ownership groups and commissioner will consider Nashville holding a draft, Pro-Bowl, or even a Super Bowl? Also I was wondering why Alex Tanney didn't go to Cleveland last year to be the possible starter when they needed a QB. Has anyone asked why he wanted to stay and be on our practice squad QB vs. at the time a possible starter for a NFL team (even if it was the Browns)? Also we need to take two things from the Predators which I believe will help us when win more games and plus make it a Nashville thing. First we need Catfish to hit the field around the end zones (not at any team). Second we need to chant the opposing players name if he turned over the ball. Mostly to get into their heads. 40,000 Titan fan chanting their name three times with you suck it's all your fault. Would definitely get into any ones heads like Brady or Rodgers. What do you think?
Jim: Hey Matthew P. I say Nashville can handle anything, but realistically the best chance is to host a draft. The Pro Bowl will always be in a warmer climate in late January-early February, and I can't envision a Nashville Super Bowl any time soon either. As for Tanney, he was asked last year and he said he wanted a chance to remain with the Titans, and develop his game with the staff, teammates and opportunity in Nashville. As for the catfish tradition, that's a hockey thing. Not endorsing that one here. As far as the chants go, believe me, these guys have heard it all. The best way to rattle guys like Tom Brady and Aaron Rodgers is to do what the Titans did to Rodgers and the Packers last year – sack him five times, and score 47 points on offense. The crowd got jacked up that day.    
---
Chris Chapman from Hermitage, Tennessee
Question: Hey Jim, it's been a cpl weeks since I posted a question on here; mainly because every 1 I could think was already being asked and answered. A lot of ppl have asked about Marcus and his rehab status. In the 2yrs he has been here he has shown all of us fans that he is a true leader and a very hard worker. Based on your reports and reports from other analysts he is ahead of schedule, as a Titans fan that is just awesome. The man has a massive amount of heart and we can all tell that his teammates, coaches, and staff have all rallied around him since the moment he went down on the field. You've gotten the chance to see him on the field over the last week or so and I realize he isn't 100% just yet, but do you foresee this leg injury hindering his return to his previous form? I mean from a mental standpoint. I have the same question concerning Derek Carr. Both had almost the exact same injury; only Carr's leg injury didn't require surgical repair. I've seen great players suffer injuries and some never get over that "mental hump" that's required in order for them to return to their previous form. The fact that Marcus is ahead of schedule tells me he's physically in the right place, but what about mentally? Àfter being injured do you think he will be hesitant to take off and run? Some may see this as a dumb question, but I'm curious anyway. If it were me, I'd probably be very hesitant to take off running after having a broken leg that required surgery. No matter what happens I'm 100% behind Marcus and this entire team. I personally see them sneaking up on a lot of teams this year and ending our playoff drought. As always, thanks for all you do to keep us informed. GO TITANS!!!
Jim: Hey Chris. Well, it's impossible to say for sure, but the plan is for Mariota to be back and as good as new. I'd be careful in saying Mariota and Carr had the exact same injury. Mariota's was more extensive, which is why he had surgery and a longer timetable. But he's looked good in his recovery. Marcus is mentally tough. Just like any player coming back from an injury, he'll have to cross hurdles. He's crossed many already, but he's not there yet. Some he can't clear until games start. But he's on the right track.
Have a great weekend everyone!