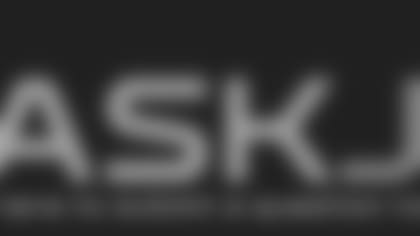 ](http://www.titansonline.com/news/ask-jim.html)
NASHVILLE, Tenn. – Another week down, another week closer to the NFL Draft.
The questions continue to roll in about all the possibilities.
Since it's Easter weekend, let's hop to it ...
Isaiah Allen from Franklin, Tennessee
Question: Hey Jim, had a question. With our two third-round picks what do you think of the Titans getting Cam Sutton out of Tennessee and Zay Jones out of East Carolina? Cam Sutton could be the corner opposite Logan Ryan or we could move him in the slot if we get a CB in the first round. If you look at the Titan's WR depth chart, we only have Rishard Matthews, Tajae Sharpe and Harry Douglas. Zay Jones could really bolster the depth in the WR group and maybe develop into a starter.
Thanks Jim and super pumped for April 27th!
Jim: Hey Isaiah. Thanks for the question. Sutton's draft stock appears to be going up. Mike Mayock has him as a second-round pick. The Titans don't have a second-rounder, which means he could be gone when the team is on the clock in the third. Plenty of things could change, of course, between now and then. But I feel certain more help is coming at the position. The same goes for receiver. Jones was great at the Senior Bowl, and he's going to help a team. In my mind, help at cornerback and receiver the two biggest needs at this point. That doesn't necessarily mean they'll be the two positions addressed in the first-round, but they'll be addressed.
---
Ardie Melton from Sacramento, California
Question: Hi Jim. Northern California native, 49er/Raider hater, and a diehard fan of the Oilers/Titans ever since Earl Campbell went for 4 back on that Monday night against the Dolphins in 1978. (I was 10 years old)
My first ever question to you was going to be in regards to Byron Bell, but it appears I'm too late. A couple years ago, he was one of our only bright spots on our offensive line. I'm sad to see that he has left the Titans, but glad that someone is giving him a chance after his injury. He seemed to fit the mold of what the Titans are becoming about. Same goes for Antonio Andrews who I think could have been very successful behind the offensive line we've built.
Do you think teams were a little more leery to deal with Jon Robinson this year, after he broke on to the scene last year, and threw egg in the face of the Los Angeles Rams? I was surprised he couldn't land a receiver, as I was sure that at least one of those guys would be dying to catch passes from Marcus Mariota. I trust Robinson, but letting Cooks go (especially to the Patriots) might prove to be a bad move that rears it's ugly head for the next few years.
Thanks for allowing us Titans fans on the west coast (if only few), to keep up with the day to day grind of our team!
Jim: Hey Ardie. Byron is a good guy, and he was solid and versatile during his days with the Titans. I hated to see him get hurt, and also hope he does well in Dallas. Antonio remains a free agent. He's a good special teams player as well, so I don't think the door is completely closed on him. We'll have to see what happens in the draft. If a running back is picked, well, that's probably not a good sign for him. As for Robinson, he is building a solid reputation as a shrewd operator. But I think teams know he's fair, and good to deal with. I think it's a little premature to say he "couldn't land a receiver." The NFL Draft is coming up, and plenty of options are available. He knows that. As a GM, Robinson places certain values on players in free agency and via trade. He's not going to give up more than what he thinks a guy is worth just to land him. Same for free agency. Time will tell on Cooks. If he explodes even more with the Patriots, then it'll be a move that "rears its ugly head" on the Saints more than any team – they're the ones who traded him away.
---
Dylan Edward from Houston, Mississippi
Question: Lifelong Titans fan here. I know there are a lot of unknown pre-draft wise so far. So I have 2 questions:
1) Personally I'm a huge fan Zay Jones. I think he should be being mentioned with the big 3 at WR. Any news on him?
2) Secondly, any names to look for on day 3 of the draft.
Jim: Hey Dylan. Back-to-back questions on Zay, and I get it. Jones is one of the top 10 receivers in the draft. I've seen him projected as a second or third-round pick. As for names on day 3, it's hard to say. Just don't know who will be left for sure, and you just don't know how high some of the other teams are on certain guys.
---
Peter Kemp from Cedar City, Utah
Question: Hi Jim, love reading your stuff, you seem to know what you're talking about and I really appreciate that. Anyway, my question is this, what do you think about the Titans drafting Christian McCaffrey at the top of the first (possibly in a trade down situation) and converting him to a receiver. He performed wide receiver drills at his pro day and I believe he could be an excellent receiver at the next level. He runs crisp routes and catches the ball naturally, he could be our starting slot and could return kicks and punts and maybe get a carry at RB every once in a blue moon. Bottom line, the Titans need the best players and game changers and McCaffrey is a dangerous weapon. Love to know your thoughts, thanks Jim!
Jim:Thanks Peter. At least I try and seem to know what I am talking about. :)
I'm a big McCaffrey fan, and I like Alvin Kamara from Tennessee as well. Both guys bring an extra dimension, and will create matchup problems in the NFL. As far as McCaffrey goes, I'm seeing some folks have him as a top 10 pick now. If that happens, he'd be a tough get just because I can't see it at 5. The NFL Draft is always fun because it's great to imagine some of these guys on the team. But the reality is you can't have all of them. The Titans have needs at so many spots, and they're going to have to be addressed. So while McCaffrey is a heck of a weapon, is he worth passing on players at serious need positions? That's the big question.
---
Travis Martin from McMinnville, Tennessee
Question: Hey Jim. I have read a ton of articles and questions here about who the Titans are drafting and we all know we need help at receiver. My question is, who in the draft is going to be ready to start from day 1? I think the Titans are primed and ready to make a playoff run this season, so what player do you think will be ready to step in and help from the start? Thank Jim, Travis
Jim: *Hey Travis. Well, that's up for debate. Tajae Sharpe from a year ago is a perfect example of a guy who can come in and make an impact early. I expect Sharpe to make bigger strides in 2017 after a quieter finish to 2016. And we've all seen other receivers struggle to get adjusted. Mike Williams and Corey Davis are big guys who I feel certain could excel in certain situations, especially near the goal line. I'm sure John Ross could run by a few folks from the get-go. I look at the group of receivers in the draft and envision some of them helping sooner rather than later. But it's really hard to know for sure until the guys get drafted, and they're in the building.  *
---
John Hay from Murfreesboro, Tennessee
Question: Hey Jim, I know it's early but will the Titans be having the caravan again this year?
Jim: Hey John. The Caravan is happening. It will begin the weekend of the NFL Draft. More details will be released soon, so stay tuned.
---
Billy Kealoha from Honolulu, Hawaii
Question: Hey Jim, I know this is old business but could you please refresh my memory of how the Titans ended up with Jack Conklin. I first want to say that I was on board with him as our pick at OT over the other options but I was just wondering was it really necessary to trade back up to get him. The next OT taken was (Laremy Tunsil) so just wondering what we gave up to move up and was it really necessary to give up a pick to do so as it seems like we are trying to juggle to get back a second round pick in this year's draft which may ultimately cost us to move down from the fifth overall pick to do so. Please correct me if my reference of draft selection slots were off. Mahalo
Jim: Hey Billy. Thanks for the question. The Titans liked Conklin more and more as they met and studied him in the draft process. So did other teams. The Titans moved from 15 to 8 in last year's draft, and there was a lot of speculation the Giants would've taken Conklin at No.10. They instead took Eli Apple after the Titans picked Conklin. And, of course, Conklin turned into an All-Pro. I have no doubt Robinson did the right thing by moving up to get him. He's going to be one of the NFL's top tackles for years and years to come.
---
Chris Chapman from Hermitage, Tennessee
Question: Hey Jim, how's it going man? I can tell by all the posts on our team's website that you are a pretty busy cat. I know EVERYBODY is all hyped up for this year's draft and I'm sure you're tired of getting asked who we intend to pick. I'm not stressing it cuz we got an AWESOME GM in Jon Robinson and he has an AWESOME Staff behind him. Let us not forget ownership especially AMY ADAMS. I've not met her but I can tell thru her interviews that she is a very smart and determined lady and I do have to say that she was meant to be on camera.... I don't have a question this week instead I have a comment that I'd like your take on. The internet can be a great tool for just about everything. I just finished reading your post about pre-draft visits which consist of 30 per team in house and I also read about the whole Skype and video chat thing. I foresee the NFL putting an enormous amount of restrictions on this form of communication in the future. I believe there will be some teams that voice concerns about this tool being an unfair advantage when in fact it's not. Guess I do have a question: What do you see happening? I would again like to welcome the newly signed Titans and say to the Titans who we resigned that as a fan I for 1 am glad all of y'all are here and I look forward to watching the veterans show the incoming rookies how to become Titans and professionals on and off the field. AS ALWAYS GO TITANS!!!!
Jim: Hey Chris. Hope all is well. It has been busy, but busy is a good thing. Makes the weeks go by faster leading up to football season. As far as the Skype goes, it's something new for this year. I get the sense the NFL is trusting teams to handle it responsibly. For those who didn't read the story from last week, for the first time in the pre-draft process, it is permissible for teams to have video conferences (e.g., Skype, FaceTime, etc.) with a draft-eligible player, without the conversation counting against the team's 30 non-local visits. Previously, the league's position was that such communication through FaceTime, Skype and other mechanisms would count as an official visit. The NFL has rules that must be followed, however, out of concern some teams might overuse it during a time when players are logging a lot of miles leading up to the draft. The video conference must be reported to the Player Personnel department upon completion of the call, along with the call participants, date and time of call, and total length of time of the call. Clubs are reminded the video conferences must be conducted at a time that doesn't interfere with the player's school schedule. And while there is no limit to the number of video conferences that a club may have with a player, clubs have been asked to be mindful of the player's schedule and keep multiple calls to a minimum. Video conferences could begin taking place from the day after the combine to Wednesday, April 26, the day before the draft. We'll see how it goes, but it should be a helpful tool for teams to take advantage of.
---
Joseph Dezine from North Miami, Florida
Question: Hi Jim, longtime reader but first time writer ha ha. I'm huge a Titan fan from beautiful, sunny Miami, Florida since 1999 and an even bigger Miami Hurricanes fan. I know that we can never defensive lineman, especially ones that can be used in different ways in a Dick LeBeau's defense. So what's your take on Al-Quadin Muhammad a DE from UM. He was kicked off the team earlier this spring for violating team rules. But beyond that he's a beast in my opinion (I might be bias) but 2015 was a great season for him statistically. He's 6'4 250lbs and can rush standing up or hand in the dirt, aside from his dismissal from the team he's been out of the news and I've never heard any negative things as far as character issues. Checkout his tape and I would love to hear your take on him. 
Jim: Hey Joseph. I'll be honest: Not too familiar with him, but I watched some quick tape. He's an impressive athlete, a physical specimen. I saw where he took part in the school's pro day. I'm sure the dismissal has been looked into by every team. Hope he gets a chance. From everything I've read about him sounds like he'll have to earn his way into the league as a late round pick or undrafted free agent somewhere. But as they say, all it takes is for one team to fall in love with a guy.
---
Mike Kopriva from Las Cruces, New Mexico
Question: I've followed the Oilers / Titans since they drafted Campbell. The Phillips and early Fisher teams were really, really good, but the team that Amy Strunk is assembling (management and players is on the way to being the best I've ever seen. This year we have a shot a trifecta. If we get Howard or Ngoku, Foster or Cunningham, and Davis or ?? we are so golden it is unbelievable. We are looking a top 2/3 defense, and offense that will cause DCs cold sweats. This is going to be SO much fun that I am almost quivering. Thank you God, and you must love us.  Wherever Bud Adams is, he must be insanely proud of his daughter.
Jim: Hey Mike. Thanks for the email. I'll leave this one in there for the owner to see. For your proposed picks, and the nice compliment you paid to her. Have a good one.
---
Don Imboden from Chillicothe, Ohio
Question: Hello Jim - First off, been a fan of the team since late 70's (Oilers). This team needs to draft playmakers on defense. There are only 3 guys I would select with the 5th overall pick and in this order of preference - Hooker, J. Adams, and R. Foster. The first two, as far as I am concerned are no brainers at safety and if they are both gone, I would take the linebacker Foster. Malik Hooker is a ballhawk and Titans have never, I repeat, never had a safety of his caliper. Ditto for Jamal Adams. Rueben Foster would bring violence to the titans defense, I unit that I feel is much too soft and been that way since the Jeff Fisher days. The second #1 at pick 18 should be best player available scenario. I would personally go for defense with both 1st round selections, but the #5 overall pick must be defense. Like to know what you think. Thanks.
Jim: Well Don, a lot of possibilities here. Can't go wrong with any of these guys in my mind, but a few others you didn't list that I like, too…
---
Randy Wrye from Lebanon, Tennessee
Question: Hey Jim. What do the Titans do at back-up center? Late round draft pick, pick up a multi position guy when cuts are made or do they already have that multi position guy on their roster?
Jim: Hey Randy. Well, a lot to be determined here. Keep in mind veteran Tim Lelito, signed last month after playing previously with the Saints, has experience at center. So does veteran Josh Kline. But I expect more guys will be added to the fold, possibly in both free agency and the draft.
Have a great weekend everyone! Happy Easter!