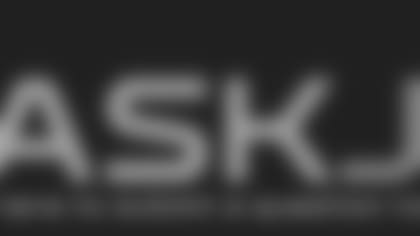 ](http://www.titansonline.com/news/ask-jim.html)
Pro Days are in the books, and right now Saint Thomas Sports Park is busy with visits from draft prospects.
They've had to leap over the stack of mail coming in the door, because it's been piling up.
So let's get straight to it…
---
Alan Ray from College Grove, Tn.
Question: When are you going to post another Ask Jim? Sincerely, Alan Ray.
Jim: Hey Alan! Today's the day!
---
Robbert van Giffen from Boise, ID
Question: Hi Jim. Huge Marcus Mariota fan from his Oregon days and now a dedicated Titans fan! Just have one question for you: If it were you picking would you go Laremy Tunsil or Jalen Ramsey with the #1 pick? Thanks!
Jim: Hey Robbert. Man, you're really putting me on the spot here. It's a tough call. I attended the pro days for both Tunsil and Ramsey, on back-to-back days. Tunsil is a heck of an athlete, no doubt. The draft experts love him. But I was blown away with Ramsey's workout. I'm convinced he's going to be a great pro. Someone above my pay grade will be making the call in this one!
---
Shaun Lutterloh from Durham/Chapel Hill, NC
Question: With the draft right around the corner, do you think the Titans will take Ramsey #1 overall or Tunsil #1 overall?  We haven't had a lockdown corner/safety in years, and I would like to get back to the days of Lance Shulters & Samari Rolle era!
Jim: Hey Shaun. This is the big question. And as I mentioned with Robbert, I like Ramsey. But it's hard to rule anything out at this point – including a trade of the pick.
---
Ricky Davidson from Paducah, Kentucky
Question: Do you think our new offensive coordinator will be an attack down the field kind of guy? Last season we seemed to be a side-to-side kind of team and when you do that you only go one direction ... sideways. He should have more tools this season.
Jim: *Hey Ricky. I think you'll see a more physical style of play on the offensive side of the football, that's for sure. The running game will be more smash-mouth – and effective – with running back DeMarco Murray. But they're going to take some shots with Terry Robiskie as OC. The offense now has some more dangerous options. New receiver Rishard Matthews should help a lot as well. He's a tough cat.
*
---
Mike Faulks from Portsmouth, Ohio
Question: Hey Jim! Am I the only one who isn't all that impressed with Tunsil? I say there is too much risk personally, seems like every time I see him he is injured or limping. If he is such a "can't miss" player why is nobody willing to trade up to get him? I don't believe the Titans are that much in love with him either, just a gut feeling, kinda like I had last year when everyone said they were going with (Leonard) Williams. How much of a chance do you think the Titans have in taking Ramsey or Bosa?
Jim: Hey Mike. I like Tunsil, and those who follow the draft closely think he has great feet and that he'll be a solid pro. A lot of teams like him, I know that for sure. But that doesn't guarantee he'll be the pick. Believe me, other guys are in play. A lot is in play. Keep in mind this draft has some solid tackles that could be had in the second round. And remember, the Titans found a gem in tackle Michael Roos in the second round of the 2005 draft, and he was a full-time starter for a decade. If the team thinks one of those type guys could be had in the second round of this year's draft, another position would have to be considered in the first round.
---
Mike Oaks from Grants Pass, Oregon
Question: Jim, first you are doing a great job with the Titans. What do you think about the Titans drafting the QB that everybody wants and then trading him to the team that needs a QB for a gold mine in the immediate needs of the Titans?  I believe there are a number of teams that are drooling over the prospects of landing the No. 1 QB in this years draft.  How about it, am I too far off base?
Jim: *Hey Mike. I appreciate it. The Titans won't pick a QB and trade him. But they could always trade the pick if someone wants to get one of the QBs.
*
---
Nathan Clements from Bartlett, Tennessee
Question: Hey Jim. I wanted your viewpoint on our #1 selection choices and wanted to see if you agreed with mine. Although scouts predict Laremy Tunsil the tackle of a lifetime, Jalen Ramsey is an Olympic caliber athlete, seamlessly sliding back and forth from safety and cornerback, a huge need for the Titans as we haven't invested much into our secondary in the past few years where as we have invested in our offensive live in the past 3 drafts. Select Ramsey #1 overall, immediately upgrade the secondary in a conference that features a premier quarterback and an up and coming young QB in Jacksonville, and with our second round pick select a tackle or a guard. Select the dude from Texas A&M, Zach Martin's younger brother who also played for Notre Dame, and then trade for another second round pick to steal either another cornerback in the (Fuller) brother from Virginia Tech or Jaylon Smith, who would give us a premier threat as a linebacker when fully healthy.
Jim: Hey Nathan. Sounds like you've thought out the plan! It's going to be hard to secure all of these guys. I a lot of them, including Fuller. Smth is a baller, but his injury scares me. Some good players are listed in your thought process. But this is what makes the draft so much fun!
---
Dylan Johnston from Lake Isabella
Question: Hi Jim, first time asking a question. I look for your question article every week, it's the highlight of my week. Been a fan since I was 7, which was the year Steve Young retired and the year the Titans played the Rams in the Super Bowl. I saw the logo and have been a diehard fan since. Also my daughter was born on Marcus Mariota's preseason debut and she sat my lap every week watching the game. So couple questions here. Obviously our defense is underrated, I personally think we have a few issues though, such as D-line. I feel Jurrell Casey is alone and would do really well if he had some help. Towards the end of the season he was double teamed every play. Maybe if we had another guy to take the attention away from him he would stand out even more. Another thing is, with all the secondary guys we added during free agency, I'm curious how good Jalen Ramsey still looks. I think he would be a great asset to the team adding a little bit of a fear factor making teams look at other options to go to, which wouldn't buy them too much either due to the fact we have such solid guys. I also feel the Jalen could be the guy to get the defense off of the field on 3rd downs, which I feel we struggled in last season. Next, with the additions that we added this year on offence, we are scary. If anyone has yet to draw our offensive line up on a piece of paper, they should do so. Rishard Matthews fits Mariota's passing style excellent, DGB is gonna be very successful in his career. Kendall Wright has been extremely consistent and a playmaker. I don't need to say anything about Delanie Walker, and DeMarco Murray is gonna be the 3-down back we have been searching for for years (which in my opinion has been the biggest missing piece this whole time). So now my question is with the addition of Ben Jones, what will happen to Schwenke, will he be back up or will we move Jones to left guard (which he has experience in)? I'm a big fan of Schwenke, he just some unfortunate injuries. Also in my opinion Tunsil will be the smartest move in the draft. Offenses are only as good as their O-line, but if we went with Ramsey, do you thing the Notre Dame tackle would be able to do the job? Also would we have to trade up for him or do you think he could fall to the 2nd round, however still keeping in mind that a D-lineman should be drafted rather early by us. Thanks for taking questions from the fans, I think it's a great thing you're doing and I look forward to hearing your response and thoughts. Thank You, Dylan. GO TITANS
Jim: *Hey Dylan. Thanks for the email, and your thoughts. You make some good points. Jones has played center and guard in his NFL career. GM Jon Robinson said he'll start off at center, but Schwenke will be in the mix as well. Jones could possibly bump to guard, but I'd say Jones is the favorite at center. The Titans got solid play up front on the defensive line, from Casey to DaQuan Jones to Al Woods to Karl Klug. The team is high on Angelo Blackson as well. Now that doesn't mean help won't be added. What the defense needs next year is a consistent presence from the outside linebacker. Brian Orakpo was a game-changer, but he drew a lot of attention when Derrick Morgan was sidelined for the season. A healthy Morgan should help tremendously. But I think findinh another impact guy at OLB should be a priority.
*
---
Rick Pinkerton from Terryville  Ct.
Question: Jim, Thanks for keeping us informed in the off season.  I have been a fan since day one, when the Oilers drafted Billy Cannon in 1960. My question: What does Marcus think of all these changes with the team? Are there wide receivers that are going to work out with him to get their timing and chemistry?   Keep up the good work, Rick P.
Jim: *Hey Rick. I hate to put words in his mouth, but I'm thinking Marcus could probably sum up the moves in one word: Mahalo. And yes, he did some throwing last weekend with some of the team's receivers. Have a good one.
*
---
Steven Halleron from Brighton, TN
Question: Hey Jim. I love your insights and honesty when it comes to this team and football in general. My question is this: So many mock drafts have the Titans picking Tunsil 1st overall and I can totally understand that, priority number 1 definitely has to be the o-line and protecting Marcus, but dang! There are at least 2 superb athletes in the draft that could totally change the dynamic of our defense and I just don't see how we could pass up that opportunity. Do you see a way we can pick Ramsey or Joey Bosa in the first round and still get the job done on the o-line with a 2nd or 3rd round pick?
Jim: *Hey Steve. I appreciate the email. Obviously it's not my call, but I do think there's a chance. A lot of things in play at this point, but I'll admit it, and I mentioned this above, I don't think this is a bad option at all.
*
---
John Beck from Columbia, TN
Question: Hey Jim, I plan on being in Chicago for the draft.  Will the Titans have any players in Chicago at Draft Town for autographs?  Do the Titans have anything else planned for Draft Town?  Any recommendations on apparel for the 1st round in the Auditorium Theatre of Roosevelt University?  I plan on having my Mariota jersey and my TitanUp flag. Thanks, John.
Jim: Hey John. I know Jevon Kearse is scheduled to be in Chicago, but I'm not 100 percent sure where he'll be. A ton of activities are scheduled, so it should be a great time. Have a blast! I think you're safe decking out in Titans gear. Are you a face painter? How about some of that flame hair? Have fun!
---
Connor Grubb from Kitchener, Ontario
Question: Hey Jim, long-time Titan fan from up here in Canada. I love the idea of taking Tunsil with the first pick and moving Taylor Lewan to right tackle in order to solidify the o-line. I just question that this move could push Lewan to leave come the end of his rookie contract. Any thoughts on that?
Jim: Hey Connor. I know this move is a scenario that's been widely discussed by analyst and fans. Lewan still has several years left on his contract, so I wouldn't start worrying about that part of it yet.
---
Randy Phillips from Mount Vernon, IL
Question: What do you think the chances are the Titans trade back to 2-5, and pick up an extra 2nd round pick? This would allow them to hopefully still get Ramsey with the 1st rounder, use one of the 2nd rounders to acquire Ryan Schraeder to play RT, and still get a 2nd round pick to use on BPA. Do you like my thinking?
Jim: Hey Randy. I like the thinking, but the Titans won't be able to slide back too far if the GM wants Ramsey. I suspect the Jaguars are eyeing him at 5. See ya at the Steak n' Shake.
---
Question: Hi Jim. Great work covering the Titans I'm a big fan. Do you think the new rule change moving touchbacks to the 25 yard line goes against what the league tried to when they moved the kick off spot to reduce returns, because surely this extra 5 yards via a touchback will give the incentive to the kicking team to force the returning team to return the kick? Also, do you feel that the rave reviews of Carson Wentz's pro day may help increase the interest in the Titans' #1 pick?
Jim: Hey Michael. I do think we could see more squibs or kicks into the corners, around the five-yard line. The NFL rule is on a one-year trial period, so we'll have to see how it goes. The league is trying to prevent injuries on kickoffs. I'm hearing more buzz about Wentz as the draft draws closer. I definitely think it's a good development for the Titans.
---
Jeff Mohr from Brentwood, TN
Question: When do the rookies come in for their first days of practice and when do OTAs start? Thanks
Jim: Hey Jeff. Rookies report on May 9, and there will be a rookie minicamp soon after. The OTAs start on May 24.
Have to run. Thanks for all the questions. Sorry I couldn't get to them all!

RECOMMENDED: