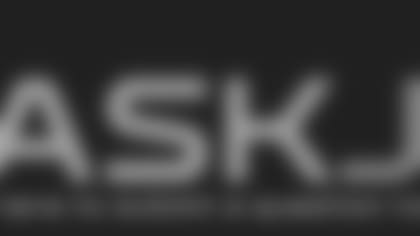 ](http://www.titansonline.com/news/ask-jim.html)
NASHVILLE, Tenn. – Is it draft week yet?
Well, we still have some time before then, but we're getting closer.
The good news is it gives us all more time to discuss.
Let's get to it in this weekend's Titans mailbag …
John Laird from Toms River, New Jersey
Question: My question is focused on the draft. For the sake of discussion, do you believe Jon Robinson would pair Marshon Lattimore and Malik Hooker, DBs from Ohio State, together in the first round? We could use another talented corner and ball hawk type safety, and there has been mocks showing Lattimore available at 5 and Hooker being available at 18. With all of that said, if the team were to take Lattimore at 5, and Hooker was there at 18 (assuming we don't make any trades) would the fact that they were college teammates either help or hinder the chance of both of them playing in two tone blue? Yes they're both extremely talented, but both come with injury concerns and is selecting two DBs from the same secondary a good idea? Thanks Jim!
Jim: Hey John. Both are certainly good players, and both rated very high. But I think it would have to be an either/or situation. From everything I've seen, both of those guys are top 10 picks, so with 5 and 18, it would be tough to hit the daily double. Plus, some good offensive weapons in this draft that will be tough to ignore early. That's just my take.
---
James Gordon from Franklin, Tennessee
Question: Hi Jim. One question and one prediction: I know that coaches and scouts ultimately decide the players to draft, but I was curious if players have input too. For example, do you think Marcus is consulted on his preference of throwing to John Ross or Mike Williams? And my thought is this - since Anthony Fasano was lost and we need a blocking te and there's not much left in free agency to fill his spot, and since there's a chance that the 3 WRs and O.J. Howard could all be gone by pick 18, I think it would be wise to take Howard at 5. Would be an upgrade in blocking and give Marcus another receiving weapon at the same time. Then take best player available at 18. What do you think about Howard at 5?
Jim: Hey James. I like the outside-the-box question. In the past, I know players have been asked about certain players in the draft for background, but they don't have a say-so on which guy is picked, I can promise you that one. As for the tight end position, I've been asked about Howard in the past and I've had nothing but great things to say about him. Saw him at Senior Bowl, Combine and his Alabama pro day after watching him in college and I have no doubt he's going to be a really good pro. He can do it all. I've seen him projected as high as No.4 to Jacksonville, so no guarantees with him.
---
Franco Grassi from Yakima, Washington
Question: Hey Jim. First-time writer longtime Titans fan. I was just reading your ask me column and when I was done, I went ahead and checked out that Tarik Cohen kid and I must say OMG I am blown away.. The kid is ridiculous with his cuts and his speed is close to john ross fast. Now I know someone had mentioned AP as a 3rd running back option (wonderful thought) but this kid could be used in the running game as well as a change of pace back that (sorry dex) dexter mcCluster never really was... And in the return game I think he be amazing he seems to have really good field vision... I mean if you watched the two videos of him i did most of his runs came from 94 yards 83 yards 73 yards and 64 yards respectively... So i guess my question is since we don't have a second round pick and I highly doubt we'd use a first rounder on a RB3 how high do you think other teams will have tarik cohen ranked? And if they haven't seen him yet do u think we cud steal him in rds 4-5? Sorry if that was long and run on but thanks for all you do jim.. #TITANUP
Jim: Hey Franco. Well, I don't think Cohen is going to slip past anybody. His cover was blown when he posted a video on Instagram a few years ago of him making two one-handed catches while doing a backflip. You should Google it. It's incredible. He is undersized (5-6, 179), so that could cause him to slide a bit. I've seen him projected as a late-round pick and possibly and undrafted free agent. I'm sure someone will give him a shot.
---
Question: Quick departure from all the FA & Draft discussion. Last year was fun and wins over GB, Denver and KC showed what this team is capable of. However, laying down to the Jags in the most important game of the season and another year of 2 losses to the Colts is cause for serious concern. In your opinion, who is most responsible for making sure the team is ready to play EVERY week and what changes, if any, have you seen around the building during the offseason which may be aimed at being more consistent? What changes would you make? I'd love to see a theme/talking points focused on OWNING the AFC South. Win the division and every other goal is in play. Thanks, JW!
Jim: He Eric. I think it's on everyone. A lot of folks tend to blame coaches when a team is "flat" and doesn't look ready to play. But in the NFL, the players are getting paid. They have to be ready. It's a job. Coaches can't give a "Win one for the Gipper" speech every Sunday. And throwing chairs and going on expletive-filled tirades would get old to grown men, too. Coaches and players have to work together to be ready, and then to execute the plan. One of the best ways to get more consistent is to improve personnel, and that's being done. I think we saw that last offseason, with five Titans in the Pro Bowl. The mindset is changing on the team for sure, and in time, I know everyone expects the results in the AFC South to be more consistent – for the better – as well.
---
Chad Peabody from Toledo, Ohio
Question: Hello good sir. Long-time, first-time here Jim, love your coverage keeps ladies and gentlemen very well informed on the state of the Titans so thank you! I've been a Oilers/Titans fan since I was a young boy, because they drafted my favorite player of all time Eddie George, from my favorite college team of course being The Ohio State Buckeyes. With that being said I have noticed that the Titans don't seem to draft many prospects from the Buckeyes very often. Now I'm no fool I know that there's a ton of talent at most universities, but the Buckeyes have been providing some stud NFL players these last few years (Zeke, Bosa). So I feel a little disheartened, but this is the year I feel they should double up on some buckeyes assuming they are available. Lattimore would be an Instant upgrade to our secondary which would be a home run, but the other player no one is talking about as a possible player the Titans could, and in my opinion should draft, Curtis Samuel. After the Titans attempted to trade for Brandin Cooks, but didn't get the deal they wanted, why not draft a young man who has virtually the same exact skill set as Cooks. The combine numbers are eerily similar. For someone who watched all of the Buckeyes games it's apparent to me that Samuel is a diamond in the rough, while he may not have a defined position, there's no reason why he couldn't just be an offensive weapon on a team that needs more weapons. Plus he can help in the return game as well. Just curious on what you think about the Titans doing a Buckeye double up?? Keep up the great work!! #TITANUP
Jim: Hey Chad. You and John Laird buddies? I see the Buckeyes getting some love here. Doubling up wouldn't be a bad thing with any of the Ohio State guys mentioned in here this week. Lattimore is a heck of a prospect, and I like Samuel, too. Plenty hinges on that No.5 pick. If it's not Lattimore, then he's going to be off the board when the team picks later. If another receiver comes off the board for Titans in round 1, then Samuel might not be in play. Stay tuned. A lot of things to consider. Including the possibility of a trade.
---
John Smith from Brentwood, Tennessee
Question: Hi Jim, what are your thoughts on who the Titans will select in the first round of the 2017 NFL Draft? The common consensus is between CB Marshon Lattimore/SS Jamal Adams for the first pick and WR Mike Williams/WR Corey Davis/WR John Ross/TE OJ Howard with the second. What do you think and who would you select? Also, how will Derrick Henry's role change with the Titans going into his sophomore year in the NFL? Thanks!
Jim: Hey John. As far as the draft goes, it's just impossible to say at this point. And it will be until picks 1-4 are off the board. I've seen and heard so many scenarios, the only thing that would surprise me is the team taking a QB in the first round. Coach Mike Mularkey was asked about Henry at the owners meetings last week, and he said DeMarco Murray will continue to be the workhorse, with Henry backing him up and doing his part as well. Injuries and productivity could change things, of course.
---
Chip Crewey from Marion, Virginia
Question: Hey Jim, I have been a Titans fan since they moved to Nashville in the late 90's. I lived in Nashville for almost 8 years. I moved back home in south west VA in 2007. My favorite college team is the Hokies. I was very impressed with a tight end by the name of Bucky Hodges. What do you think about the Titans looking at him in the third or fourth round? I think he could be a great weapon in the red zone.
Jim: *Hey Chip. I like the looks of Hodges, and I believe the Titans will take a tight end at some point in the draft. How early? Well, that's the big question. With Howard, David Njoku, Jake Butt, and Evan Engram -- not to mention Adam Shaheen from Ashland -- some pretty good options are out there. Right now, all those guys I mentioned are projected to go before Hodges, but as we all know, the draft is full of surprises. *
---
Matthew Gross from Tinton Falls, New Jersey
Question: Hello Jim. Big-time Titans fan up here in Jersey. It was a good year for trash-talking being around all these NY and PHI fans around me. This season I am able to come down and catch a home game, wanted to know what are the better seats to try and get for a close but full field view? Also are there any tours of the stadium and/or locker room during the season that I would be able to take? Thanks for your time, can't wait for this season, GO TITANS BABY!
Jim: Hey Matthew. I'd suggest anything in the lower level for best seats. Sections 141-143 surround the tunnel where the teams comes in and out, so that's a pretty cool place to be. As for stadium/locker tours, none are currently available, but several fans have asked so I think it's being considered for the future. Stay tuned.
---
Luis Murra from Torreon, Mexico
Question: Hi Jim. Do you really believe the Titans (based on the scheme, and philosophy) need a "#1 wr"? I think Titans need a speedy wr / slot wr and they can find one on the 3rd round (or 2nd if gm trades down). I'm still thinking we are getting BPA with the 1 rounders, it could be DE, OLB, TE... and the clearly needs (wr and cb) will be addressed later... unless the BAP is a cb or a wr... in other words: is Tajae Sharpe a starter?
Jim: Hey Luis. I'll answer it this way: I think the team needs additional help at receiver. I always hesitate to say this guy or that guy is the "1". Rishard Matthews played like a 1 last year. Tajae Sharpe will continue to develop and be a reliable pro. I anticipate the team snagging one, possibly more, receivers in the draft. But counting on a rookie to emerge as the top target is sometimes risky. I think the drafted receiver will contribute to the group in 2017, with the expectation being he'll blossom into a big-time playmaker for years to come.
---
Anthony Palmieri from Wall, New Jersey
Question: Do the Titans have a true leader on the offense and defense on and off the field or is it a handful of guys? I was wondering because most of the offense is young or came to the team just last offseason. Defensively I thought it must be Morgan Casey or Orakpo because they are all experienced and Morgan and Casey were drafted by the team. Thought I'd ask about something other than the draft for a change haha. Thanks
Jim: Hey Anthony. Thanks for the question. It's a team effort. The leadership has improved tremendously over the past few years. You can imagine the five Pro Bowlers leading, either with actions or words. But even players who don't say a lot get the attention of others by the way they work. It used to be I'd name one or two guys when asked about the team leaders. Now I can name 10 players without hesitating.
---
Dave Bettlach from Chesterfield, Missouri
Question: Hey Jim, Wanted to get your opinion on this scenario and your opinion of this pick in round 3. Kinda think two WR's might be picked in the first 3 rounds. After picking 1 of the big 3 in round 1 [I hope]...a guy that really fits what J-Rob is looking for is Chris Godwin...tough, fast, great route running WR out of Penn St. Don't know if he'll make it to 83, but I think he would be a perfect fit for the Titans. What do you think?
Jim: Hey Dave. Was on a conference call with Mel Kiper on Wednesday and he had some really nice things to say about Godwin. No doubt he's a good one. Liked him at Penn State. Like you, I'm skeptical he makes it past the second round, too.
Have a great weekend everyone!