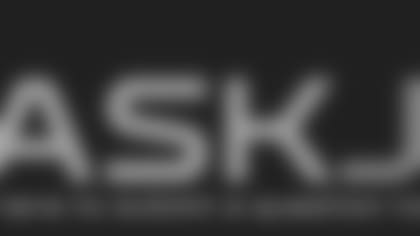 ](http://www.titansonline.com/index.html)
NASHVILLE, Tenn. — The Titans split two road games to start the season, and now the Colts are headed to town.
It's a huge AFC South matchup.
To help pass the time before kickoff, I decided to open some mail…
Michael Newsome from Drexel, NC
Question: I'm a former Titans season ticket holder, and have traveled from North Carolina to over 50 games and a half dozen stadiums to follow the team around. This is the most I've been excited about our D since the sure tackling run stuffers we fielded in 2003.  However, I see us getting into the backfield and not finishing enough plays.  Especially so in Cleveland, even down to the last meaningful play when we won at the line, got into the QB's face, moved him off the spot, but couldn't finish the play and allowed an improvised TD to seal the game. Andrew Luck isn't nearly as mobile, but is strong and elusive in the pocket (and will have more dangerous weapons going down field).  So, what do we need to do to correct this?  Is it something fundamental that is easily fixed in practice and the film room?  Or are we still missing one last piece on this D?
Jim: Hey Michael. The problem against the Browns was getting a hold of Johnny Manziel. The Titans got to him twice, and forced two fumbles when they got there. But Manziel eluded pressure on other rushes because of his quickness. I think we all remember the one involving Brian Orakpo at the end, where Manziel got him with the spin move. The challenge this week is different. Luck is a big, sturdy guy. The Titans need to wrap him up, and get him to the ground. You'll see on a lot of plays he's able to stay on his feet and make throws with defenders hanging on to him. Veteran defensive coach Dick LeBeau compared him to Steelers quarterback Ben Roethlisberger this week because of his strength. The Titans have the rushers, but they're going to need to finish plays on Sunday.
---
Kris Garcia from Litchfield Park, AZ.
Question: Hi Jim, do you think Dorial Green-Beckham will start having a bigger role moving on? He just looks like a huge target for Marcus Mariota.
Jim: Green-Beckham made an impressive catch against the Browns. I was impressed with the way he attacked the football. There was nothing timid about him. It's obvious he's a red-zone threat. The more he gets settled in – and the more comfortable coaches are with him – the more he'll play moving forward.
---
Tim Pennybacker from Follandsbee, WV
Question: *Is Shawn Jefferson and Ken Whisenhunt that stubborn not to play DGB?  I understand young players will make mistakes, but has too much upside!!  I see a lot of other teams in NFL playing their rookies a lot, even playoff teams-Titans are a couple years away-so put him in now!!!! *
Jim: Hey Tim. See above. DGB is going to play more in the near future. Keep in mind, someone has to come off the field for him to be on it. Kendall Wright has to play, and Harry Douglas is a veteran who's going to be on the field, too. I'm assuming you've given up on Justin Hunter then? Well, his coaches haven't.
---
Mary Cannon from Nashville
Question: HELLO MR. JIM I AM A BIG TITANS FAN FROM DAY ONE WHEN TITANS CAME TO NASHVILLE, TN. I HAVE PEOPLE OVER WHENEVER THERE IS A GAME. LET ME GET TO MY QUESTION: I AM TRYING TO FINE SOME TITANS PAPER PLATES AND CUPS. I HAVE LOOK OUT TO SAMS DEPT STORE AND THEY HAVE OTHER FOOTBALL PLATES. I WANT THE TITANS PAPER PLATES. MY HUSBAND AND I LOVE US SOME TITANS.
Jim: Hey Mary. Thanks for the question, and for using ALL CAPS. My eyes aren't what they used to be! First, I would go to www.titanslockerroom.com to check out their tailgate items or the Titans Locker Room store at Nissan Stadium. If you can't find the cups and plates with Titans logos, then Party City may have cups and plates with Titans colors. Good luck.
---
Larry Hickman from Valrico, Florida
Question:As a lifelong Oilers/Titans Fan, I have lived and died with the ups and downs of this team. I can appreciate a lot of the moves that have been made on both sides of the ball. The question I have is: Do you see Marcus Mariota as being the catalyst to inspire the rest of the team to perfection? Also, do you see any horizon where the secondary starts producing playmakers? Thanks for your time.
Jim: Mariota is a leader, no doubt. His teammates respect him, and want to win with him leading the way. I see him inspiring others already, and he's just 21. As for the secondary, it's improved from a year ago in my mind. And the group will benefit when veteran Jason McCourty returns in the near future.
---
Jason Lloyd from Murfreesboro, TN Question: Hi Jim, I see a huge difference in Ken Whisenhunt's play calling this year compared to last year. Last year, he seemed very rigid in his calls and didn't seem to tailor the offense to the strengths of Jake Locker and others. This was one of the reasons people didn't think the Titans would draft Mariota, because Whisenhunt never seemed to want to change his system. Now he's incorporated parts of the read option and some designed QB runs to play to Mariota's strengths - something he never did before, and I really like what I'm seeing! What caused Whisenhunt to decide to change his system and play calling to fit Mariota's strengths, when he wouldn't do it for Jake Locker last year? Do you think he had discussions with GM Ruston Webster who told him he needed to be more flexible?
Jim: Hey Jason. Good observation, and I agree. Keep in mind the Titans were in a tough spot last year because they went through three quarterbacks during the course of the season. Also, Jake Locker wasn't necessarily "Whisenhunt's guy." I'm not saying he didn't like Locker, it's just he inherited him. Things are different now, and one of the big differences is the coaching staff started planning for Mariota even before the draft, and things were really turned up during the offseason. I agree, the coaching staff has shown a lot more imagination in working with Mariota. They've done a lot of things to take advantage of his skill set. And a hint: You haven't seen close to everything yet.
---
Harry Lawrence from Eden Prairie, MN
Question: What is the injury status for Chance Warmack?
Jim: Warmack suffered a sprained MCL (knee) against the Browns. He's out for Sunday's game against the Colts, and his status moving forward is TBD.
---
Dottie Bone from Smyrna, TN
Question: Why did Titans acquire one of the best WR in the league in Harry Douglas and then keep him on the bench??  The only reason he left Atlanta was because they were overloaded in WR. He's the only reason I watch this sorry team. Douglas was always one of my fav players and I can't get Falcons games here.
Jim:  Stay calm, Dottie. Douglas played in 68 of the team's 80 snaps against the Browns – more than any other receiver. He was second among receivers in snaps against the Buccaneers, a game when the offense focused more on running the ball in the second half. Douglas is playing, and he's going to play more. Maybe after watching a few more games some of the other Titans will grow on you, too.
---
Michael Carnes from Nashville, TN
Question: I am no coach, and I can appreciate all the decisions they have to make as I am a producer and director. I appreciate that so far this year, we don't look predictable. We mixed things up which is good, instead of being 3rd and long and the percentages were we would run it up the middle.  Run it up the middle has been the Titan way for many years, even when Jeff Fisher was here, never did us much good. Not that it is not important to achieve a running game, but one could almost always call it, run it up the middle Titans.  What happened to the bubble screen, the quick slant, the end around option? Plays that other teams kill us on.
*OK, enough rant, the big question, what happened to Jackie Battle, a rough and tumble fireplug that could block and always get the hard 2 and 3 years can could do well in open field.  He was consistent and dependable. Where is he and why did we cut him.  Go Titans, looking for a big win against Cleveland. *
Jim: Feel better now, Michael? Jackie Battle was a tough, hard-nosed player. But he wasn't re-signed, and the Titans have some other heavier backs in that role.
---
Ian McCabe from Cardiff, Wales, United Kingdom
Question: Hi Jim, enjoy reading your work. I've been a massive fan of the Titans since I first watched NFL in Britain and saw Steve McNair playing for the Titans. It's been 15 years now and this November in week 10 I'll be coming to Nashville for a once in a lifetime holiday with my wife on our one year wedding anniversary. We have tickets for the Panthers game and my question is, is there any chance I'll be able to get autographs from players at all or catch them entering before game and what advice can you give so I get the ultimate fan experience on game day? Much appreciated.
Jim: Hey Ian. Congrats to you, and I'm glad to hear your wife is such a trooper! If you get to the game early and can make your way down to the lower bowl near the tunnel where players come and go, you might have a shot. But game day is tough, because players are focused on the game. Many of them won't take their headphones off, so they won't hear you screaming for them. But good luck, and congrats again!!
RECOMMENDED: