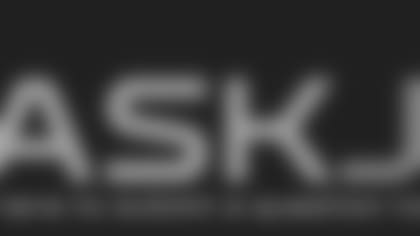 ](http://www.titansonline.com/news/ask-jim.html)
Yes, it's the bye week, but that doesn't mean I'm going to kiss the mailbag goodbye.
Thanks for the questions. Let's get to it…
Kevin Bere from Boonsboro, MD
Question: Hey Jim. What do we make of the running back rotation? This past week Antonio Andrews looked every bit as capable of handling the load. Terrance West was inactive. What happens when David Cobb gets back? They can't do two RB's inactive each week, can they?  And they wouldn't cut West after just trading a draft pick for him, would they?  Your thoughts are appreciated.
Jim: Hey Kevin. That's five questions in one. Nice work! This one is going to play out in time. Andrews will get plenty of chances in the near future. He had a good offseason and the coaching staff likes him. He would've been playing instead of West earlier if he hadn't been injured. But it's obvious the team has Cobb in the plans this season, too. That's why he was placed on short-term IR. Keep in mind they got West from Cleveland for a conditional draft pick. If he doesn't play in a certain number of games, the Titans won't owe the Browns anything.
---
Cornelius Eaglin from Hempstead, Texas
Question: Why is the coaching staff not getting Dorial Green-Beckham more touches earlier in the progression of games? They have been using tight ends in the slot and not maximizing the potential to score on the well-designed plays they do run. Why?
Jim: Good morning, Cornelius. Coach Ken Whisenhunt said earlier this week they're being careful not to overload DGB too early. I believe he'll continue to get more and more opportunities.  If he continues to produce, it's going to be tough to keep him on the bench.
---
Ed Henry from Freehold, NJ
Question:Jim, to me Michael Griffin is a liability. Do you see anyone on the current roster replacing him by season's end? Perhaps someone like Marqueston Huff?
Jim: Hey Ed. Like they do with every player, the coaches would love to see Griffin make more plays. But I wouldn't call him a liability, and I can't see him being replaced. I like Marqueston Huff, but keep in mind he gave up the 3rd-and-20 pass down the middle of the field on Sunday. Sure, Griffin should've been there to help, but Huff can't let the receiver run past him like he did.
---
Rodney P from Woodbridge, NJ
Question: Why is Justin Hunter regressing again? 2 catches in 3 games?!
Jim: I hear ya, Rodney. And I'll agree with you on this: I thought Hunter would be much more of an impact player this year. So far, he hasn't been. But keep in mind he hasn't gotten a lot of chances. Just two passes were thrown his way on Sunday against the Colts, and he caught one of them for 29 yards.
---
Bob Smith from Waipahu, HI
Question: Hi Jim!  Do you think that the team takes its foot off the gas when they get a lead?  They seem to fight hard from behind then the play calling looks a bit soft once they get a lead. This is not college football, this is the NFL where any team can come back and win. Therefore wouldn't it be best for the Titans to stay aggressive for four quarters and put as many points up as possible?  I think they could easily be 3-0 right now if they just had that killer instinct instead of what seems to be a "nice guy" approach at times.
Jim: Aloha Bob. The Titans had a chance to bury the Colts, no doubt. I think the game slipped away when the team had a 1st and goal at the one-yard line with a 24-14 lead late in the third, and settled for a field goal. But I don't necessarily think they got too conservative. When they got the ball back with a 27-14 lead, Marcus Mariota was still throwing the ball down the field. He completed a 27-yarder to tight end Craig Stevens, and the Titans drove into Indy territory before Mariota took a sack. The Titans lost Sunday for a number of reasons, including the fact they couldn't get a stop on defense when it really mattered in the fourth quarter. The Colts drove it 98 yards one time, and remember, their go-ahead score was set up when Mariota threw an interception on the second play of the team's next drive. In the fourth quarter, the Titans were throwing it. And they weren't smiling.
---
Joey Harvey from San Antonio, TX
Question: Jim: Every loss is a team loss, sure. But it seems like the plays that made the biggest differences in the losses to Cleveland (deep passes) and Indianapolis (3rd & 20's) can be placed on the shoulders of the secondary, for the most part. Do you think Jason McCourty's return will help make a big difference in preventing these kind of "backbreaker" plays against the Titans?
Jim: Hey Joey. No doubt McCourty's return will help. He's a pro. And the Titans should benefit from getting experience for the other players in the secondary, too.
---
Julie Crenshaw from Newport Beach, CA
Question:Hi Jim. I have watched Mariota play in college. He ran his college team with his instincts on throwing and running to move the ball. It seems like he is hindered here with the Titans and coach Whiz is telling him not to run. Do you think he will loosen up and give Mariota more freedom to play his game? I think Mariota would make more plays with a little more freedom.
Jim: Hey Julie. You're right about Marcus not tucking it and running much. He's carried the ball just five times for 25 yards on the season. But I don't think it's because he's been told not to run. Mariota is a football player with great instincts. He has a good feel for the game. When there's nothing there, I'm sure he'll tuck it and run in the games on the horizon. My question to you is this: Would you rather him tuck it and run or hang in the pocket and throw the ball downfield? He's been doing that pretty well.
---
Troy Fisher from Nashville, TN
Question:* My opinion is that the Titans were the better team in all 3 games we have played this year. But instead of being 3-0, we are 1-2. What do you feel are the main reasons for this? *
Jim: The team just hasn't made plays when it needed to, at critical times. There's no question the team is far better than a year ago, but the win total is the same after three games and that needs to change. I'm going to be honest here. The Titans let a win escape their grasp against the Colts and it cost them a chance to be 2-1. Say what you want about the Browns game, but I don't count that one as the Titans "should've won." I've heard that from a lot of fans. The Browns led the entire game, and ended up winning by 14. That's an L with no asterisk to me.
---
Question: *Hi Jim. It's the biggest Titans fan in Canada's biggest city here. Question about the goal-line stop and 2-pt call vs Colts. Did Whiz really say they ran it every time to "establish an identity?" What about playing to your strengths? Two skyscraper WRs, one of the best slot WRs in the game, great tight end, a mobile, accurate QB, and we run the ball that many times in close? That was unquestionably the turning point of the game and Whiz got in his own way (it seems to my novice eye anyway). How did he not throw at least one fade to DGB or Justin? Sorry for the rant, love your work, and know you'll have an excellent take on this. Thank you. *
Jim: Hey Alex. Thanks for the email. I don't know if that was the turning point as much as it was the ending point. When that play didn't work, it was game over. We're going to disagree on this one. I thought the Jalston Fowler run was the right call. And I'd be saying that if I worked with the Titans, at The Tennessean, at ESPN, TMZ or Better Homes and Gardens. Fowler had been effective in the short yardage carries in that game, and all season. He'd picked up three yards on a fourth-and-1 earlier, and is a perfect 2-of-2 on third and one plays this season. On the prior play, he bowled in from a yard out. The Titans drafted him for those type plays, and built an offensive line to make it work. They should be able to get a yard. But as we all know, it failed. I understand the thought of putting the ball in the hands of Mariota for the final play. In my mind, the blunder wasn't on the call, it was on the execution of the play. It was a mess.
---
Chris Frizzell from Round Rock, Texas
Question: Hey Jim - As you have stated many times, we are all pleased with the pocket presence and passing skills of Mariota -- he is way ahead of schedule.  Something seems to be ingrained in him not to run though.  If you look at his college tape per game, he would bootleg out and if there wasn't a receiver he was gone. In 3 games we have only seen him run 2 times.  Is this Mariota proving that he can be the prototypical QB and forget the feet, or is it Whiz and the scheme?  Half of what made Mariota so successful in the air is that he could pull coverages to protect against his running abilities. His best throws came while on the run!  I feel like we are underutilizing that skill set and just curious what your mindset is around that?  I enjoy you and Amy on Titans in Two and Twitter.  #Titanup   PS. Slap Paul Khuarsky's bald head for us. :)
Jim: Thanks for the question, Chris. Julie and I discussed this above. I really don't think he's been told not to run. He's just gotten comfortable in the pocket quicker than most expected, so he's not running as much. Did you see that great throw he made to DGB late, when he stepped up and threw a strike on an off-balance throw? That's one occasion where he was smart to hang in there and throw it. I'm sure there will be several occasions when he takes off and gets big chunks of yardage the rest of this season. But so far, he's shown patience. Thanks for watching Titans on Two. Amie runs the show! And I'll give Kuharsky a love tap on the head for you!
---
Lawrence Tafa from Brisbane, Australia
Question: Great job you're doing in keeping the fans informed about the team. Just wondering if Coach Whisenhunt is feeling under pressure with the slow start to the season? I refer to his much pronounced offensive system which while adapting to the unique skillset of your franchise QB is not exactly winning hearts and minds with its dubious play calling in specific situations, a couple of which were evident from the Colts game where a better scoring opportunities went unfulfilled or begging.
Jim: G' day, mate! I appreciate it. Let me run down and ask Whisenhunt if he's feeling any pressure. ….. OK, that didn't go so well. …. Seriously, of course he's disappointed. As far as pressure goes, it's a pressure league. If I really did ask him that question, I'm sure his answer would go something like this: He's encouraged by what he's seen from his team, but disappointed in the results in two of the three games. The focus is on getting better, and winning, and not on missed opportunities.
RECOMMENDED: