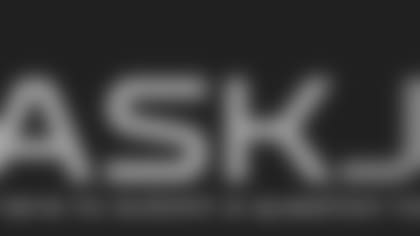 ](http://www.titansonline.com/news/ask-jim.html)
First off, here's hoping everyone had a wonderful Thanksgiving.
Now it's time to talk Titans, who return to action on Sunday vs. the Raiders.
Kenny Gore from Horse Cave KY**
Question: I know it's early for draft talk, but many people are saying we will go o-line in the 1st round, namely LT Tunsil from Ole Miss. If this is the case do you think Taylor Lewan automatically gets kicked over to RT or will there be a competition between Lewan & the rookie? I know Tunsil is highly touted, but so was Lewan. I would hate to see the team move him and possibly alienate him from resigning with us later. I know that fixing the o-line has to be the 1st priority for this team, but I like Lewan. He is having a down year, but I think he could still very well be the franchise LT this team is looking for. Any thoughts this early??
Wyatt: Hey Kenny. Thanks for the question. I'll be honest: I think it's way too early to talk about the draft. Right now, we have no idea where the Titans will be picking, or which underclassmen will be coming out. It's too early to rank the prospects. But I know this: Lewan isn't moving to right tackle. The team drafted him to play left tackle and that's where he'll play.
Michael Newsome from Drexel, NC
Question: The first time I ever cheered for an NFL team was Week 1 of 1999.  I chose the Titans because I was a new fan and they were starting anew. I've held on strong as a dedicated die-hard.  Holding PSLs, traveling to a nearly a dozen away stadiums to cheer for Titans, buy field-ready jerseys of our players (although, we have never kept a player for more than 1 season after I buy their jersey ... George, McNair, LenDale White, Bulluck, Haynesworth, CJ, Locker ... I just bought a Mariota jersey, hope that isn't a sign  :(  lol).
But why do they have to make it so freaking hard to keep being a fan?  From 13-3 seasons that die with a 1 and done in the playoffs to 9-7 seasons missing playoffs on tie-breakers to the Bengals to all the losing seasons between.  It seems like, since McNair was let go, we have lose 75% of our games (excluding the 13-3 season), and every loss comes after we held a late 4th-quarter lead and collapsed.
I understand that when you trip, you have to go through the process of stumbling, then the process of being on the ground, then the process of getting back up, but come on!  We have been stumbling and falling longer than a shot cowboy in a 1940s western!!!  Are we ever going to regain our balance and stop stumbling around?
Wyatt: Hey Michael. Sounds like you're a loyal fan, and committed. All I can say is do your best to keep the faith. The team has its quarterback in place, and some key players to build around. I think it's pretty clear things are on the upswing, and improving. I really do believe better days are ahead.
Steven Gregory from Columbus, MS
Question: Jim, Do you think the Titans will pick a Safety/Cornerback in the 1st round in the 2016 draft? Or what direction do you think they will go?
Wyatt: Hey Steven. I mentioned this to Kenny a few questions above – I think it's too early for draft talk, especially regarding prospects and positioning. But as far as the safety/cornerback positions go, I think the Titans are better off at cornerback that some folks. Jason McCourty is expected to be back at 100 percent next year, and I like Perrish Cox. Those are two solid starters. Coty Sensabaugh has improved. He's a free agent, so he'd have to be re-signed. Blidi Wreh-Wilson remains under contract. The Titans have some promising young corners in Cody Riggs and Curtis Riley (spending this season on IR). Safety is an area I could see the team address, however. Michael Griffin isn't getting any younger, and his contract expires after the 2016 season.
Cindy Byers from Gainesboro, TN
Question: Jim, last year at Thanksgiving the guys all told their favorite thing for the meal, and one of the guys told that his Momma's Sweet Potato Pie was awesome, the bestest ever.  Can you find out who that was and get me that recipe, I would be so thankful for it. Thank you so much for this help, I am really ready to eat me some Sweet Potato Pie. Tell all the Titans we are rooting for them always. The Byers Family of Gainesboro. GO TITANS !!!!!!!!!!!!
Wyatt: *Hey Cindy. Thanks for the email. I asked around and you're not going to believe this – 38 players said they love their mom's Sweet Potato Pie. This is going to be a tough one to get to the bottom of! *
Doyle Shearer from New Hope, AL**
Question: Why is the complete 53 man roster not available for each game? How many players have to set, whether injured or a healthy scratch?
Wyatt: Hi Doyle. You're right – 53 players on the active roster during the season. But seven of those players are inactive for game days, giving teams 46 players to work with.
Julie Crenshaw from Newport Beach, CA
Question: Are the Titans going to focus on getting Marcus Mariota weapons this off season? He needs more help than what he has and he can't do it by himself. He needs better O-line, RB and WR group.
Wyatt: Hey Julie. I'm with you in that he needs more help. And yes, I expect the team will make finding more weapons for him a big point of emphasis this offseason.
Vaughan Daniel from Hendersonville, TN.
Question: What I saw Thursday night was a pro football team that didn't believe in itself enough to go for a first down on fourth and inches. Do the Titans want permission from the fans to take chances like that? Maybe that's how we can get the fans involved in the decision making. Repeat after me, "Games are won by taking risks". I love the Titans so much that it hurts me to see them work so hard and not win. I was especially proud of Marcus flying through the air for that touchdown. I think if you'd ask the fans for their opinion on those situations...with the win in the balance...they would tell you to go for it. Believe you can do it and then do it. You guys are so great. One day the world will know that. Until then...know that we (your fans) are proud of you and your accomplishments. Your work for charity and your positive outlook. We are behind you win or lose. We have alot to be thankful for. Believe in yourselves. Happy holidays to all of you...the two tone blue.
Wyatt: Hey Vaughan. Appreciate the email, and your passion. I'll spread the word.
David Sowder from Chattanooga, TN
Question:** Jim, Is it wise for the Titans organization to continue playing Marcus Mariota this season behind the offensive line the Titans currently have?? He cannot continue to take the kind of hits he took Thursday night against Jacksonville. I saw several missed assignments by the offensive line where the Jaguars were able to come through the offensive line untouched at full speed and punish Mariota! Nobody can continue to take them kind of hits! I understand the injuries along the offensive line but I witnessed way too many missed blocks and several from our (Lewan). I appreciate him taking the blame in his press conferences after each game but when do you say enough is enough on the Mariota's hits?? I am not blaming the young (Lewan) because he is thrown into a bad situation and has been expected to play like a seasoned veteran. Chance Warmack misses just as many and looks as if he does not even want to be on the field most of the time! I just see another RGIII situation happening in Tennessee if the organization lets this kind of line play continue!! Thanks!
Wyatt: Hey David. I can tell you two things: Warmack wants to be out there, and he's had a pretty solid year. As for Mariota, he's going to play. And he needs to if he's going to continue to improve. The Titans have done a better job in recent weeks trying to find ways to keep him from getting hit, and that's going to continue to be a top priority.
Rick Pinkerton from Terryville, CT
Question:   Jim, Great job all year.  My question: It seems to me, watching Marcus throw, he tries to be to fine in throwing the long ball.  He seems unsure, afraid of throwing an interception.  Why doesn't the coach just tell him to air it out and sees what happens. Delanie Walker appeared open long down the sideline and he threw it way over his head.  Your thoughts?
Wyatt: Hey Rick. Appreciate it. Marcus needs to improve on the deep ball, that's definitely an area he needs to work on moving forward. But he's never going to be a gunslinger who throws the ball into traffic. Not if he can help it, at least. He didn't do that at Oregon, and he won't do it in the NFL. The more he matures I think you'll see him develop even more confidence throwing the football, but the Titans don't want him getting careless with the football.
RECOMMENDED: