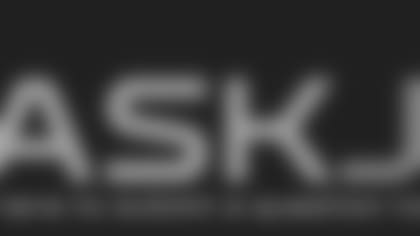 ](http://www.titansonline.com/news/ask-jim.html)
The Titans head to New Orleans to face the Saints, with a new coach – interim coach Mike Mularkey.
Can Mularkey and the Titans stop a six-game losing streak and turn things around? We'll find out soon.
But first, let's hit some mail…
Collin Hopkins from Dallas, Texas
Question: Hi. Do you think that Mike Mularkey can turn the team around for a great season? Thanks... GO TITANS.
Wyatt: Hey Collin. Time will tell. I'll say this: Practices have been spirited here this week, and players have rallied around one another and Mularkey. The Titans should be better than 1-6. It's not a 1-6 roster, I have no doubt about that. But the team just wasn't able to find a way to win games over the first seven weeks. Will that change? The Titans should get a boost with Marcus Mariota's return this week, and I think Mularkey will have the team ready to play.
---
Joseph Moore from Chelmsford, Massachusetts
Question: What are the Titans plans for David Cobb?
Wyatt: Hey Joseph. He's been practicing, and he's looked good. The team wasn't happy with his weight at a recent weigh-in, and that's been addressed with him. As far as his status, Mularkey said Cobb probably won't be moved from the reserve/injured just to the 53-man roster until next week, although there's still an outside shot he gets bumped up this weekend. It depends on the health of players at other positions. Either way, look for him to be available against the Panthers on November 15.
---
Chuck Logan from Mt. Juliet, TN.
Question: Jim, Do you think Coach Mularkey will have a different take on the fact that Bishop Sankey and Justin Hunter can't catch a football or if they do they can't hold onto it?
Wyatt: Hey Chuck - Mularkey has been around. It's not like he's a new guy coming in from the outside. So he's seen the struggles of both Hunter and Bishop. With that said, Mularkey also said he's going to give young guys a "clean slate." Hunter's going to have to play because the team is thin at receiver with Kendall Wright hurt. Sankey has lost his job as kick returner, but the team isn't going to discard him altogether. It's safe to say both will have to perform well to stay on the field, though.
---
Rory Buckham from Boulder, CO
Question: This is in regards to Taylor Lewan.  He hasn't even played 16 games as a starter and he tries to come across as a leader, named team captain.  I watch his games and his interviews and … everything is a joke with him.  I'm sure the media likes that but I worry about him protecting Mariota's blindside.  I mean Mettenberger is his friend and he let him get demolished!  What will he do for Marcus?  Don't get me wrong, he does seem like he'll be a good one but his attitude and his penalties need to change before he can be considered a leader.  Lead by example I think. Your take?
Wyatt: Hey Rory. Keep in mind Lewan was voted team captain, he didn't appoint himself. Lewan has a big personality, there's no doubt about that. It's why reporters surround his locker on such a regular basis. He's not inviting guys for a campfire session. Yes, he has to start performing better, and he's admitted that himself. The guy has played through a shoulder injury, though, so cut him a little slack. It's not just a bruise, take my word for it. Lewan needs to clean up his play, but he's going to get there in time. The guy plays with an attitude, and I have a feeling in time he'll win you over. P.S: I took out your Fred Flintstone reference but I must admit, I did get a little chuckle out of it.
---
Julie Crenshaw from Newport Beach, Ca
Question: Hi Jim. Did the players really believe in Ken Whisenhunt's system? The players all said the right things to the media but their body language and facial expressions said something else.
Wyatt: Hey Julie. Fair question. I'll be honest: It's hard to have a great attitude at 2-14, and 1-6. The team didn't win under Whisenhunt, and that's why guys might've seemed sour at times. Wins bring better body language. With that said, I do think guys were under a lot of pressure with Whisenhunt. They seem more relaxed now. We'll see if it leads to more wins.
---
Dennis Pfeifer from Lake Havasu City, AZ
Question: What can the Titans do to better protect Mariota so he won't get hurt?
Wyatt: *Hey Dennis. They can try a number of things, and they will. You'll see some adjustments in personnel on the offensive line this weekend, and the Titans could also give the o-line help with running backs and tight ends either with chip blocks or staying in to protect. Mariota could also get the ball out quicker, either by play-call design or decision-making. *
---
Joseph Hernandez from El Paso TX
Question: When will Titans wear there light blue uniforms?
Wyatt: On Thursday night, November 19 in Jacksonville, as part of the NFL's "Color Rush." The Titans will be decked out in light blue, and the Jaguars will be in gold.
---
Terry Walston from Big Spring, TX
Question: Jim, How are you? Been keeping an eye on RB Antonio Andrews. He seems like the kind of back that needs to get "lathered up". Does the play caller not see this? I think he needs the ball often and many times. What is your opinion on this? Thanks Terry
Wyatt: Hey Terry. Doing well, thanks. Hey, I'm with you on this. I like Andrews, and his running style. I think he needs more carries. It sounds like Mularkey agrees with us. He's already labeled him as a "workhorse" and has vowed to get him more work.
RECOMMENDED: