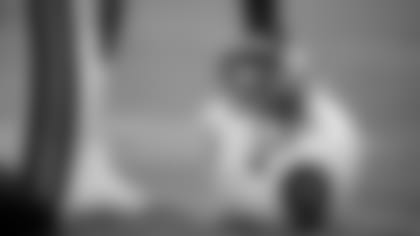 ](http://www.titansonline.com/news/ask-jim.html)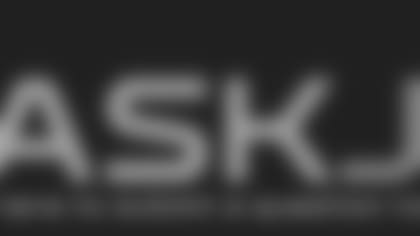 ](http://www.titansonline.com/news/ask-jim.html)
NASHVILLE, Tenn. – Welcome to summer.
And the long wait until training camp.
Let's pass the time with a Titans mailbag. Lots of Eric Decker questions in this one…
Robert Orr from Katy, Texas
Question: Jim. Love, love, LOVE the Erik Decker signing. My only question is this: Is he football ready after his injuries, or will we have to wait to see him after the regular season starts? Thanks, Bobby.
Jim: Hey Robert. I talked to Eric earlier this week. He said he's good to go -- doctors cleared him for offseason work while he was with the Jets. So he expects to be out there at the start of training camp.
---
Tim C from Providence, Rhode Island
Question: Greetings Jim! Football is right around the corner and I love the Decker signing. He's a great talent, but even more important than the numbers is the ability we now have to take some pressure off young talents Corey Davis, Taywan Taylor and Tajae Sharpe. They can now develop a little smoother, without having to bear such a large load. What do you think?
Also, I'm in the process of moving my family from RI to Smashville!! Where are some of the areas I should be looking that are affordable, but close enough to the Nash to take advantage of city living? Thanks JW!
Jim: Hey Tim. I agree. The Titans didn't sign Decker because the young guys were struggling, but it does take some pressure off of them. Sharpe is recovering from foot surgery, but Davis and Taylor finished the offseason strong. Decker gives the team a veteran presence, and the team is in much better shape in case there's an injury.
And you're going to love Nashville. It's a fantastic city. The Brentwood/Franklin area is a popular spot for families, but not in the city. Same for West Meade, Bellevue, Green Hills and other areas on the outskirts. East Nashville, Germantown, and the Gulch are all hot-spot areas closer to the city, and lots of new condos/apartments coming up in the downtown area as well. Good luck on the transition!
---
Mac McCally from Livingston, Texas
Question: Greetings, Jim.  Pondering the Decker signing I found myself thinking that this may be the best collection of receivers since the Warren Moon days.  We've gone from a weak receiving corps to a full stable of potential triple-crown horses, so to speak.  Competition can bring out the best - - but chemistry with receivers can be a bit volatile.  You are on site and see the team up close - can you speak to this a bit? Seems like there might be a couple of good players that might be odd-man-out this year.  Amazing how Mr. Robinson has transformed this team.  Keep info coming Jim.
Jim: Hey Mac. Well, it's a good problem to have, but you're right. The competition will be good, and a lot of guys will be fighting for roster spots. I think the team will keep 5-6 receivers. I'm figuring Rishard Matthews, Corey Davis, Taywan Taylor, Eric Decker and Tajae Sharpe are in the best positions to be on the roster, with most of these guys locks. But that leaves Harry Douglas, Tre McBride, Eric Weems (a proven special teams ace) and others fighting. Former Vandy receiver Jonathan Krause has had a good offseason. Competition will be fierce, and fun to watch. There's no doubt the group has improve significantly.
---
Don Wessels from Nashville, Tennessee
Question: Jim, Great job on keeping us informed. I look forward to your frequent columns.
Question - Is it possible that the Titans will keep Alex Tanney on as a third quarterback? It is my understanding that he has run out of time to be put on the practice team roster. Given that he is very familiar and seems to be good at executing the Titans playbook. It would be a shame to lose that experience and talent.
Jim: I appreciate it Don. Well, Alex has had a great offseason, and he took advantage of the extra time with Matt Cassel sidelined with a thumb injury, and Marcus Mariota limited. I do think Cassel remains the front-runner for the No.2, which would leave Tanney as the third option. I think he's valuable enough to keep around, and I suspect he'd be snatched up if released. I'm sure the decision-makers would love to keep him, but a lot will depend on how things shake out at other positions. Stay tuned.
---
Kevin Ingram from Murfreesboro Tennessee
Question: When is the Titans training camp this year?
Jim: Reporting date is scheduled for July 28, with first practice set for July 29.
---
Shaw Harrison from Franklin, Tennessee
Question: When will the training camp schedule be released?
Jim:Hey Shaw. The entire schedule – with all the open practices – should be released soon.
---
Ian Davis from Nashville, Tennessee
Question: Hey Jim. Last year we had the first spot on the waiver wire and were able to pick up a few good pieces (e.g. Kline) Do you see the Titans adding more pieces via the waiver wire or camp cuts? What positions do you think could be upgraded?
Jim: Hey Ian. Good question. Robinson is always looking, and while the team no longer has the No.1 spot, it's still an option moving forward. I suspect Robinson and the coaching staff will evaluate the roster throughout training camp, and when players are released across the league, that's when a move or two could be made. Plenty will depend on which guys are cut, and how the team does from an injury standpoint in camp. I need to see how some things play out at certain positions to say where a move could be made, though.
---
Matt Faulks from Dickson, Tennessee
Question: Hey Jim! Two questions. I know you can't release any details at this point (even if you knew any), but do you have any idea WHEN us Titans fans will know about the new uniform updates? Also, it is probably too early to tell, but what could the wide receiver area of the depth chart look like for week 1 with Davis, Decker, Matthews, etc. Thanks so much for all you do! TITAN UP
Jim: *Hey Matt. Uniform changes are for the 2018 season, so I wouldn't expect anything until next offseason on this topic. As far as the depth chart goes, don't sleep on Taywan Taylor. I suspect he's going to be on the field plenty as well. He's really looked good this offseason.  *
---
Dustin Roberts from Cookeville, Tennessee
Question: Also there are quite a few new faces in two-tone blue, which position battles do you anticipate being the most intriguing to watch play out? Thanks for your time and Titan Up!
Jim: Hey Dustin. The wide receiver spot is one for sure, and the secondary. A lot to be sorted through at cornerback, from who will make the team to where they'll play. And I'm curious to see how the return game shakes out.
---
Paul Logan from Brentwood, Tennessee
Question: Hi Jim, do you know if the Titans are doing the Football 101 event again for the ladies?
Jim: Hey Paul. Just asked this week. I'm told it's "to be determined." So stay tuned. It's been a great event for sure.
---
Ermal Kolshi from Hendersonville, Tennessee
Question:Hey Jim, I appreciate everything you do for us fans and keeping us updated throughout the offseason. This is my first time writing to you. I got a question for you: Titans just signed Eric Decker to a one-year deal. I was really expecting Decker to strike a long term deal. It's being reported he is bound to make similar to what Jeremy Maclin received in Baltimore. In your own opinion, what does this all mean? I think we are now getting pretty crowded at the receiving core, who sees less catches and who gets the majority of them? I really see Matthews production suffering more, and also does this move mean that they are willing to wait on Davis to develop more instead of just throwing him under fire this year? Also, Dodd and Johnson are HIGH picks, in your opinion, what do you think of their long term success? Can Dodd replace Derrick Morgan's productivity when we indeed move on from Morgan? Also how would you evaluate Jon Robinson as an GM in his 2nd yr? Thanks
Jim: Hey Ermal. Eric said he had 5-6 other teams interested, and he might've been able to land a multi-year deal elsewhere. He said he was looking for the best fit – he has a home in Nashville, and sees an opportunity to help team immediately – and I think that probably contributed to him being willing to take a one-year deal. The fact he's coming off an injury potentially impacted things as well. But the Titans definitely upgraded the group, and the team now has nice depth. But we'll have to let competition decide who plays, and how much. As for Dodd and Johnson, Dodd has to prove he can stay healthy and produce first. Morgan has been a dependable veteran for years, and he's being counted on again this fall. Johnson, meanwhile, has enjoyed a really nice offseason and is improving. As for Robinson, I think he's doing a great job.
---
Adam Quick from Pinellas Park, Florida
Question: I will be going on vacation on roughly July 10 thru July 14 to visit my father. Whom lives in McMinnville, Tn.  My question is there any practices scheduled for any of the days I'll be up in Tennessee open to the public? I would love to watch some practices and possibly get some autographs as well. If no practices for those days are there any other ways to meet and get autographs from players. Thank you in advance.  Love reading your weekly mail you send out via Tweeter.
Jim: Hey Adam. Appreciate the mail. Hate to say it but you're coming to town during a quiet stretch. Players aren't scheduled back until the end of July, so no practices or availability until then. I hope you enjoy your visit with your dad!
---
Kenny Gore from Horse Cave, Kentucky
Question: WOW, AM I EXCITED!! I was excited after the draft, but now I am really excited! Robinson has built this team to win IMO!! Many fans have been saying for years now: You don't build around RBs to win; You build around your QB. I feel like that is what JRob has been working towards since coming to the team!
Corey Davis, Taywan Taylor, & Jonnu Smith were exciting additions this year. Matthews exceeded expectations last year IMO; & will get better. Delanie Walker is the best TE in the NFL IMO & NO ONE will change that opinion. Eric Decker is a veteran with proven production. Sharpe is on the mend and flashed potential last year. I believe that Marcus has the weapons he was missing in previous years. I know he has missed time with rehab; but I feel like this is His year!! This is the year Marcus shows everyone what he is really capable of...... And that should scare the crap out of opposing defenses. He was above average with limited weapons!! Watch out NFL; the Titans are coming through!
With all this, the defense was also addressed; with many new faces that WILL be making plays as well!!
Who do you see as a player on defense; that may shock some, with a bigger than expected role this year?? I've heard some mentions of Jayon Brown.....
MAN, I AM READY FOR OPENING DAY!!!
Jim: Hey Kenny. Good to hear from you again. Sounds like you're fired up! Jayon Brown is a good pick if you're looking for a surprise player. Not a lot of people know much about him yet, but he's looked really good – and fast - -this offseason. I'm anxious to see if Dodd can get some momentum going in training camp as well. Remember, he was an early second-round pick, and he has a ton of potential.
Have a great weekend everyone!