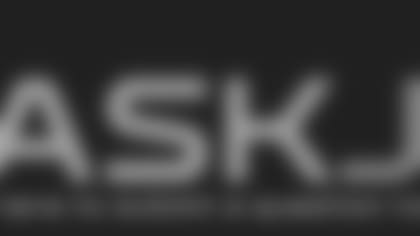 ](http://www.titansonline.com/news/ask-jim.html)
NASHVILLE, Tenn. – Welcome to life – and the Titans mailbag -- after the NFL Draft.
Hey, it's not a bad place to be.
Now the focus can turn to the best time of the year – the season.
Let's dive into the mailbag. This week's edition once again hits on a variety of topics…
Luis Murra from Torreon, Mexico
Question: Hi Jim. This will not be about the draft (You may have received 91,304 about it). Do you see another DB coming after the final cuts?
Jim: Or possibly before. GM Jon Robinson has proven he's always looking for ways to upgrade the roster. He's made trades, and he's claimed players off waivers. Remember the Josh Kline addition last year the week before the season? The Titans have added some new faces in the secondary, including cornerbacks Logan Ryan, Adoree' Jackson and Demontre Hurst. Others return, so there will be competition. But don't rule out a new addition at some point.
---
Jason Brown from Lima, Ohio
Question: Hi Jim, long-time reader, followed Oilers to the Titans. From Lima, Ohio but relocating to Knoxville in couple weeks. I loved the draft I was thinking Corey Davis was a reach but the other top 3 gone by 9 completely understand. In all the years following the Titans we never had an offense anything like this. While our foes building defense we went offense that will be able to get mismatches. My question is J-Rob said he gladly except Steak of the Month for the weapons he got Mariota, the question: Is he getting his steaks since he hooked up Mariota up?
Jim: *Well Jason, I asked Marcus about this earlier in the week. He smiled and said, "We'll work something out." So we'll see. *
---
Robbert van Giffen from Boise, Idaho
Question: Hey Jim, I was wondering which important dates we fans need know for the team now that the draft is over. When do the first and final round of cuts occur? When do training camps begin? Thanks!
Jim: Hey Robbert. OTAs start this month, but they're closed to public. Same goes for the minicamp in June. Training camp will start the last week of July, and the first preseason game is August 10, at the Jets. The first round of cuts (from 90 to 75) is scheduled for August 29, and the cut from 75 to 53 will be September 2. And, of course, the big date to remember is September 10. That's the opener against the Raiders. It will be here before we know it!
---
Dustin Rogers from Durham, North Carolina
Question: Hey Jim, I thought the draft went really well. I'm just so impressed with JR. How did he know the top 3 receivers would go earlier than expected? He is one smart man, so give him huge props from all Titans fans for filling positions we needed and getting the best value he could with the draft picks we had. My question is: Is there a Mrs. T-Rac? If not there should be. Have a good one.
Jim: Hey Dustin. The GM did a great job of anticipating for sure, and he got the best receiver in the draft in Corey Davis. As for Mrs. T-Rac, there's no Mickey and Minnie Mouse stuff going on around here. T-Rac is single.
---
Jim Gordon from Franklin, Tennessee
Question: Wow! I'm happy with the draft results. Do you think we should change our name from exotic smash mouth to exotic smash and dash? Khalfani Muhammad looks amazing with big time speed quickness and good hands. And he's the 7th rounder. How do you think they deploy these new weapons? And were you surprised that we didn't take O.J. Howard?
Jim: Hey Jim. It should be fun. Muhammad definitely brings an extra dimension to the offense. He's fast, and he's going to be fun to watch. I liked Howard, along with a lot of folks. But there was a bigger need at cornerback, and the team got a good one in Jackson. Tight end Jonnu Smith was a pretty good get in the third round as well.
---
Steven Tilton from Safford, Arizona
Question: Hi Jim, thank you so much for keeping all of us fans up to date on what is happening in Nashville! You do a fantastic job! My question is about the Dec. 10th game against the Arizona Cardinals. Coach Mularkey mentioned that there was a possibility of having the team stay out west because of the back-to-back west coast games. Depending on how that plays out, do players sign autographs after practices when they are away in those situations? I know the decision is really far away from being made, so nothing is certain of course. But being so far away from Nashville we never get to visit spring practices or Titans Caravans, and it would be great for us western fans to be able to show support and tell them how proud we are of them even so far from home. I'm hoping to go to the game too, but I know players don't always stick around after such a long night. Just wondered what the odds were that fans could catch the players IF they stay out here that week. Thanks so much!
Jim: Hey Steven. Appreciate it. A lot to be determined on that trip. I do think staying out west is a real possibility, but things still up in the air on a lot of things from what I've gathered. The team left on Friday for its Sunday game at San Diego last year, so I imagine the team will leave on Friday for Arizona at the start of what could be a long road trip. After the Sunday game, will the team stay and practice in Arizona, or head to California leading up to the following Sunday's game against the 49ers? Not sure about the answers to these Qs. So the autograph question a ways away from being answered obviously. Stay tuned.
---
Chris Chapman from Hermitage, Tennessee
Question: Hey Jim! Man what a DRAFT!!! As a die-hard TITANS FAN I can't and won't question any of our GM's draft picks. Jon Robinson moved up, he moved back; the man moved every way he needed to in order to grab the players who I think will make an immediate impact on our football team. I love the fact that more than half the players if not more will make a big difference on special teams. I love the fact that we finally have a GM who without a doubt loves the game and knows without a doubt how to put together a tough, accountable, team 1st group of football players!!! I'm stoked bro! I'd like to welcome all the new Titans to Nashville and I for 1 am looking forward to watching every single 1 of you play here for years to come. I was kinda hoping that we would've grabbed QB Joshua Dobbs from UT but it didn't happen. I expected the team brass to lean a lil heavy on offense in the draft and they did. Corey Davis, Rishard Matthews, Tajae Sharpe, Harry Douglas and Delanie Walker along with all the other new weapons on offense should make for a high flying, point scoring and very surgical offense come this fall. Jim, I gotta ask; who was your favorite pick aside from Corey Davis? What's your take on the gigantic Brad Seaton? That dude ought be able to move a few guys around quite easily. As always thank you for all you do man! GO TITANS!!!
Jim: Hey Chris. Appreciate the question. I like the Adoree Jackson pick. He's going to be exciting, and he has a great personality. I was impressed with Jonnu Smith when I met him during his pre-draft visit, and I've heard great things about Taywan Taylor. Brad Seaton, meanwhile, is one of the biggest guys I've ever seen. You're going to like the looks of him in pads. Just don't upset the 6-8, 330-pounder.
---
Roy Newsom from Nashville, Tennessee
Question: Hey Jim, after the draft has been completed are teams permitted to continue making trades? If so what is the time period?
Jim: Hey Roy. Trades are still allowed, and will be until around the midway point in the season. Remember, the Dorial Green-Beckham for Dennis Kelly trade took place last August.
---
Nate Howell from Murfreesboro, Tennessee
Question: Which draft pick are you most excited about and which pick will have the hardest time making the team?
Jim: Hey Nate. Touched on the favorite with Chris. As far as the hardest time to make the team, good question. I think the two o-linemen – Corey Levin and Brad Seaton – will both be under the gun. Both are talented, and can earn a spot, but when they arrive they'll find some pretty good company on the offensive line, where there's some depth. So they'll need to perform well.
---
Marilyn Weldin from Antioch, Tennessee
Question: After watching Eagles fans sing "Fly Eagles Fly" for the umpteenth time during the NFL 2017 draft, I have to ask: when are the Titans getting a fight song? I mean, this is Music City. Surely we can have a great, rousing, singable fight song. If you want fan participation, have a lyrics contest with the winning lyrics used as the basis for the song. Then have a contest for the best tune for the lyrics. Finally, have our fantastic Music City Drum & Bugle Corps and Music City Mystique percussion group record the music to use at the games. And I wouldn't be surprised if Titans fans end up singing it in 4-part harmony!!
Jim: I hear ya Marilyn, and I still hear that "Fly Eagles Fly" song in my head! Along with some not-so-friendly chants about the Cowboys. I'm leaving this question in here, and maybe it will inspire someone! This could get interesting…
Have a great weekend everyone!