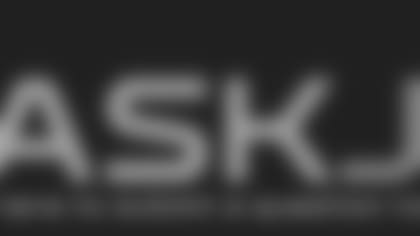 ](http://www.titansonline.com/news/ask-jim.html) It's been a busy week at Saint Thomas Sports Park.
The Titans signed four new players during the first week of free agency, and more players are expected to visit next week. Pro Days are on the horizon.
But let's stop for a second to open some mail…
---
Ethan Medley from Crossville, Tennessee
Question: Hey Jim. Now that DeMarco Murray is in, how does he and the other backs fit in coach Mike Mularkey's plan? Does he fit better than others? Jim: Hey Ethan.  Make no mistake, Murray is going to carry the load. The Titans like him because he's a do-it-all back who can run it and catch it out of the backfield. Some other running backs will be in the mix, however.  David Cobb will get a chance to prove his worth, and so will Antonio Andrews. Dexter McCluster brings a little something different to the table with his explosiveness, and he's a returner as well. Bishop Sankey is on the spot. Needless to say, there will likely be some departures in this group.

Erik Reyes from Lewiston, Idaho
Question: With recent pickup of DeMarco Murray, do you think GM Jon Robinson might still pick up another 'back in the draft? Jim: Hey Erik. I think I'd be surprised. Backs like Ezekiel Elliott and Derrick Henry aren't necessarily worth monitoring for the Titans any more. I wouldn't rule out the addition of another back, but if it happens it would be in the later rounds.

Trevor Williams from Kearney, NE
Question: Hey Jim. If the Titans drafted Ole Miss tackle Laremy Tunsil, do you think they would have him play left tackle and move Taylor Lewan to the right side, or would Tunsil play right tackle? Jim: Hey Trevor. Tunsil remains a popular pick in mock drafts. Personally, I'm not sold at this point that he's going to be the pick, but I haven't been in the draft room and seen the board either. I do feel certain if he ends up being the pick, he wouldn't play right tackle.

Chris Chapman from Hermitage, TN
Question: Hello Jim!!! Great job with this column my bro!!! My 4-year old son Alec and I are diehard Titans fans. He's sat in my lap every Sunday and watched them play since I brought him home from the hospital. Getting him to understand why they're not playing on Sundays right now has been a chore; he thinks they should play year round...LOL!!! I just read where Wendall Williams decimated Chris Johnson's 40 yard dash record last Saturday; is this young man entering the draft this year? We did well with Chris Johnson running through defenses, do you see the Titans going after a potential playmaker such as Wendall? Also, no offense to Bishop Sankey but don't you think it's time that they cut ties with him? He's had 2 yrs and hasn't proved to do nothing more than drop balls and get stopped by even the weakest defenses. I really believe we give entirely too much time to "weak links" on this team. Thanks for posting my questions and I look forward to hearing your answers. GO TITANS!!!!!
Jim: Hey Chris. Great story about your son! I did see where he ran a 4.19 (Wendall, not Alec ) at the regional combine, but he doesn't get credit for breaking C.J.'s record since it didn't happen at the combine in Indianapolis. He is eligible for the draft. As for Sankey, he's going to have to step it up if he's going to stick. With the addition of Murray, Sankey needs to prove he's worth keeping.
---
Mark Lovely from Cadiz, KY
Question: Hey Jim. I follow you on Twitter and you're my main source for Titans news. I enjoy your writing and level-headed point of view....Here's my question:  As a Western Kentucky alum, I'm a big fan of Antonio Andrews. What's the feeling about him among coaches and staff these days? I'm concerned that a couple of mistakes toward the end of the season may have caused them to forget his earlier contributions. I think that would be a shame. This is a guy who nearly broke Barry Sanders' college record for all-purpose yards in a season. Thumbs up or thumbs down on him right now?  Thanks.
Jim: Hey Mark. Thanks for the email, and comments. Antonio is going to get a shot after signing a one-year deal. But the landscape has clearly changed. He'll be fighting for a roster spot this season, not a starting spot like last season.
---
Brandon Lawson from Murfreesboro, Tennessee
Question: Hello Jim, I know conventional wisdom says you do not draft a defensive back with the #1 overall pick. However, I believe the Titans may be in a unique position to do so. They currently have Dick LeBeau on staff, a Hall of Fame defensive back, a great defensive back coach, and one of the greatest defensive coordinators to ever wear the headset. He is arguably the best defensive mind the game has ever seen. If Jon Robinson is as smart as I think he is, he will lean on Dick LeBeaur to get his thoughts on defensive players. During Coach LeBeau's time in Pittsburgh he coached Troy Polamalu, who is more than likely a first ballot Hall of Fame safety. I think it's safe to say Coach LeBeau knows a great player when he sees one. My question is this: If after all the pre-draft evaluation of players is done, Coach LeBeau tells Mike Mularkey and Jon Robinson that in his opinion Jalen Ramsey could become a great player in his secondary, and he believes he could have an impact close to the impact Polamalu had on his defense in Pittsburgh, do the Titans pull the trigger on Jalen Ramsey with the first pick with or without a trade down? I know you can't answer in absolutes, but I would love to hear your opinion.  Thanks.
Jim: Hey Brandon. Thanks for question: I like Ramsey, and I know you do, too, from our correspondence on Twitter. I'll say this: If the Titans end up picking Ramsey, it will be because Robinson thinks he's the best option for the team. It's his call. He'll listen to the opinions of others, of course, but he's making the pick.
---
Jason Kealoha from Kpolei, Hawaii
Question: Hey Jim. Aloha from Mariotaville. Jacksonville and the Texans made great progress in free agency. The Titans could have done a little better. The AFC South just got a lot better due to free agency. I'm hoping the Titans will make the right moves in the draft to solidify the defense and especially the offensive line to protect our beloved brother Mariota. They also need to strengthen their defense. We had a great opportunity to get Damon Harrison (DT) off free agency and came up short. With the AFC south getting a little tougher, will the Titans be able to compete in the division?.. Mahalo Jim.
Jim: Aloha Jason. No question the Jaguars and Texans had a good week. But so did the Titans. And keep in mind free agency isn't even a week old. And the Titans are scheduled to make eight picks in the draft. This team remains under construction and it's very clear with the moves so far, the team is adding pieces to help Marcus.

RECOMMENDED: