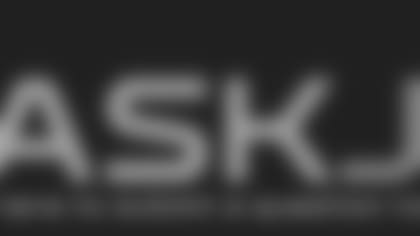 ](http://www.titansonline.com/news/ask-jim.html) NASHVILLE, Tenn. – Happy New Year!
It's been a busy stretch here at Saint Thomas Sports Park. The season in the rear-view mirror, the Titans are now in the process of searching for their next general manager and head coach.
Stay tuned.
In the meantime, let's dive into some mail …
William Inglesby from Gallatin, TN
Question: Why are we not hearing about any interviews for HC job? Not even who the Titans have coming in to INTERVIEW???
Wyatt: Hey William. Thanks for the question. This week, the focus has been on the vacant general manager position. Controlling owner Amy Adams Strunk and Kenneth Adams IV from the ownership group were among those who interviewed five candidates in the last three days. I expect the interviews for the head coaching position to begin in the coming days, but keep in mind the NFL owners meetings are Tuesday and Wednesday in Houston, which potentially could put a brief delay the process.
David Samaniego from San Antonio,Tx
Question: I've been a Titans fan since the Oilers first started and had the Great Warren Moon! I had a girlfriend that lived just outside Deer Park -- she's the one that introduced me to the Oilers. I was more a baseball fan, Rangers, Astros, K.C. Royals. My question is why are y'all keeping the second hand QB Zach Mettenberger? He's a disappointment to the team as you've seen. If it weren't for the other team fumbles or interceptions the game would have been uglier for our Titans. I miss the fabulous four.... including Earl Campbell, Steve McNair, plus more. I wish I can afford to go to Tennessee to see, but I loved the Astrodome. God Bless, Bironas, McNair."
Wyatt: Hey David. Appreciate the mail. Mettenberger has struggled more than I thought he would. But let's admit he played behind a makeshift offensive line at the end of the season, and without Kendall Wright. The Titans need more playmakers moving forward, but I agree – Mettenberger needs to improve, and he knows it. But he's not going anywhere any time soon. He has a big arm, and he has talent.
Name: De'Andre Love from Clarksville, TN
Question:With the first pick should we take Laremy Tunsil to protect Marcus Mariota or get the weapon we need for him by taking Laquon Treadwell?
Wyatt: Hey De'Andre. This is a great question. This is just me, but I think the Titans have their left tackle in Taylor Lewan. Does he have to improve? Yes. But he was the 11th* overall pick in 2014, and I see him as Mariota's blindside protector for years to come. Don't get me wrong, the Titans need to upgrade the offensive line. But I'm not so sure I'd use a No.1 pick on an offensive lineman. As for Treadwell, I really like him. I'll have a better idea of his value after the combine and pro days, though.
David Blaisdell from Goodlettsville, TN
Question: Jim, What was the Titans won/loss record while Floyd Reese was G.M.? Why is he not being considered for the G. M. position?
Wyatt: Hey David. Floyd put together some really good teams. The Titans went to the playoffs four times in five years from 1999-2003, including two AFC title games and a Super Bowl. But Floyd is not on the list. I just think the decision was made to go with a fresh start.
Matthew Priest from Hendersonville, TN
Question: Now that we have the Number 1 draft pick, who are the teams that might be willing to trade up to get in front of Cleveland to get a QB or the best player on the board at number 1?
Wyatt: *Hey Matthew. Too early to know for sure. We'll need to see the combine and see what the draft stock is like for the quarterbacks in the draft, and others. But I like what you're thinking.
Isaias Ortiz from Cedarville New Jersey
Question: Hey Jim hope all is well, My question is maybe on the mind of every Titans fan what is the possibility of seeing Joey Bosa in a Titans uniform? I believe it's most important to build around Mariota but in the past years we have gone with the o-line on the first pick and I would agree but this year the draft is stacked in talented o linemen, so maybe the number one pick wouldn't be necessary to address that position. I also believe our defense is a few players away from being top 5 and a good defense is also a QBS best friend what are your thoughts?
Wyatt: I can tell folks are fired up about the draft. I like Bosa. He's definitely a difference maker. Give me a little time to see how the board shakes out.
Randy Phillips from Mount Vernon, IL
Question: Is there any chance that the Titans could somehow get Bill Cowher out of retirement by hiring Omar Kahn as the new GM? This would be awesome, and I think it could help the Titans keep one of their most valuable assets in Dick LeBeau.
Wyatt:Hey Randy. Don't bet on this one.
Jesse Shepherd from Belleville, New Jersey
Question: Hi Jim. I was wondering if the Titans might try to talk Jake Locker into rejoining the team as a back up? Zach's been looking like a 3rd stringer, and Locker brings more to the table as long as he doesn't break his neck on the practice field. He could learn a lot working with Mariota, and potentially become very valuable imo.
Wyatt: Hey Jesse. See my answer to Randy. Jake is retired.
Jeff Hunt from Las Vegas, NV
Question: Hi Jim. After taking over as head coach, I understand that changing the offense wasn't possible, but felt his little changes did help.  My question is, if Mike Mularkey keeps the head coaching job, do you know what kind of offense he uses.  I think he did a decent job with what he had to work with, but believe the offense really needs to be re-tooled to go with Mariota's talents.  Thanks for doing a great job, we outside of Nashville appreciate all the stories you provide.
Wyatt: Hey Jeff. Thanks for the question. I'm not exactly sure what Mularkey would do with the offense, but I'd look at the offense he ran in Atlanta as a good clue. And that offense had a lot of success.
Joscha Viertauer from Vienna, Austria
Question: Hey Jim! Good work you're doing, always enjoy Titans in Two and all the recaps. My question: How do you feel about Cody Riggs? Every time I see him play he's actually making an impression on me. Would it be possible for Riggs to get more snaps on defense at CB?
Wyatt: Hey Joscha. I like Riggs. I was impressed with him from the beginning. He's scrappy, and fearless. A lot will depend on the new hires, of course, but I'd like for him to get more opportunities moving forward. He's a good player.
Frank Allen from East Providence, Rhode Island
Question: Hey Jim. We met briefly at the Browns game in Week 2. My question for you is do you think the Titans make a run at any big name free agents this offseason? Cordy Glenn and Alex Mack would each be great additions to the offensive line, and maybe Alshon Jeffery becomes a true No. 1 receiving threat for Tennessee. On the defensive side of the ball, guys like Mo Wilkerson and Josh Norman could put our defense into that top tier. Personally I would love the addition of Norman opposite of J-Mac..... Thanks Jim! TitanUp!
Wyatt: Hey Frank. All those players sound good to me. The Titans will have some money to spend, and I expect the team to be active in free agency once again. On offense, I see needs on the offensive line, at receiver and at running back. On defense, the team needs help in the secondary, and more edge rushers. A thumper in the inside alongside Avery Williamson would be nice, too. I expect they'll be addressed when free agency begins in March, and in the draft.

RECOMMENDED: