NASHVILLE, Tenn. – Adoree' Jackson was happy about the interceptions. 
The standing backflips? Well, not so much.
"Back home they'd give me a 10," the Titans cornerback said with a smile after Thursday's practice with the Buccaneers. "If I was in the Olympics I probably wouldn't get a high score. I didn't stick my landing correctly, I didn't do the right things. I didn't tuck.
"Everybody said they were scared when I was in the air. In the Olympics, probably a 7."
Jackson picked off two passes on Thursday, the first in 1-on-1 drills when he was working against Buccaneers receiver DeSean Jackson. On the play, Adoree' Jackson batted the ball into the air with his left hand, and then came up with the ball when it floated down. He sprinted the other way with secondary coach Kerry Coombs chasing him in excitement.
Later, Jackson closed out practice with another INT. He intercepted Buccaneers quarterback Ryan Fitzpatrick on a sideline route.
Jackson did standing backflips after each one. Since they happened on two different fields, he wanted everyone to have a chance to see.
"He is an amazing athlete," Buccaneers receiver Mike Evans said of Jackson. "He can run, and his ball skills are off the chain. … I saw that flip – it was impressive.
"He's a freak athlete, man. I wish I could do that still."
Buccaneers quarterback Jameis Winston left impressed with the second-year cornerback as well.
"No.25, oh my gosh," Winston said of Jackson. "He's incredible."
Jackson said the last time he did a backflip he was in college at USC. He admitted to practicing them in high school after a classmate challenged him.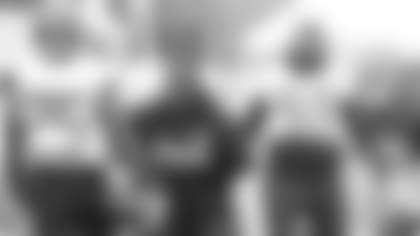 But these days, Jackson said he's focused on improving on the football field.
The Titans will face the Buccaneers in preseason game No.2 on Saturday after two days of joint practices.
"It's all about competition, and seeing a lot of different guys and trying to get better," Jackson said. "You have DeSean Jackson and Mike Evans, (Adam) Humphries and (Bernard) Reedy. Their offense is nice to go against. It's a lot of competition, and you're fired up. You are trying to show out, they are trying to show out. You're trying to expose one another. It's all about getting better.
"I feel like I sweated more in these joint practices than I probably have my whole life."
The Titans take the field for a joint training camp practice with the Tampa Bay Buccaneers on Thursday, Aug. 16, 2018 at Saint Thomas Sports Park. (Photos: Donn Jones Gary Glenn)