NASHVILLE, Tenn. -- Change can be difficult, but it can also be rewarding. For wide receiver Nate Washington, change over the course of his football career has allowed him to experience the game on different levels and embrace new opportunities every step of the way.
It was Nashville's good fortune that change brought Washington to the Titans in 2009, after he spent his first four NFL years with the Pittsburgh Steelers.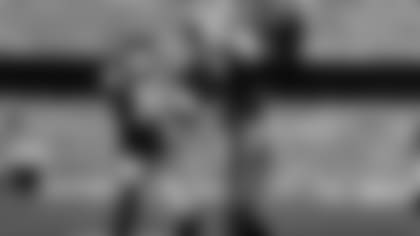 After he graduated from Scott High School in Toledo, Ohio, Washington's football story got serious in the sleepy town of Tiffin, Ohio, at the historic school bearing the same name. To say that Tiffin University is on a smaller scale than some of the college football powerhouses is an understatement, but Washington appreciates his time spent as a Dragon.
"Of course, there are stages that are bigger than ours," he said. "What I will say is, at smaller colleges, no matter who you were playing, guys were giving everything they had. Looking back at it, I really appreciate it more so than going to a big school because I don't know if I would be here today if I didn't go to Tiffin."
Although he had a stellar career at Tiffin and still holds eight individual receiving records, Washington didn't begin to pursue a professional career until his senior year when a scout from the Buffalo Bills paid Tiffin a visit.
When he signed with the Steelers as an undrafted free agent in 2005, Washington became the first player out of Tiffin University to play in the NFL. Once he signed with the Steelers, Washington was met with the drastic transition from Division II football to the NFL.
"It was a huge jump," he said. "The competition was so much different. It's an eye opener. I had to learn how to become a perfectionist at the techniques. It wasn't just about my physical ability anymore. I had to make sure I was doing everything technically sound to win."
Despite the difficulty of adjusting to a higher level of play, Washington was able to develop both on and off the field, learning from his Steelers teammates and coaches. Players such as Hines Ward, Jerome Bettis and Joey Porter taught him the importance of having a strong drive toward the game. His coaches echoed this notion, showing him how to be hungry as a player while remaining humble.
"[Coach Bill Cowher] told me to always remember, you're never as good as you think you are, but you're never as bad as they say you are," Washington said. "I've always remembered that. It's words of wisdom to keep you humble. That's the main thing. With Coach [Mike] Tomlin, he was a confidence boost for me. He made me go out there and believe that nobody could stop me, believed that I belonged, believed that I could be something great."
After adjusting to life as an NFL player for four years, Washington faced another transition when he joined the Titans as an unrestricted free agent in 2009.
"It was big," he said. "It was a big transition for me, because I was stepping off the porch, so to say. I wasn't the young pup anymore. I was coming among a group of guys that I had to act like the older guy. It was a new transition for me. I was going from the third-down receiver coming in off the bench to now being relied on to be one of the main playmakers."
Changing teams became about more than just wearing a new jersey; rather, it was an adjustment to an entirely new community. Despite the challenge of joining a different organization, Washington embraced the new opportunity as a chance to be a team leader.
"It was definitely a culture shock," he said. "It was something that I had to grow into. I can definitely remember making a statement that if they allowed me to, that I could guarantee that I would grow into the person that they wanted me to. It was rough in the beginning, but I think with the persistence of just continuing to grind and work through things and this organization giving me a chance, I think it all panned out."
Washington's experience with alterations proved to be beneficial recently as the Titans organization underwent a change in coaches.
"In a good way, it's refreshing," Washington said. "It's something that you may have wanted, to see new faces and a new culture change around, but it can become difficult when you're trying to find your way, to get to understand how they expect things to go, to get on that same page. What I will say is once you do, everything works out perfect, and you're happy about what's going on."
In just his rookie season with the Steelers, Washington was a part of what every NFL player dreams of experiencing: a Super Bowl victory. While the flurry of activities surrounding the Super Bowl is now all but a blur, Washington has one memory in particular that stands out among all the others.
"I was like Jerome's [Jerome Bettis'] little brother. I remember the night before the game he grabbed me and put me in a headlock. He said, 'Hey, you know somebody's rookie class has got to win a ring. Why not be you?' And I'll never forget that. We actually went out there and won it the next day. It was just crazy."
Washington took home not just one, but two Super Bowl victories with the Steelers. The memories he created with his teammates, though, are what stand out the most.
"I think the most memorable thing about those two Super Bowls is just the bond that we had with each other," he said. "The plays come, and you remember those games, of course, because we love football so much, but I established so many good friends in that time. In times of need, to be able to call those guys still I think is definitely more gratifying in my life and helping me be a man than it did with football."
The bond that is established among teammates is a notion that Washington places high value in, no matter which team it may be with.
"That's kind of what you want to bring here," he said. "The same thing with the Titans, that's the type of aura that you have to have around the organization. A brotherhood, a group of men that is much more than football. You feel like those are your brothers, those are your friends, and you'll have those friendships forever. That's the kind of culture you want to bring. To an extent, that's what we've brought here in this short amount of time."
As he plays in his 10th year in the league, Washington admits that he did not expect his football career to last this long when he was first signed by the Steelers.
"I just was praying to God that I actually made the team that year," he said. "Never would have expected a 10-year career, but God works in mysterious ways, so I just had to go with the talent he gave me."
Washington may be considered to be one of the old, grizzled veterans, but with that he is able to bring a surfeit of knowledge to the Titans.
"The experience of how to handle winning, the experience of the longevity in the league and doing what you must do to prepare for Sunday, experience on how we must bond as a team. The technique and the natural ability, it speaks for itself, but I think it's more so the continuity and the brotherhood. That's what I would like to be known for bringing to the table."
After working with younger players such as Justin Hunter and Kendall Wright, Washington sees a bright future for the Titans. From his experience in the league, he is able to pass on his own wisdom and advice to players in their first few seasons.
"I tell a lot of rookies, you have to go above and beyond taking care of your body, making sure you're watching extra film, making sure you're doing everything in the meeting room as far as taking notes so you can prepare," he said. "A lot of them aren't used to doing those types of things. That's the main thing, just making sure that you're transitioning from the college level to professional, handling it as a profession."
As Washington prepares for a different game each week, his goal for the season remains consistent.
"I say this every year, but the main thing I try to focus on is being accountable, and I think everything else will fall in place," he said. "Whatever stats it may be, whatever plays I may have on my goal list to make, I think if I'm just accountable making my play when my play comes to me, I think everything else will fall into place."
After experiencing a variety of transitions over the past decade, Washington has found a home in Nashville, a city to which he is tremendously grateful and in which he plans to stay. Once again, change has been good.
"Nashville has been a great city to me," he said. "It's been crazy that I initially got here and still considered myself a black-and-gold Steeler, because I was there for four years, but now being here for six, I couldn't see myself anything else than blue. I'm just happy about the opportunity that this city has given me and the organization has given me. The fans, the love that I've received in the amount of time that I've been here, everything just leads to a thank you. That's all I can say. It just leads to a thank you to this city and the organization for the opportunity coming out and leaving my mark in the NFL."