NASHVILLE – When the Titans selected Virginia Tech cornerback Caleb Farley with their first pick in the 2021 NFL Draft, they picked a player they hope will develop into something special.
Farley's college coach, Virginia Tech head coach Justin Fuente, thinks his former pupil is in a perfect spot in Tennessee.
"All I know is what I see on the outside, and I see coach (Mike) Vrabel and I think of a no-nonsense, real football coach," Fuente said of the Titans. "Caleb is going to understand that culture, and that expectation. I am thrilled that he is going there, to a stable place with tradition that … has an identity, stands for that identity, and tries to go impose that identity on somebody else. I think (Caleb) is going to fit right into that, and hopefully be a great contributor."
In an interview after the Titans selected Farley with the 22nd overall pick of the draft, Fuente recalled first laying eyes on Farley when he was a high school superstar. And he reflected on just how much he developed as a person, and a player, with the Hokies.
At Maiden High (N.C), Farley tallied 58 touchdowns in his senior season while playing quarterback – he ran for 2,574 yards and 37 touchdowns while throwing for 1,776 yards and 21 more scores.
"He was a pleasure to recruit," Fuente recalled. "He was just a skinny guy that loved football, and thought he was going to be the next Kordell Stewart. He was out there running around – nobody could tackle him. He was the fastest guy on the field by 10 miles. … It became obvious that this was just a really special, special athlete."
But Farley dealt with adversity on and off the field after first arriving at Virginia Tech.
After being moved to receiver as a freshman, he suffered a torn ACL in his first practice, less than an hour in. Fuente called it one of the most "heartbreaking" and "gut-wrenching" things he's ever had happen at a coach.
Five months later, Farley's mother, Robin, died from breast cancer.
"The single best, and most defining thing about Caleb Farley is how he handled those situations," Fuente said. "The way he approached and attacked those difficult situations, I think speaks volumes about him."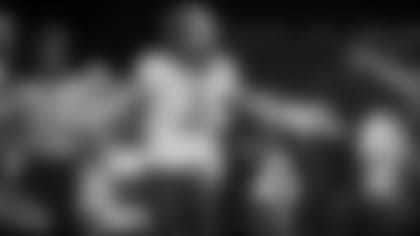 Farley moved to cornerback the following spring, and it didn't take him long to take off.
Farley intercepted two passes in his first collegiate game against Florida State, and at the end of the season he was named honorable mention Mayo Clinic Comeback Player of the Year after playing in 13 games, with 12 starts. Farley recorded 36 tackles with the two interceptions, nine passes defensed and a sack in 2018.
In 2019, Farley started 11 games and he recorded 20 tackles, four interceptions and 16 passes defensed.
In 23 games over two seasons at Virginia Tech, the 6-foot-2, 197-pound Farley had six interceptions.
Farley opted out of the 2020 season, and he is currently recovering from his second back surgery. Farley said after being drafted he's feeling great while expressing optimism about his chances of helping the Titans this fall. Both Vrabel and Titans General Manager Jon Robinson said the team's medical staff and coaching staff will monitor Farley and his health as he works to put himself in a position to take the field.
Fuente said Farley has elite speed, and he thinks he'll be an elite player at the next level.
Farley traveled to Nashville on Friday and spent time with Vrabel and his staff, Robinson, and other members of the organization while touring Saint Thomas Sports Park, and Nissan Stadium.
He'll be back in town for a rookie camp and orientation the weekend of May 14-16.
"The first thing (about him) is he is going to be willing to learn," Fuente said of Farley. "This is a guy who knows he's not finished. He is one of those young people that had a dream and worked toward it every day – he didn't just talk about the dream. He had the posters on the wall, and he did the work. Certainly, he has God-given ability, but he did the work.
"(Caleb) didn't dream about the cars and the money. He dreamt about playing in the NFL, and certainly those things are nice that come along with it, but he is going to walk in there wide eyed in the respect of: 'Tell me what to do. Teach me so I can learn, and I can be good at this now.' And not everybody is like that. Some guys walk in the door and think they know everything, and this is a youngster who is intelligent enough to know, and smart enough to know that he needs to be coached, and he is a willing participant in being coached and is willing to do whatever is asked of him."