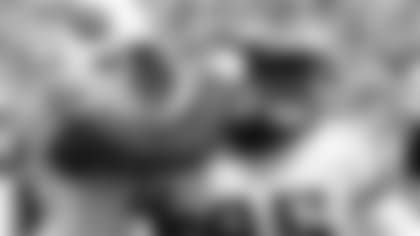 Nate Washington's 14-yard TD catch pulled the Titans into a 7-7 tie in the second quarter.
NASHVILLE, Tenn. -- Matt Hasselbeck threw a 4-yard touchdown pass to Daniel Graham with 4:24 left, and the Tennessee Titans rallied for a 17-14 victory over the Denver Broncos on Sunday.
The Titans (2-1) lost Kenny Britt, the AFC's leading receiver, when his right knee buckled underneath him in the second quarter. Hasselbeck found other players to throw to, including Graham, whose first catch of the season came against his former team. Hasselbeck threw for 311 yards and two touchdowns in helping Tennessee win its second straight game.
The Titans intercepted Kyle Orton twice, sacked him once and also stopped Willis McGahee on fourth-and-goal at the 1 early in the fourth quarter.
Denver (1-2) drove to the Titans 38 before Will Witherspoon sacked Orton, and two plays later, Jason Jones batted Orton's pass into the air that Witherspoon picked off with 1:39 to seal the victory.