NASHVILLE, Tenn. — The Titans found a player who is fast and could last when they selected Chris Johnson with the 24th pick of the 2008 NFL Draft.
Johnson set an NFL Combine record in the 40-yard dash with a time of 4.24 seconds. Since then, Johnson has put up substantial numbers, including 2,006 rushing yards and an NFL record 2,509 yards from scrimmage in 2009 when he earned offensive player of the year honors.
Johnson has rushed for more than 1,200 yards in four of five seasons and has started 77 of 79 games. He already ranks third in franchise history in attempts (1,463), rushing yards (6,888), rushing touchdowns (44) and games with at least 100 yards rushing (33). Johnson also finally filled a void at the position that existed after Eddie George left in 2003.
The Titans/Oilers drafted eight running backs between selecting George with the 14th pick in 1996 and tabbing Johnson (player, round, year): Mike Archie 7, 1996; Mike Green, 7, 2000; Dan Alexander, 6, 2001; Chris Brown, 3, 2003; Troy Fleming 6, 2004; Damien Nash, 5, 2005; LenDale White, 2, 2006; Chris Henry, 2, 2007.
Tennessee's first five selections in the 2008 draft played with the team at least four seasons. Tight end Craig Stevens (third round, 85th overall) and receiver Lavelle Hawkins (fourth round, 126th), who were teammates at California, are still on the squad.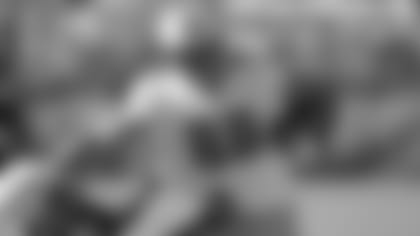 Stevens has started 26 of 30 games played in the past two seasons and set career highs in receptions (23) and yards (275) in 2012 but is also known for his blocking skills. Hawkins' best year occurred in 2011 with career highs of 47 catches for 470 yards.
Defensive linemen Jason Jones and William Hayes each played four seasons with Tennessee. Jones had a monster game in his rookie season against Pittsburgh when he recorded 3.5 sacks and forced three fumbles. He started 31 of 49 games and recorded 15.5 sacks with the Titans. Hayes had eight sacks in 12 starts and 48 games with the Titans.
The chart below shows the selections made by the Titans in the 2008 NFL Draft:
4a-pick acquired in trade with Washington for fourth round (124) and fifth round (157) selections
4b-pick traded to Washington (see 4a)
4c-pick acquired in trade with Dallas for Pacman Jones
4d-pick awarded as a compensatory selection
5-pick traded to Washington (see 4a)
6-pick traded to Seattle for DE Bryce Fisher