INDIANAPOLIS – The NFL Combine kicks off here this week.
Over 300 players will converge on Lucas Oil Stadium, along with team executives, coaches, scouts and media members.
The Titans have the 11th overall pick, along with five other selections in the draft.
Here's everything you need to know as the week gets started in Indianapolis:
Titans general manager Ran Carthon is scheduled to talk to reporters at the podium at 1:15 CT on Tuesday.
Titans head coach Mike Vrabel is also scheduled to talk to reporters who made the trip from Nashville on Tuesday, and offensive coordinator Tim Kelly is expected to speak to reporters as well.
Check back here at TennesseeTitans.com for updates on Tuesday, and throughout the week.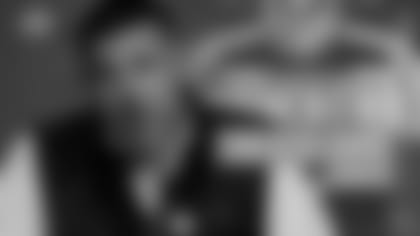 TV SCHEDULE (NFL Network; all times are CT)
2 p.m. – Defensive linemen, linebackers
2 p.m. – Defensive backs, placekickers, specialists
Noon – Quarterbacks, wide receivers, tight ends
Noon – Offensive linemen, running backs
Follow @jwyattsports and @Titans on Twitter for all of the latest press conferences, articles, photos and more from Indianapolis.
The Tennessee Titans will have new episodes of the OTP every day this week. Each show, featuring Mike Keith, Amie Wells, Rhett Bryan and Dave McGinnis, will provide news, updates and analysis from Indianapolis and will feature a variety of special guests from around the NFL. Podcasts will drop every evening at 5 p.m.
Also, be sure to tune into our daily live show, Live from the Combine. At 5 p.m., Mike Keith and Amie Wells will provide live updates from Indianapolis. Live show will run on TennesseeTitans.com, The Titans App and all Titans social channels.
A total of 319 prospects have been invited to attend this year's event, and the group includes seven players from the University of Tennessee – quarterback Hendon Hooker, receiver Jalin Hyatt, receiver Cedric Tillman, linebacker Jeremy Banks, lineman Darnell Wright, defensive lineman Byron Young and punter Paxton Brooks.
Vanderbilt linebacker Anfernee Orji and Tennessee-Chattanooga lineman McClendon Curtis are also among the invitees, among others.
Alabama led all schools with 13 prospects invited, while Georgia was second with 12 prospects invited. Tennessee has seven players at the combine, Vanderbilt has one, and Tennessee Chattanooga also has one player.
In addition to the 11th overall pick, the Titans have five other picks in the draft.
A look at Tennessee's current picks by round:
-College pro days begin March 7.
-Free agency and trades can begin when the new league year starts on March 15.
-Teams can invite up to 30 prospects for in-person visits leading up to the draft.
-The NFL springs meetings are scheduled for March 26-29 in Phoenix, Arizona.
-The NFL Draft officially begins April 27-29 in Kansas City.