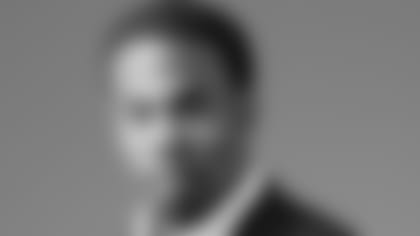 While the Titans are fully immersed in draft preparations, I think they should consider adding a big, stout defensive tackle that can take up space inside, stop the run and put pressure on the quarterback.
If you look back at the last time the Titans had a great defense, they had Albert Haynesworth manning the middle. We all know how effective he was his last two seasons here when Tennessee boasted one of the NFL's top defenses.
Too many times last season, Titans cornerbacks and safeties were put in compromising positions because there was not a consistent pass rush. The Titans have some quality defensive ends, but they need a dominant nose tackle that can stop the run and bring pressure on quarterbacks so their defensive backs don't have to cover as long. That would really help the entire secondary out.
Michael Griffin is a great player, but he would be a better fit at strong safety. I think you really want to have a ball hawk at the free safety position, and that's something the Titans can fill in free agency or the draft. Then Griffin could be the guy that moves closer to the line, makes tackles and helps stop the run.
That's just how I see it. You've got to have a guy back there that's going to take away the deep plays. If the defense goes "Cover 1" and blitzes and the offense tries throwing over the top, that free safety really needs to make those plays and create turnovers. Having a free safety that's fast and can cover a lot of ground would enable the defensive coordinator to blitz more knowing he's got someone back there that's not going to get beat deep.
At cornerback, Jason McCourty is a really solid player and fine on one side. But I think the Titans would benefit by having a bigger corner opposite McCourty and moving Alterraun Verner to the nickel or dime back position. The Titans need a bigger corner that can jam at the line and run with big receivers like Andre Johnson.
I see the Titans' primary needs being on the defensive side of the ball. I know many draft analysts have the Titans taking an offensive lineman with the 10th overall pick. But I think when healthy, their offensive line is sufficient. They blocked well and did some other things well last season. The thing that hurt them was injuries. I would definitely add some depth to the offensive line, but I don't see the position as their top need entering the draft.
I don't think the Titans are really that far away from being a playoff contender. Their defense really started to jell over the last half of the season. With the exception of the game at Green Bay, their defense registered a bunch of sacks and created a lot of turnovers late in the year.
I think it was just one of those seasons with a lot of injuries and missed opportunities in some close games that could have been the difference from them being a wild card team instead of Indianapolis.
If the Titans draft well and add a few more missing parts through free agency, I think Coach Munchak is going to do a great job and this team can be back in the playoff mix in 2013.
---
A third-round draft pick by the Houston Oilers in 1995, Chris Sanders played seven seasons for the Oilers/Titans, catching 177 passes for 3,285 yards (18.6 avg) and 17 touchdowns. He made the NFL's All-Rookie team in 1995, played in Super Bowl XXXIV, and broke Jesse Owens' long jump record at The Ohio State University.