NASHVILLE – The draft picks are in, nine of them in all.
And now, so are the draft grades.
Here's a look at how some of the analysts graded the 2022 NFL Draft for the Titans:
1st-18th: Arkansas WR Treylon Burks.
2nd-35th: Auburn CB Roger McCreary.
3rd-69th: Ohio State OT Nicholas Petit-Frere.
3rd-86th: Liberty QB Malik Willis.
4th-131st: Michigan RB Hassan Haskins.
4th-143rd: Maryland TE Chigoziem Okonkwo.
5th-163rd: UCLA WR Kyle Philips.
6th-204th:Tennessee CB Theo Jackson.
6th-219th: Mississippi LB Chance Campbell.
-----------------------------------------------------------
This could be a franchise-upending draft for the Titans, who traded away wide receiver A.J. Brown for a first-round pick and then landed my top-ranked quarterback Malik Willis late in Round 3. Let's start with Brown, because the wideout the Titans took at No. 18 actually reminds scouts a lot of him. Treylon Burks is a big, physical and versatile target who did a lot of damage out of the slot at Arkansas. Yes, he is two years younger than Brown, but I'd still prefer the veteran over the rookie. I'm not as high on Burks as a few front-office executives I trust. It's no guarantee that Burks will be a star, while Brown already is one.
As for Willis (86), I would bet on his talent. He isn't going to start over Ryan Tannehill in 2022, but it shouldn't be out of the question that he develops fast enough to take over in 2023. Willis is extremely talented and has all the tools to be a great NFL starting quarterback. He landed in an ideal spot with little immediate pressure.
Nicholas Petit-Frere (69), who had some up-and-down games at Ohio State, will compete with 2021 second-rounder Dillon Radunz at right tackle. Roger McCreary (35) went a little earlier than I thought, but he could be a starting slot corner. On the other side of the ball, Kyle Philips (153) is a nice playmaker out of the slot, Hassan Haskins (131) could be the No. 2 running back behind Derrick Henry, and tight end Chigoziem Okonkwo (143) has a little bit of Jonnu Smith in his game.
General manager Jon Robinson did a good job trading back a couple of times and acquiring more picks. Overall, this draft is going to be remembered in Tennessee for years to come; and if Willis becomes the quarterback of the future, Titans fans could look at the 2022 class like Seahawks fans do with 2012. I'm just not as high on Burks as I am Brown, which means it sticks at a B -- for now.
Vinnie Iyer, Sporting News
The Titans' draft seemed headed in forced direction after trading A.J. Brown and hoping the falling Burks, with a similar skill set, can turn into the same kind of strong wide receiver. But then Jon Robinson and Mike Vrabel went back to the "draft coming to them" and landing values at positions of need. McCreary and Petit-Frere started that, but the stashing of Willis behind fading Ryan Tannehill stamped that. Haskins was the ideal power backup to better relieve Derrick Henry. Okonkwo has the potential to emerge as their new Jonnu Smith, too.
Mark Maske, Washington Post
There is much to unpack here. The Titans emerged with four top prospects in WR Treylon Burks, CB Roger McCreary, T Nicholas Petit-Frere and QB Malik Willis. Getting Willis in the third round gives them, at a low cost, a potential successor-in-waiting to Ryan Tannehill who could turn out to be dynamic. But the Titans had to trade WR A.J. Brown to get it all done. Replacing Brown with Burks means that, at best, the Titans get a comparable player without having to hand out a $100 million contract extension. But Burks must prove he's comparable before that becomes valid.
Analysis: Tennessee chose to send away A.J. Brown instead of paying the veteran receiver and found a potential replacement in Burks. McCreary's a stick corner who lasted until the late second potentially due to a lack of length -- he's a talent capable of playing inside or outside. Petit-Frere is a solid swing tackle with the ability to be more. Willis' skill set gives him a real shot at being a playmaker down the line for Tennessee; he was an absolute steal.
Haskins presents power and enough quickness to be the back needed to take the load off Derrick Henry. Okonwo is the team's new Jonnu Smith as an undersized, smooth two-way receiver and potential downfield threat. Philips will remind Titans fans of former slot receiver Adam Humphries. Tennessee should add more rookie edge rushers and offensive linemen after the draft.
A lot to unpack here. Dealing Pro Bowl WR A.J. Brown and trading up for Liberty QB Malik Willis strongly suggests this is a franchise trying to navigate a transition without descending into a rebuild. (And don't be surprised if fourth-round RB Hassan Haskins inherits Derrick Henry's job one day.) The AFC South champs will still run it back with Henry, QB Ryan Tannehill and Co. in 2022 – their ranks augmented by first-round WR Treylon Burks and second-round CB Roger McCreary – but also definitely the potential things get ... awkward?
Best Pick: It wasn't a major need, especially after the last few drafts, but I like the pick of corner Roger McCreary in the second round. Yes, he has short arms, but he was a good cover player in a good league.
Worst Pick: Trading A.J. Brown for economic reasons is one move that will be scrutinized, which will put a lot of pressure on first-round pick Treylon Burks to replace him. Burks is a big receiver, but he doesn't run that well.
The Skinny: They ended up picking a lot of good players, which Jon Robinson usually does. The positions are a little strange in that they took a bunch of corners in recent years and added some more.
Ryan Gosling, Pro Football Network
The trade of A.J. Brown turned some heads and not exactly in a good way. Treylon Burks was taken with the pick they received to be essentially what Brown already was for the Titans. Roger McCreary has shut-down potential at corner when at his peak. Nicholas Petit-Frere felt like a reach in Round 3, but they added many analysts' QB1 in Malik Willis. Tennessee bounced back on Day 3 by adding another powerful runner to their backfield in Hassan Haskins, and added a field stretcher in TE Chigoziem Okonkwo and a master route runner in Kyle Philips.
Alex Ballentine, Bleacher Report
It's never easy to trade away a talented player. However, it's also easy to understand the Tennessee Titans' hesitance to hand A.J. Brown a megadeal given the ballooning market for wide receivers and his injury history.
The Titans traded Brown to the Eagles on Thursday night for the Nos. 18 and 101 overall picks. They spent the former on his potential replacement, Arkansas wideout Treylon Burks. They just have to hope that trade works out like the deal that the Vikings made for Justin Jefferson and not like the one San Francisco made for Javon Kinlaw.
The Titans' draft class ultimately hinges on third-round pick Malik Willis. He got a second-round grade from the B/R Scouting Department, but some team figured to reach on him a round too early based on his enormous potential.
Instead, the Titans got him at a great value, and they'll be a good situation for him. He'll get to sit behind Ryan Tannehill while learning a pro offense and improving upon his ability to win inside the pocket.
Chris Trapasso, CBS Sports
The Titans aced a draft even when they traded A.J. Brown during it. The haul they got in return for that deal and the Jets moving up for Jermaine Johnson was otherworldly. Malik Willis was a first-round talent who will eventually take over at quarterback and move the team into the 21st century. McCreary is a stud and Chigoziem Okonkwo will be a weapon after the catch.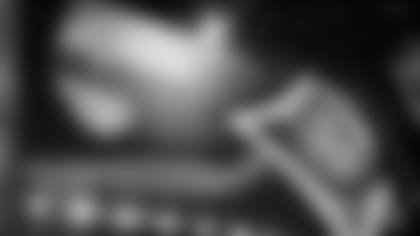 Doug Farrar and Mark Schofield, USA Today
Ultimately, how this draft class turns out hinges on two players: Treylon Burks and Malik Willis. With the Tennessee Titans trading away A.J. Brown during the first round, they added perhaps a mini version of Brown when they drafted Burks with the pick at 18 overall. Burks perhaps slid down boards due to a less-than-inspiring 40-yard dash time, but when you remember he ran that 40 at 225 pounds — and when you see him running away from defenders on the field — you might be more confident the pick pans out.
Then there is Willis. The post-mortems on how the league viewed this quarterback class are coming — including yet another from yours truly — but if the Titans can unlock his potential, getting him in the third round will be a steal.
Roger McCreary is a fiesty cornerback who stood up to some of the best the SEC had to offer at reciever, including Ja'Marr Chase, Jameson Williams and John Metchie III. Yes, he lacks ideal length at the position, but he makes up for that with technique and footwork. Nicholas Petite-Frere gives the Titans an option at right tackle early in his career, and could eventually be their left tackle.
Chigoziem Okonkwo, their second pick in the fourth round, is a dynamic athlete at tight end who can settle into a move-TE role, or even see time as a fullback/H-Back. Kyle Philips, who the Titans added in the fifth round, is a walking ladder drill with dynamic footwork. If he can reign in some of that footwork — as sometimes his releases and technique were "too much of a good thing" — he can be a playmaker out of the slot.
Eric Edholm, Yahoo Sports
Why the heck not? Recent 86th picks include Mark Andrews, Kareem Hunt, David Johnson, and if you go back farther, that slot has produced four Hall of Famers (Joe Schmidt, Morten Andersen, Andre Reed and Jackie Slater) and other really good players, such as Marshal Yanda and Tedy Bruschi. Maybe there's something about that draft position, as none of those players — or Willis — should have fallen that far. There are also busts picked there, and Willis feels like he could be a star or never quite fit in. For that cost, it was well worth the Titans paying it to find out. Ryan Tannehill isn't losing his job tomorrow, but Willis will be someone fans want to see. There is no comp for him, but we see some Steve McNair-like skills in his bag of tricks.
Least-favorite pick: Burks
He was our No. 26 overall prospect, so this is more about the fit and the pressure of having to maybe step in immediately following the trade of A.J. Brown. The economics of that decision is understandable. But no one should expect a one-for-one replacement in Burks, even though he was occasionally comped to Brown during the pre-draft process. Spoiler: They're not the same player. At all. Burks had a lot of his touches schemed up at Arkansas and was predominantly a big slot when he wasn't lining up in the Wildcat and whatnot. The feeling among some scouts was that Burks could have a learning curve with a more advanced passing game, even though he's highly competitive and big enough to win physical battles now.
Overall: The loss of Brown hurts, and though the Titans received fair return in the trade, some of their selections were uninspiring. Yet with the Willis pick, they kept an ace in their pocket that could turn this class upside down. There was a high measure of risk, with Burks, Petit-Frere and Willis feeling like boom-or-bust picks, and just a few safer-feeling prospects in McCreary, Haskins and Philips. In three years, this class could be graded an A or an F and we wouldn't be surprised by either. So split the difference here.
Day 1: Tennessee executed the blockbuster of the night by trading wide receiver A.J. Brown to the Philadelphia Eagles for the No. 18 and No. 101 picks. And to replace the star pass-catcher, Tennessee drafts Arkansas' Treylon Burks. The 6-foot-2, 225-pound wide receiver will offer value vertically and with schemed touches underneath because of his size-speed combo. Burks averaged 8.6 yards after the catch per reception and broke 24 tackles on 115 receptions across the past two seasons. Still, his overall route-running leaves a lot to be desired. He projects as a big slot and has a major hill to climb to get to the level Brown was at for Tennessee.
Day 2: Roger McCreary has an interesting profile as a player with impressive press-man coverage tape but 29.5-inch arms — a 6th percentile mark at the position. McCreary had 15 combined pass breakups and interceptions this past season at Auburn. The production has been there each of the past three years. Now, it's just a question of whether he can stick on the outside given his lack of length.
A player that's lower on PFF's big board than the consensus draft board, Nicholas Petit-Frere has NFL-caliber traits, but he was lit up when he played against elite competition, such as No. 2 overall pick Aidan Hutchinson. The Titans have needs along the offensive line, and this is a gamble that they can coach Petit-Frere to reach his full potential.
Malik Willis may have his fair share of concerns, but late in Round 3, he provides insane value. His physical tools are off the charts, and they helped him to an FBS-leading big-time throw rate and rushing grade in 2021. The Liberty quarterback was never going to be an immediate contributor considering how raw of a passer he is — the mechanics, pocket presence and decision making are all major concerns. Landing in Tennessee will give him a chance to sit and develop.
Day 3: Chigoziem Okonwko checks all the athletic boxes with a 4.52-second 40-yard dash and 36-inch vertical jump. He broke 14 tackles on 76 catches in his college career.
Connor Orr, Sports Illustrated
ANALYSIS: It's fun to watch consistent outside zone teams draft because they are so aware of their needs and the kinds of players who fit perfectly into their system. As co-host Gary Gramling and I discussed on the MMQB NFL Podcast, Burks represents the most significant gamble on "system over player" that we've seen from any coach running the offense. Kyle Shanahan held out on Deebo Samuel. Mike Vrabel and Jon Robinson allowed A.J. Brown to leave for the Eagles. We identified Burks as the perfect kind of player for that system, one who could have ideally fit in Green Bay had the Titans not scooped him up in the late teens. We tend to heap too much praise on teams that attack pinpoint areas of need, but the selection of Petit-Frere could allow the Titans to shuffle their offensive line and put some other players in more natural positions where they could attain a higher ceiling. The Willis fit is an obvious favorite. He could be a threat to Ryan Tannehill by mid-season depending on how quickly he picks up the offense. His time at Liberty was exceptional, though the Flames were not a team that won consistently with scheme. Willis can play on schedule and on the move in Tennessee, which is where his strengths lie."
Best pick: Malik Willis, QB (86)
Worst pick: Chigoziem Okonkwo, TE (143)
If you remove Malik Willis from this class, it's still a good draft for the Titans. Add him in, and this was a coup. Trading A.J. Brown is definitely a tough pill to swallow, but I like getting Treylon Burks on a rookie deal — because they're similarly skilled. Roger McCreary and Nicholas Petit-Frere were nice value picks and I'm a fan with almost all of the selections the Titans made.
Ryan Dunleavy, New York Post
"Traded WR A.J. Brown and wound up with a Brown-comparison in the physical Burks. Raw talent Willis, a projected first-rounder who slipped to No. 86, is in a good spot because he can sit at least one season behind Ryan Tannehill. Rebuilding sooner than they want to admit?"