**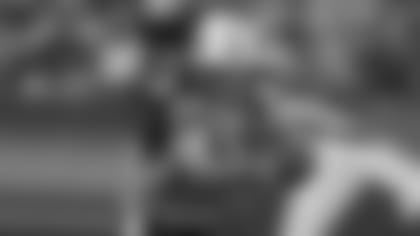 Titans punter Craig Hentrich announced his retirement from the NFL on Wednesday.
NASHVILLE, Tenn. –** Titans punter Craig Hentrich announced his retirement today after a 17-year NFL career, including 12 seasons with Tennessee.
"It's very hard in this game to walk away on your own terms and Craig is doing that today," said Titans Head Coach Jeff Fisher. "Craig was a tremendous athlete at the punter position and his versatility and consistency were some of the reasons for our success over his time with us. He wasn't only a punter, he was a holder, field goal kicker, kickoff guy and a passer. He was a great teammate and an unselfish player. I appreciate what he brought to our teams and wish him and his family the best." 
"First off, I want to thank Mr. Adams, Coach Fisher and the whole Titans organization," said Hentrich. "It is special to be with a team for 12 years and I am very appreciative of that fact."
"I think overall it was a successful career and I wouldn't trade a second of it. Consistency is what I've tried to pride myself on my whole career. A lot of guys can go out and kick 60-yard punts all day, but 60-yard punts are going to be taken back for touchdowns, so I really tried to pride myself on not trying to outkick my coverage, being consistent, doing the things they ask me to do." 
A true weapon as a punter for the Titans, Hentrich filled a variety of roles during his tenure with the team, including punter, holder, kick-off specialist (565 kickoffs), place kicker (8 of 15) and sometimes passer (7-16 for 91 yards, 1 Int). Hentrich earned two Pro Bowl invitations (1998 & 2003) and a Super Bowl Championship with Green Bay (1996). In 10 of his 16 years, his teams reached the playoffs, and he is one of only two players in NFL history to record 100 postseason punts. A model of consistency, he holds many franchise punting records, including most career punts (861), highest season punt average (47.2, 1998), highest career net punt average (37.2) and fourth most games played in Titans/Oilers history (177).
"The decision to retire came from old age," Hentrich continued.  "It's just been a ton of injuries the last three or four years. I think it's just my body telling me it's time to quit. I've been doing this for 17 years in the league and really 32 years of my life kicking footballs. I think my body is just tired. I am going finish rehabbing my knee and then enjoy some downtime, while I evaluate what challenge waits next for me."
For his NFL career, Hentrich played in 241 games, registered 1,150 punts for a career average of 42.9 yards. The 1,150 punts rank eighth all-time in the NFL annuals. He also totaled 399 punts that pinned opponents inside the 20, a total that ranks second all-time in league history. His career net average of 36.8 yards ranks second among NFL punters with 1,000 or more attempts.
Originally an eighth round selection (200th overall) in the 1993 NFL Draft by the N.Y. Jets out of Notre Dame, Hentrich spent his rookie season on Green Bay's practice squad. He was signed to the active roster in 1994, and spent four seasons kicking for the Packers, where he set the franchise mark for punt average – that still stands - in a season (45.0, 1997). Hentrich signed as an unrestricted free agent with the Tennessee Oilers in 1998.