Free Agency Tracker | Tennessee Titans - TennesseeTitans.com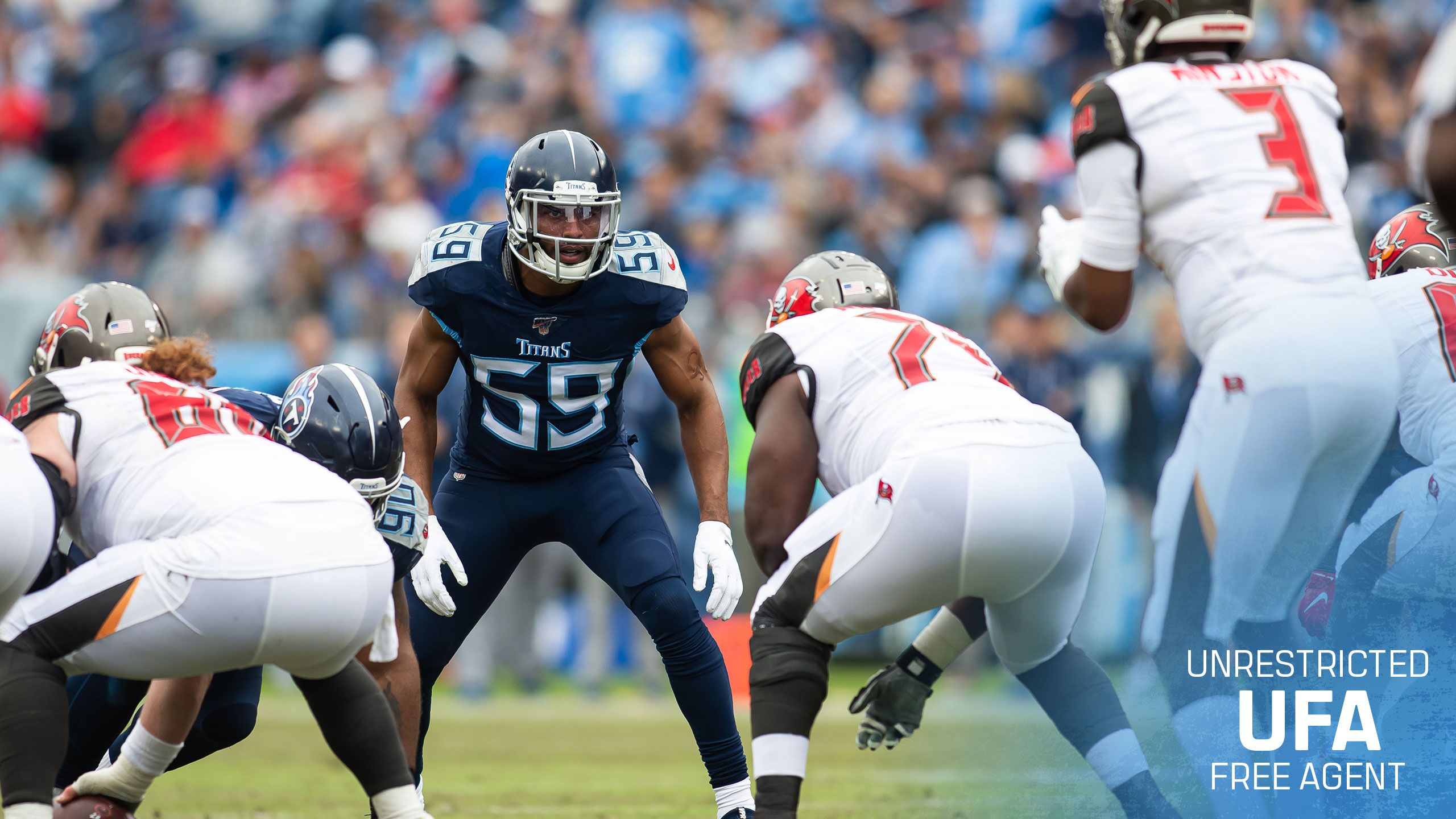 Wesley Woodyard
(Unrestricted Free Agent)
LINEBACKER
6'0" | 233 LBS
COLLEGE: KENTUCKY
ACQUIRED: UNRESTRICTED FREE AGENT (DEN) - 2014
NFL EXPERIENCE (NFL/TITANS): 12/6
HOMETOWN: LAGRANGE, GA.
GAMES PLAYED/GAMES STARTED: 180/110 (PLAYOFFS: 11/3)
The Titans signed Wesley Woodyard during the 2014 unrestricted free agency period, adding veteran leadership to the linebacking corps. Following his career at the University of Kentucky, the 6-foot, 233-pounder went undrafted and signed a free agent contract with the Denver Broncos. Woodyard spent six seasons in Denver and appeared in 87 career regular season games, totaling 396 tackles, eight sacks, five interceptions, six forced fumbles and one fumble recovery. He was also a six-time team captain during his tenure with the Broncos.
CAREER HIGHLIGHTS:
In 2018, Woodyard led the Titans with 124 tackles and finished tied for third on the squad with 4.5 sacks.
In 2017, Woodyard led the Titans with a career-best 172 tackles and 17 stops for loss. His 172 tackles ranked second by a defender in the franchise's "Titans era" (1999-present).
In 2016, Woodyard saw action in all 16 games and ranked second on the team with 88 tackles, while leading the squad with seven tackles for loss.
In 2015, Woodyard finished second on the team with 110 tackles and third on the squad with five sacks.
In his first season with the Titans in 2014, Woodyard started all 16 games at linebacker and led the team with a career-high 134 tackles.
Represented the only player in the NFL in 2012 — and just the 12th player in the last 30 years — to record at least 100 tackles, five sacks and three interceptions in a single season. Posted career highs in starts (14), tackles (114), sacks (5.5), interceptions (3), passes defensed (6) and fumble recoveries (1).
In 2011, started seven games for the Broncos and finished second on the club with 87 tackles to go along with two passes defensed and two forced fumbles.
In 2008, was the only Bronco to rank among the top eight on the team in both defensive tackles (54 - 8th) and special-teams stops (11 - T1st) while seeing time in all 16 games with six starts as a rookie.
2019 SEASON RECAP:
Regular Season: 15 Games Played | 2 Starts
Playoffs: 3 Games Played | 0 Starts
Saw action in 15 games with two starts at linebacker and notched 46 tackles, a sack, three stops for loss, a forced fumble, a quarterback pressure, a pass defensed and two special teams tackles.
Was inactive for one game. Played as a reserve in all three postseason contests and collected 12 tackles, a quarterback pressure and a pass defensed. Tied for the team lead in passes defensed once in 2019
TITANS TIDBITS:
Woodyard was selected as the 2017 Titans recipient of the Walter Payton Man of the Year award. Woodyard was a three-time Walter Payton NFL Man of the Year recipient while with the Broncos in 2010-11 and 2013.
Woodyard is the co-founder of The 16Ways Foundation which recognizes an emotional need for at-risk youth. The Foundation works on a national level to develop and implement workshops, seminars, camps, and other activities. These events are designed to build self-esteem, promote responsibility for one's own actions and overcoming obstacles, and demonstrate the importance of academics, knowledge of career options, professional development, community involvement, and mental and physical fitness among youth of all socio-economic backgrounds. The Foundation's primary focus is to work with at-risk youth between the ages of 8 and 18 and a secondary focus on adults in employment transition.
During the last eight offseasons, Woodyard's 16Ways Foundation has hosted a youth football and cheer camp, as well as a charity golf outing in Lexington, Ky.
In addition to his work with his own foundation, Woodyard has been a tireless advocate for the work of other non-profits, including the ALS Association and Second Harvest Food Bank. For the second year in a row, Woodyard used the NFL's My Cause My Cleats platform to raise awareness and funds for ALS. Woodyard's aunt suffered from ALS leading up to her death, and Woodyard is close to former Titans linebacker Tim Shaw, who was diagnosed with ALS in 2014. Woodyard also serves as the spokesperson for Second Harvest Food Bank of Middle Tennessee.
Woodyard has been a captain in his first five seasons with the Titans. He joined Hall of Fame running back Floyd Little as the only players in Broncos franchise history to serve as a captain in each of their first six years with the club. In 2004, Woodyard also became the first-ever Kentucky freshman to serve as a team captain.
Woodyard was inducted to the University of Kentucky Athletics Hall of Fame in 2016 and the Kentucky Pro Football Hall of Fame in 2018.
Woodyard and teammate Jurrell Casey coach a women's flag football team that is comprised of wives and significant others of Titans players.
In recent years, Woodyard has taken part in the NFL's Broadcast Bootcamp as a participant and as a guest speaker.
CAREER TRANSACTIONS:
The LaGrange, Ga., native was originally signed by the Denver Broncos as a rookie free agent on April 28, 2008.
Signed by the Titans as an unrestricted free agent on March 14, 2014.
Wesley Woodyard Sacks Philip Rivers
Titans LB Wesley Woodyard sacks Chargers QB Philip Rivers.
Wesley Woodyard Stops D.J. Foster in His Tracks
Titans LB Wesley Woodyard comes away with a huge stop on third-and-goal.
Wesley Woodyard Comes Through Untouched to Sack Alex Smith
Titans LB Wesley Woodyard comes through untouched to sack Kansas City Chiefs QB Alex Smith.