Free Agency Tracker | Tennessee Titans - TennesseeTitans.com
The Titans on March 15 agreed to terms on a multi-year contract with quarterback Ryan Tannehill.
Tannehill, acquired in a trade last March, was named Comeback Player of the Year by the Associated Press following the 2019 season.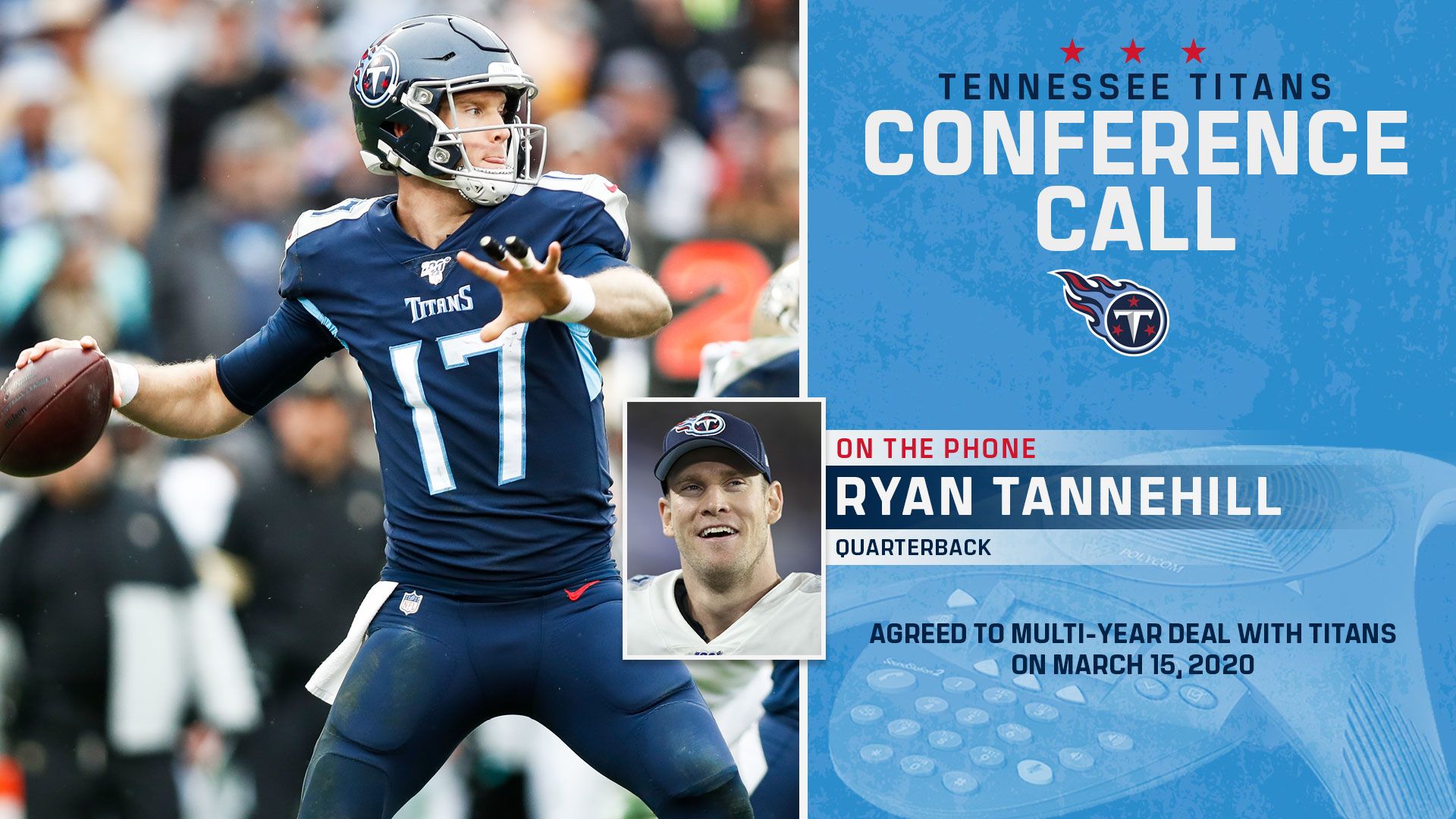 Conference Call: Ryan Tannehill
QB Ryan Tannehill discusses his new multi-year contract with reporters on a conference call on Tuesday, March 17, 2020.
Ryan Tannehill
READ: Titans Agree to Multi-Year Deal with QB Ryan Tannehill
READ: Tannehill: "I Wanted to be Back in Tennessee"
# # # #
QUARTERBACK
6'4" | 217 LBS
COLLEGE: TEXAS A&M
ACQUIRED: TRADE (MIA) - 2019
NFL EXPERIENCE (NFL/TITANS): 8/1 • HOMETOWN: BIG SPRING, TEXAS
GAMES PLAYED/GAMES STARTED: 100/98 (PLAYOFFS: 3/3)
The Titans traded for Ryan Tannehill in the 2019 offseason to provide a veteran presence among the team's quarterbacks. Tannehill spent his first seven seasons as a member of the Miami Dolphins after being selected in the first round of the 2012 NFL Draft. Tannehill started 88 games over six seasons in South Florida and accumulated 20,434 passing yards and 123 touchdown passes. He missed the entire 2017 campaign with an injury. The Texas A&M product has also shown mobility as a signal caller having rushed for 1,210 yards and six scores in his career.
CAREER HIGHLIGHTS:
During his first seven seasons (2012-18) in Miami, Tannehill passed for at least 3,000 yards four times and more than 4,000 yards twice. He totaled 16 career 300-yard passing games, which is the second-most in Dolphins history.
Tannehill has engineered 14 career fourth-quarter comebacks during his career.
In 2015, Tannehill posted 4,208 passing yards with 24 touchdowns. Set a then NFL record with 25 consecutive completions. His 4,208 passing yards was the fifth-highest single-season total in Dolphins history and most by a Dolphins quarterback other than Dan Marino.
In 2014, Tannehill passed for 4,045 yards with 27 touchdowns for a 92.8 passer rating. He registered a career-best 311 rushing yards with a touchdown. His 392 completions were the most in Dolphins history.
2019 SEASON RECAP:
Regular Season: 12 Games Played | 10 Starts
Playoffs: 3 Games Played | 2 Starts
Named to his first career Pro Bowl.
Named the NFL's Comeback Player of the Year.
Played in 12 games with 10 starts at quarterback and led the NFL with a 117.5 passer rating and ranked third in the NFL with a 70.3 completion percentage.
Established the fourth-highest single-season passer rating in NFL history.
Completed 201 of 286 passes for 2,742 yards with 22 touchdowns and six interceptions.
Became the third qualifying passer in NFL history to have a season with at least a 70.0 completion percentage and an average of at least 9.0 yards per attempt, joining Sammy Baugh and Joe Montana.
Established new franchise single-season records for completion percentage (70.7) and yards per attempt (9.6).
Rushed 43 times for 185 yards with four rushing touchdowns.
Did not play in four games.
Started all three postseason contests and connected on 36 of 60 passes for 369 yards with fve touchdowns and an interception for a 98.5 passer rating.
Rushed 13 times for 35 yards with a rushing score.
Has posted 30 career games with a 100.0 or better passer rating, including eight in 2019 (vs. LAC, vs. TB, vs. KC, vs. JAX, at IND, at OAK, vs. NO, at HOU).
Has registered 19 career games with at least 300 passing yards, including three in 2019 (vs. LAC, at CAR, at OAK). Has engineered 16 career game-winning drives (including the playoffs), defined as when the team trailed or was tied in the fourth quarter or overtime, including three in 2019 (vs. LAC, vs. TB, vs. KC).
Named the AFC Offensive Player of the Month for December, after completing 90 of 132 passes for 1,322 yards with 12 touchdowns and two interceptions. His passer rating for the calendar month was 124.6, which led the AFC
TITANS TIDBITS:
Ryan founded the Tannehill's A.C.E.S. (Achieving Community Educations Success) program with wife, Lauren, which consisted of 17 sophomores from American Senior High School and is focused on awarding scholarships to the participating students who strive for good grades and took on an active role in their community by hosting monthly events to reward the students and help them give back to the community.
Ryan's father, Tim, played wide receiver at Texas Tech from 1985-87.
CAREER TRANSACTIONS:
The Big Spring, Texas, native was originally selected by the Miami Dolphins in the first round (eighth overall) of the 2012 NFL Draft.
Traded by the Dolphins to the Titans along with a 2019 sixth-round pick for a 2019 seventh-round draft pick and a 2020 fourth-round draft choice on March 15, 2019.