Titans Gameday Ticket Information | Tennessee Titans - TennesseeTitans.com
Gameday Ticket Information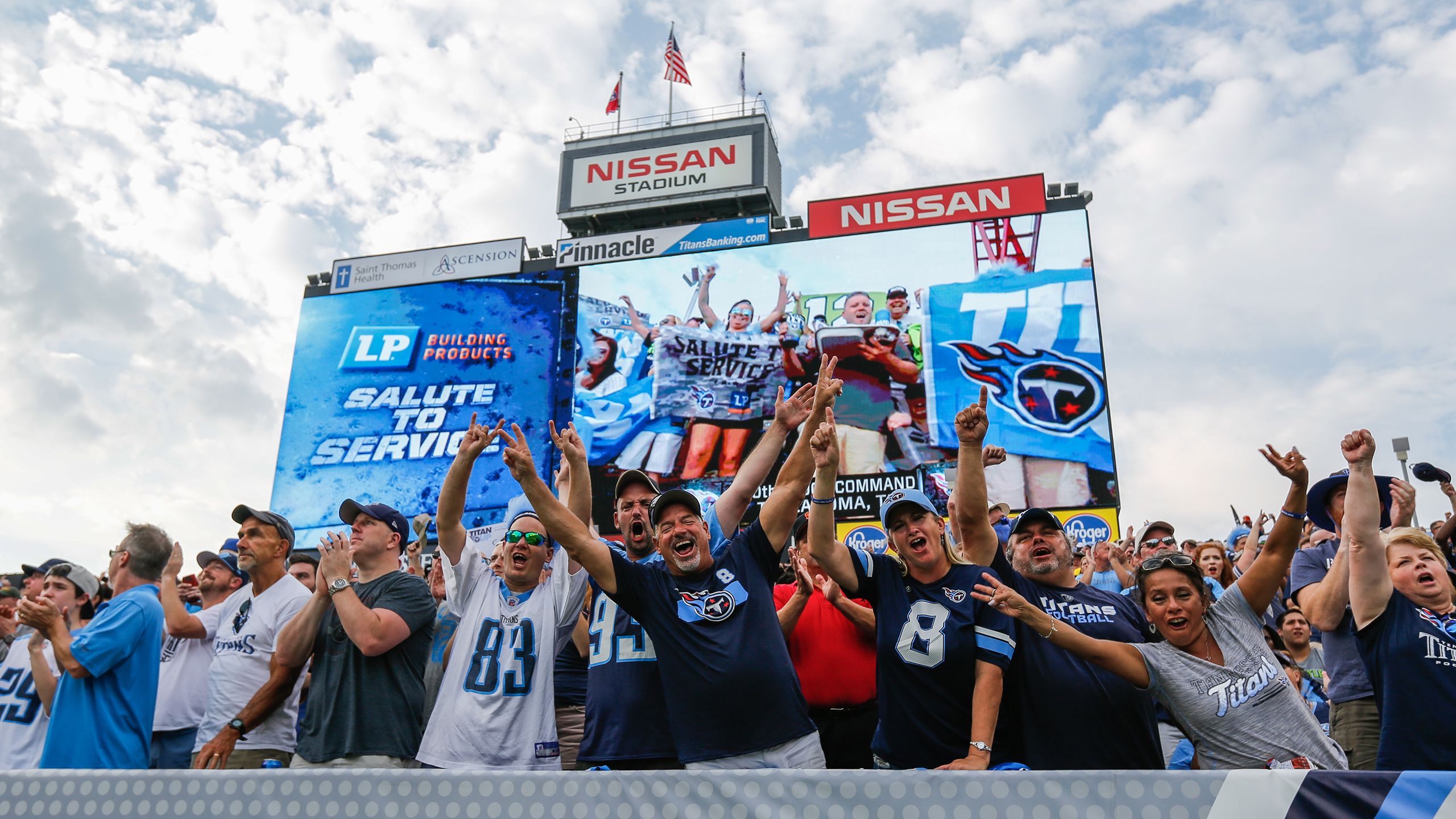 Ticket Information
SINGLE-GAME TICKETS:
Single game tickets can be purchased at www.ticketmaster.com or by calling 800.745.3000. You may also purchase directly from the Titans Ticket Office by visiting the windows on the East side of Nissan Stadium next to Gate 1. Prices and availability will vary by game.
TICKET RESOLUTION:
On event days, Customer Service windows are open at the Gate 1 ticket windows outside of the stadium, as well as on the concourse behind Section 108 for resolution.
Please note, if a ticketing issue arises in-stadium and a patron's seat is occupied by another guest and the conflict cannot be resolved, the nearest usher should be contacted for assistance. Please do not sit in any open seat since this will only delay resolution. The Titans prefer to resolve ticket issues prior to game time, when possible.
LOST / STOLEN TICKETS:
Lost, stolen or destroyed season ticket cards may be replaced for the Season Ticket Member of record only. To have replacement ticket cards issued, please come to the Nissan Stadium ticket windows by Gate 1 with your valid photo I.D.
MOBILE TICKETS:
Mobile tickets are accepted at all Nissan Stadium gates. If you purchased more than one ticket at the time of transaction, your entire party must enter the gate all together. Please note, copies of barcodes presented through third-party applications or screenshots will not be accepted at the stadium. The Ticket Office will only print or reprint season ticket cards for the Season Ticket Member of record. If you need assistance with your mobile tickets on gameday, please visit the ticket windows by Gate 1. Ticket Office personnel can assist guests who purchased through a valid source – Ticketmaster, NFL TicketExchange or the stadium's Ticket Office. Proper photo identification is required to assist with any ticket resolution – no exceptions.
PDF/Print-at-home tickets are no longer accepted at Nissan Stadium gates for entry.
Click here for more information on digital ticketing.
ADA SEATING:
Platforms designed to accommodate guests using wheelchairs are located throughout Nissan Stadium. Ticket prices for seating for guests with disabilities are the same as ticket prices for other comparable seating in the same area or section. Nissan Stadium will make every reasonable effort to accommodate the seating request of each guest with disabilities. To buy single game tickets for seating designed for guests with disabilities or to check on availability of tickets for a particular game, call Ticketmaster at 800.745.3000 or visit ticketmaster.com.
If you are a Titans Season Ticket Member requiring temporary platform seating, please contact Season Ticket Services at 615.565.4200 option 1, or visit the ticket windows behind Section 108 on gameday for more information.
More detailed information for guests with disabilities can be found here.
CHILDREN UNDER AGE 2:
Children under age two (2) may be held in an adult's lap and are not required to have an event ticket. Children must not disturb other patrons in surrounding seats or this privilege may be revoked.
WILL CALL LOCATION:
Tickets being held by request may be picked up at the Will Call windows on the East side of Nissan Stadium by Gate 1. Proper photo identification such as a driver's license will be required in order to pick up tickets – no exceptions. Will Call will be open three (3) hours prior to kickoff of each Titans game. For other events, check with the stadium's Ticket Office for Will Call hours of operation by calling 615.565.4200. The Tennessee Titans and Nissan Stadium are not responsible for items left at Will Call.
SEASON TICKET SERVICES ON GAMEDAY:
For all Tennessee Titans home games, Season Ticket Service Representatives are located under the blue Titans tent in the South End Zone outside of Section 121.
SECONDARY MARKET TICKETS:
Ticketmaster is the only authorized ticketing partner of Nissan Stadium and the Tennessee Titans. The only authorized ticket resale website is Ticketmaster's NFL Ticket Exchange. If you purchase tickets from an unauthorized ticketing agent on the secondary market, you risk purchasing counterfeit or invalid tickets that may not gain stadium entry. The Nissan Stadium Ticket Office is only able to assist patrons who purchase from an authorized ticketing partner.
BUYER BEWARE - If you should choose to purchase tickets from a third party:
• Stadium admission will be refused if tickets are invalid.
• Lost or stolen tickets purchased through a third party will not be replaced by the Ticket Office.
• If there is an error with your tickets, you are responsible for contacting the third party. The Ticket Office will not contact third party vendors.
• Nissan Stadium and the Tennessee Titans cannot refund any third party tickets.
Reminder – PDF/print-at-home tickets of any kind are no longer accepted at Nissan Stadium gates. Screenshots of tickets or barcodes will also be denied entry.