NASHVILLE, Tenn. — Titans kicker Ryan Succop has partnered as an ambassador with The Dairy Alliance this year and visited parents and students from Kittrell Elementary, LaVergne Primary and LaVergne Lake Elementary schools to support "Breakfast in the Classroom" kickoff with a "Breakfast for Dinner" evening event at Rutherford County Schools Test Kitchens.
The schools have agreed to pilot the new program this fall by offering breakfast in the classroom to improve access to school breakfast and increase participation.
Succop shared with the students how he fuels up to stay strong and energized. The students and parents had the opportunity to taste samples that will be served for breakfast this fall, make their own yogurt parfaits and try a few of Succop's favorite smoothies as well as join in some fun Fuel Up to Play 60 (FUTP60) activates with T-Rac.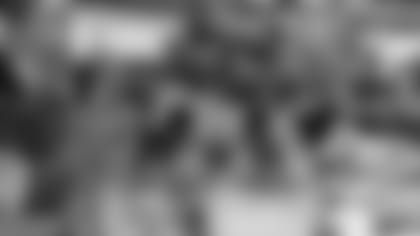 "I'm here this evening at 'Breakfast for Dinner' to talk to the kids and parents about the importance of eating healthy, eating breakfast, getting the right nutrients and getting your dairy products," said Succop. "It's neat to see what FUTP60 is encouraging and the impact it can have on kids to live a healthy and happy life."
The NFL Play 60 campaign is designed to tackle childhood obesity by getting kids active through in school, afterschool and team-based programs. The Dairy Alliance and the Titans work together to help make wellness part of the game plan in Tennessee schools through the Play 60 campaign/Fuel Up to Play 60. The program encourages schools to make healthy changes in students' eating habits and physical activity.
"The kickoff for 'Breakfast in the Classroom' this fall has been a wonderful opportunity for the local partners to work together with the Titans, FUTP60, and the Tennessee Justice Center/No Kid Hungry," said Joan Benton, Manager of School Health and Wellness. "Healthy Students are better students!  Healthy eating plus physical activity equal academic success. Students who eat breakfast have a better attention span and memory in class. The partners want to make a difference with the students and it's been a fantastic opportunity to help the students in Rutherford County."
Officials from Rutherford County Schools received $6,000 from The Dairy Alliance for the FUTP60 Dairy Equipment Grant to help kick off the "Breakfast in the Classroom" program.
The Tennessee Justice Center (TJC), in partnership with national anti-hunger organization Share Our Strength, has launched the No Kid Hungry Tennessee campaign to improve access to breakfast for over 180,000 children across the state who are missing out on the most important meal of the day.
"Healthcare is crucial to give children a healthy start in life and a chance to reach their full potential. One of the goals of the Tennessee Justice Center is to work to protect and promote programs that are vital to children's health by educating the community and mobilizing support for policies and practices that ensure that all of Tennessee's children can thrive," said Michele Johnson, Executive Director, Tennessee Justice Center. "We are so excited to support these schools as they start their 'Breakfast in the Classroom' journey. We are inspired by the steps that school leadership in Rutherford County are taking to ensure that every child starts the day fed, focused, and ready to learn. Our goal is to help schools across the state strengthen and improve their school breakfast programs."
"With Fuel Up to Play 60, we're encouraging exercise, eating healthy, getting plenty of nutrition and getting good dairy nutrition," said Succop. "I know for me, it's a big part of my life trying to stay fit, staying active and staying healthy. I think it's so important for our kids growing up to live that healthy, active lifestyle and that's what we are here doing today is encouraging those kids to do that."
FUTP60 is the nation's largest in-school wellness program, which is a partnership between the National Football League (NFL) and the National Dairy Council (NDC), in collaboration with the U.S. Department of Agriculture. FUTP60 empowers students to live active and healthy lifestyles by playing or exercising for at least 60 minutes each day and fueling up with healthy foods such as low-fat and fat-free dairy, fruits, vegetables and whole grain foods. New research shows that better nutrition starting with breakfast, coupled with increased physical activity can lead to better academy achievement.
FUTP60 empowers students to make changes at school and in their communities, that will help them "get active and play" for 60 minutes daily and "fuel up" with critical nutrient-rich foods missing from their diets – like low-fat and fat-free dairy foods, fruits, vegetables and whole grains.
Titans kicker Ryan Succop partners with The Dairy Alliance as an ambassador to help students stay active and fit. (Photos: Lynne McCracken)