Free Agency Tracker | Tennessee Titans - TennesseeTitans.com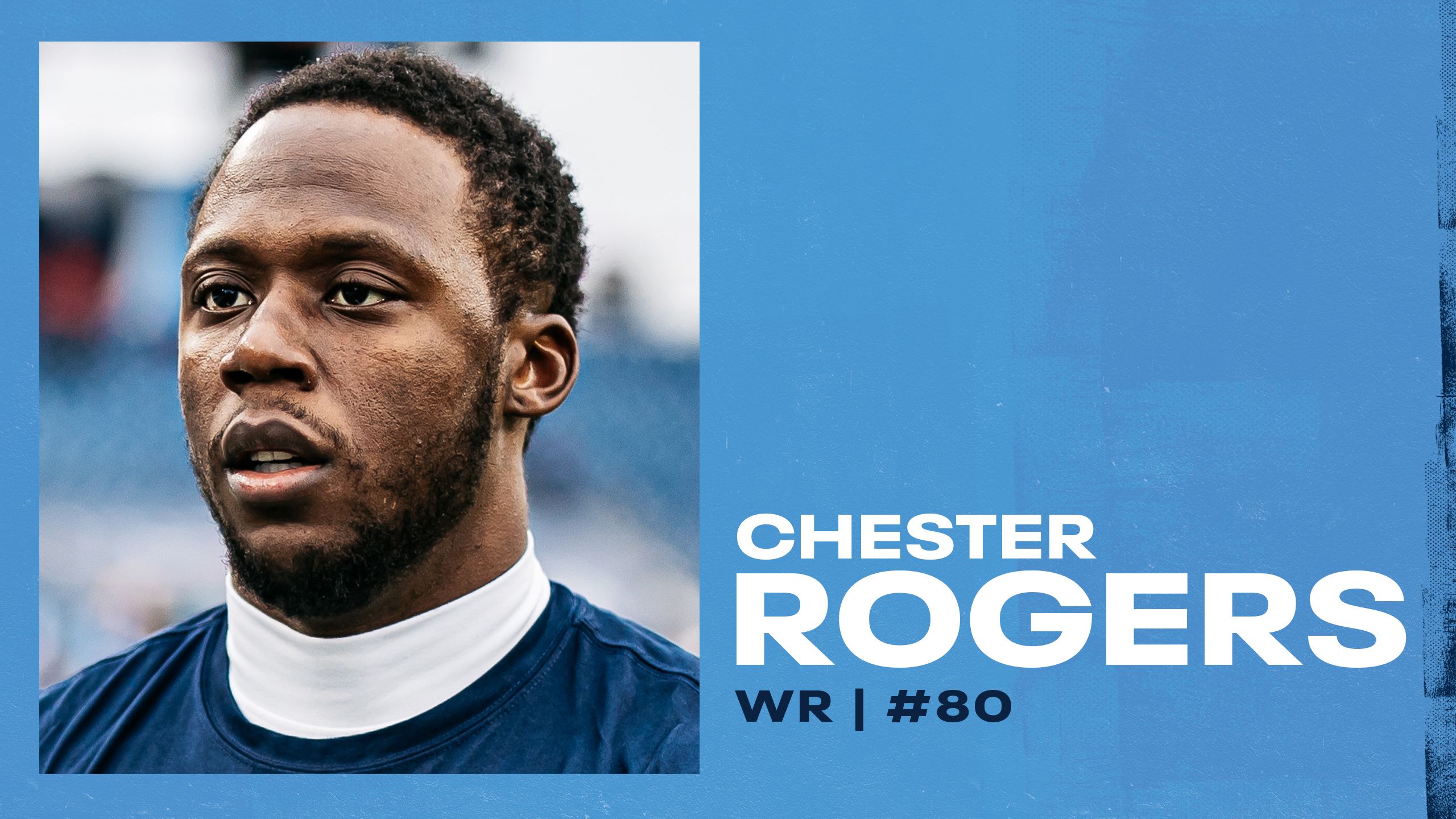 Chester Rogers
STATUS: Unrestricted Free Agent
WIDE RECEIVER
6-0 | 184 lbs
COLLEGE: GRAMBLING STATE
HOMETOWN: HUNTSVILLE, AL
ACQUIRED: FREE AGENT - 2020
NFL EXPERIENCE (NFL/TITANS): 5/1
GAMES PLAYED/GAMES STARTED: 69/24 (PLAYOFFS: 1/0)
Veteran Chester Rogers joined the Titans as a member of their practice squad in September 2020, adding depth and versatility the wide receiver corps and punt return game. He spent the remainder of the 2020 campaign on the practice squad. The Grambling State product entered the NFL as a rookie free agent with the Indianapolis Colts in 2016. In four seasons with the Colts, Rogers caught 111 passes for 1,221 yards and four touchdowns and returned 60 punt returns for a 9.2-yard average. Before joining the Titans, he had a stint with the Miami Dolphins.
CAREER HIGHLIGHTS:
In 2019, he appeared in 12 games with six starts for the Colts and posted 16 receptions for 179 yards and two touchdowns.
In 2018, Rogers appeared in all 16 games for the Colts and amassed career-highs with 53 receptions, 485 receiving yards and two touchdowns.
TITANS TIDBITS:
Rogers started acting when he was 10 years old with the stage name of Tre Rogers. His first movie, Constellation, was filmed in his hometown of Huntsville, Ala., where he played a younger version of the character played by actor Billy Dee Williams. Afterwards, Chester and his mom decided to pursue acting, and move out to California for four years. During that time, he also was in Madea's Family Reunion, Re-Animated on Cartoon Network, and Dirty with Cuba Gooding Jr.
During the 2020 offseason, Rogers gave out free meals for families and children in Huntsville, Ala. Rogers and his team of volunteers also brought meals to local first responders to say thank you for all of their hard work during the pandemic.
CAREER TRANSACTIONS:
The Huntsville, Ala., native was originally signed by the Indianapolis Colts as an undrafted free agent on May 2, 2016.
Signed by the Miami Dolphins as a free agent on Aug. 9, 2020.
Released by the Dolphins on Sept. 2, 2020.
Signed by the Titans to their practice squad on Sept. 21, 2020.
Re-signed by the Titans on Jan. 11, 2021.