Free Agency Tracker | Tennessee Titans - TennesseeTitans.com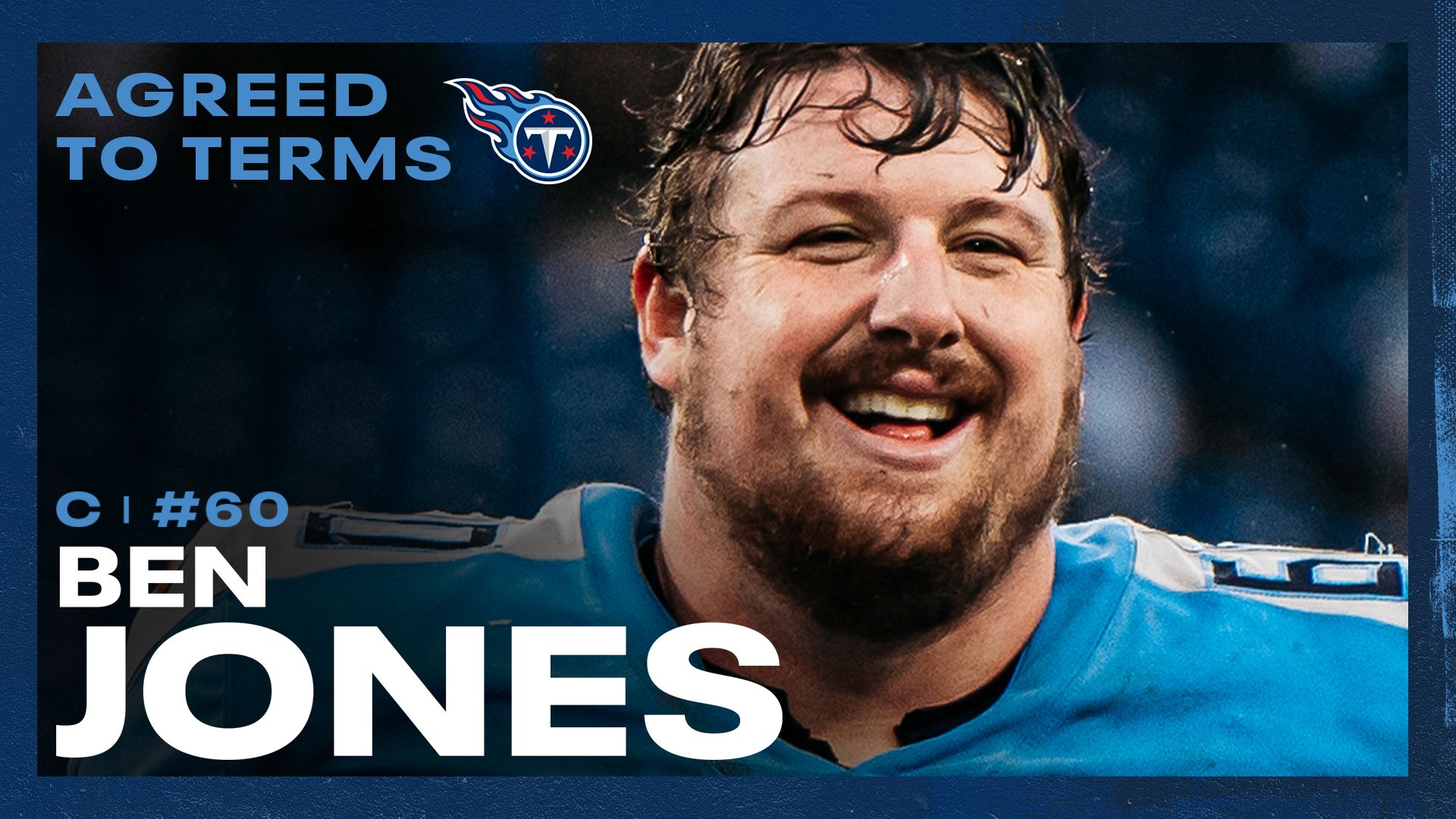 Ben Jones
STATUS: AGREED TO TERMS - MARCH 15
READ: Titans Agree to Terms on Multi-Year Contract Extension with Center Ben Jones
# # #
CENTER
6-3 | 308 lbs
COLLEGE: GEORGIA
HOMETOWN: BRENT, AL
ACQUIRED: UNRESTRICTED FREE AGENT - 2016
NFL EXPERIENCE (NFL/TITANS): 10/6
GAMES PLAYED/GAMES STARTED: 160/139 (PLAYOFFS: 10/10)
The Titans signed Ben Jones early in the 2016 free agency period to bring veteran leadership and experience to the center position and he has provided just that during his tenure with the club. The 6-foot-3-inch, 308-pounder was originally selected by the Houston Texans in the fourth round (99th overall) of the 2012 NFL Draft. From 2012 through 2020, Jones appeared in 143 of 144 possible regular season games, including starts in all but one game during his first five seasons in Tennessee. The University of Georgia product is a versatile player, having started contests at center and both guard spots in his first four seasons with the Texans.
CAREER HIGHLIGHTS:
Jones has started games at center, left guard and right guard during his NFL career and has opened holes for an 1,000-yard rusher in six different seasons.
In 2020, Jones started every game at center and was a part of an offense that tied for the second-overall ranking in the NFL (396.4 yards per game), finished second in rushing (168.1), and allowed the sixth-fewest sacks (25). He helped pave the way for Derrick Henry to produce the NFL's eighth all time 2,000-yard rushing season (2,027).
In 2019, Jones started 15 games at center and helped Derrick Henry lead the NFL with 1,540 rushing yards.
In Week 9 of the 2019 season, Jones missed the first game of his eight year NFL career when he was inactive due to injury. It ended his streak of 120 consecutive games played and 88 consecutive starts. At the time, Jones' consecutive games streak tied Kansas City's Mitchell Schwartz for the longest active streak in the NFL among offensive linemen, and his starting streak ranked first in the NFL among all centers.
In Week 11 of the 2019 season, Jones returned to the lineup and started his 100th career game.
Jones made a career-high three postseason starts in 2019.
In 2018, Jones started all 16 games at center, registering five consecutive seasons with a start in every contest (2014-15 with Houston).
Jones appeared in his 100th career game in Week 4 of the 2018 season.
As of the completion of the 2018 season, among NFL offensive linemen listed as centers, Jones ranked first in the NFL with 80 consecutive games started. He had played in 112 consecutive games, which at this point tied for the longest active consecutive games streak among NFL offensive linemen.
In 2016, Jones centered all 16 games in his first campaign with the Titans and was a part of an offensive front that blocked for the NFL's third-ranked rushing attack which averaged 136.7 rush yards per game.
In 2015, Jones transitioned to his natural position of center and started all 16 games and the playoff contest for the Texans.
In 2014, Jones started all 16 contests at left guard.
As a rookie in 2012, Jones started the final 10 games of the season at right guard and was named the Texans Rookie of the Year.
TITANS TIDBITS:
Jones switched from jersey #61 to #60 prior to his senior season at Georgia, to honor his father, Steve, a former collegiate star, who was killed in a helicopter crash when he was 10 years old.
Jones' pregame ritual consists of walking barefoot on the field "to get a feel for the turf." The routine began before one game with his brother in high school and after enjoying success that night, it has continued ever since.
When he was 10 years old, Jones suffered a blow to the head with a baseball bat. The impact caused a blood clot to develop on his brain and fractured his skull. The injury kept him out of all athletic activity for a year, proving to be a challenging time for an active and athletic boy. Although it was a tough period in his life, Ben says this time turned him into the man he is today. As soon as he was cleared for activities, Jones threw himself into being the best athlete he could be.
In 2017, Jones established The Jones Mission Fund at The Community Foundation to provide at-risk youth with opportunities they might otherwise not have through grants, additional resources and educational opportunities.
During the offseason, Jones and his wife host the annual Ben Jones Celebrity Clay Shoot. The event has raised more than $400,000 benefitting The Jones Mission Fund.
Jones hosts a free Friday Night Lights youth football camp in his native Alabama every June.
Jones sponsors a trip to a Titans game each fall for the seniors of his high school's football team in Alabama. The experience includes round trip transportation from his hometown, tickets, a private tailgate, swag bags, and a meet-and-greet with a tour of the Titans practice facility after the game with Jones.
Jones' brother, Clay, played baseball for the University of Alabama and then was drafted by the Detroit Tigers.
CAREER TRANSACTIONS:
A native of Brent, Ala., Jones was originally selected by the Houston Texans in the fourth round (99th overall) of the 2012 NFL Draft.
Signed by the Titans as an unrestricted free agent on March 10, 2016.