Free Agency Tracker | Tennessee Titans - TennesseeTitans.com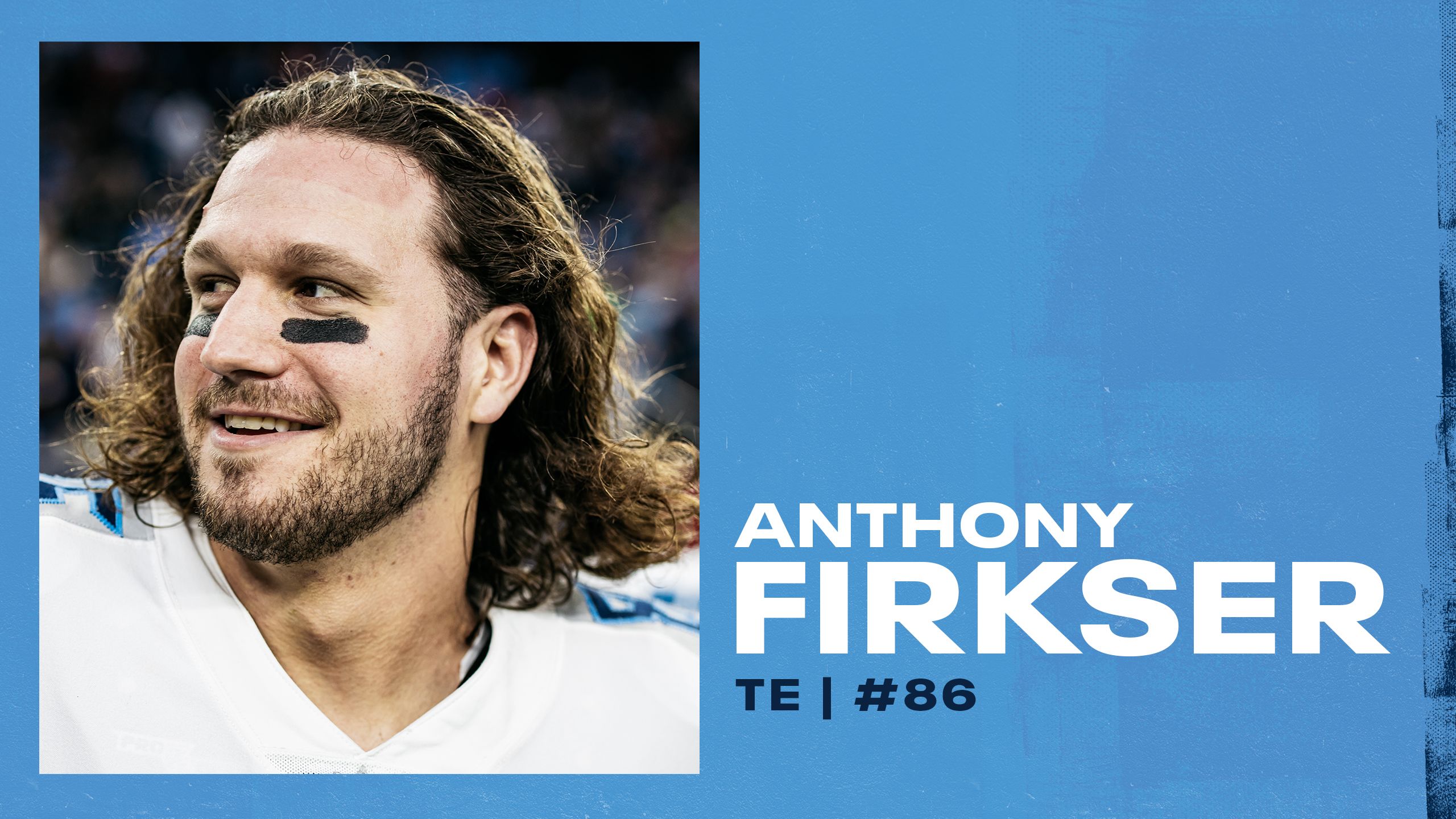 Anthony Firkser
STATUS: Unrestricted Free Agent
TIGHT END
6-2 | 246 lbs
COLLEGE: HARVARD
HOMETOWN: MANALAPAN, N.J.
ACQUIRED: FREE AGENT - 2018
NFL EXPERIENCE (NFL/TITANS): 4/4
GAMES PLAYED/GAMES STARTED: 58/3 (PLAYOFFS: 5/0)
The Titans signed Anthony Firkser during the 2018 offseason to add competition and depth to the tight end position. The 6-foot-2-inch, 246-pounder out of Harvard appeared in 16 contests with one start during his third season in Tennessee in 2020. He was originally signed as a rookie free agent by the New York Jets following the 2017 NFL Draft and has also spent time on the Kansas City Chiefs practice squad.
CAREER HIGHLIGHTS:
In 2020, Firkser appeared in all 16 games for the first time in his career and finished the season with career-highs in receptions (39) and receiving yards (387) to go along with one touchdown.
Firkser recorded his first career 100-yard game in 2020 against Houston (10/18). He caught a career-high eight passes for 113 yards and one touchdown, including a career-long catch of 45.
In his second season with the Titans, Firkser appeared in 15 games and posted 14 receptions for 204 yards with a touchdown.
In 2019, Firkser made his postseason debut and appeared in all three games while leading the team with two touchdown catches. He became the first NFL player from Harvard to score a touchdown in a postseason game.
In 2018, Firkser made his NFL debut against Houston (9/16) and scored his first career touchdown against New York Jets (12/2). He appeared in 12 contests on the season.
TITANS TIDBITS:
In June 2021, Firkser hosted the Anthony Firkser Football Camp, a kids skills camp in Nashville, which benefitted the Caring Hearts organization that aims to help those living in poverty in Nashville and Mexico.
Firkser grew up playing basketball and both roller and ice hockey at elite levels and didn't begin playing football until his sophomore year of high school.
In the offseason, Firkser volunteers with his former high school football coach to help train and give advice to aspiring young football players in his hometown community of Manalapan, N.J.
CAREER TRANSACTIONS:
• The Manalapan, N.J., native was originally signed by the New York Jets as an undrafted free agent on May 5, 2017.
• Released by the Jets on Sept. 2, 2017.
• Signed by the Kansas City Chiefs to the team's practice squad on Nov. 29, 2017.
• Signed by the Chiefs to a future's contract on Jan. 8, 2018.
• Released by the Chiefs on April 30, 2018.
• Signed by the Titans as a free agent on May 14, 2018 following a rookie minicamp tryout.
• Waived by the Titans on Sept. 17, 2018 and signed to the team's practice squad a day later.
• Signed by the Titans to their active roster from the practice squad on Oct. 9, 2018.