Free Agency Tracker | Tennessee Titans - TennesseeTitans.com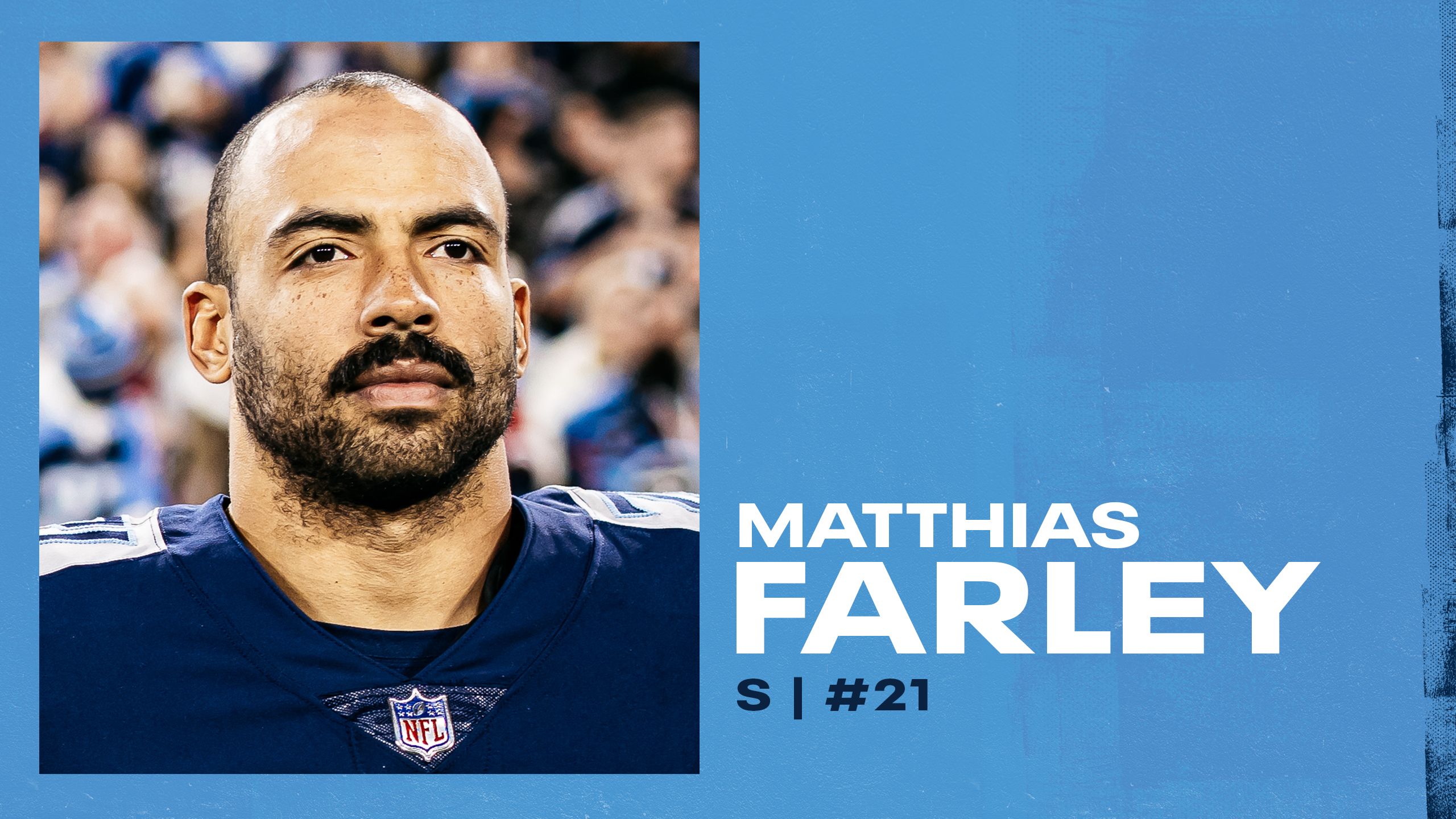 Matthias Farley
STATUS: Unrestricted Free Agent
SAFETY
5-11 | 209 lbs
COLLEGE: NOTRE DAME
HOMETOWN: CHARLOTTE, NC
ACQUIRED: UNRESTRICTED FREE AGENT - 2021
NFL EXPERIENCE (NFL/TITANS): 6/1
GAMES PLAYED/GAMES STARTED: 83/18 (PLAYOFFS: 1/0)
The Titans signed Matthias Farley as an unrestricted free agent during the 2021 offseason to add depth and experience in the secondary and on special teams units. The 5-foot-11-inch, 209-pound safety amassed 132 tackles, three interceptions, 14 passes defensed, two forced fumbles and a fumble recovery, while adding 27 tackles on special teams in his first five NFL seasons (2016-20) with the Indianapolis Colts and N.Y. Jets.
CAREER HIGHLIGHTS:
In 2020, Farley was named a team captain for the Jets and led the team with seven special teams tackles.
In 2017, Farley started 15 games at safety for the Colts and posted a career-high 95 tackles to go along with two interceptions, seven passes defensed, a forced fumble and a fumble recovery.
TITANS TIDBITS:
Farley did not start playing football until his junior year of high school. He played soccer his first two years at Christian High School in Charlotte, N.C.
Farley is a two-time recipient of the prestigous N.Y. Jets Marty Lyons Award (2019-2020) given by the community relations staff to the player who gives from the heart through charity and community involvement.
CAREER TRANSACTIONS:
The Charlotte, N.C., native was originally signed by the Arizona Cardinals as a rookie free agent on May 2, 2016.
Waived by the Cardinals on Sept. 3, 2016.
Claimed off waivers by the Indianapolis Colts on Sept. 4, 2016.
Waived by the Colts on Aug. 26, 2019.
Signed by the N.Y. Jets as a free agent on Aug. 30, 2019.
Released by the Jets on Sept. 5, 2020 and re-signed by the team two days later.
Signed by the Titans as an unrestricted free agent on March 30, 2021.