Free Agency Tracker | Tennessee Titans - TennesseeTitans.com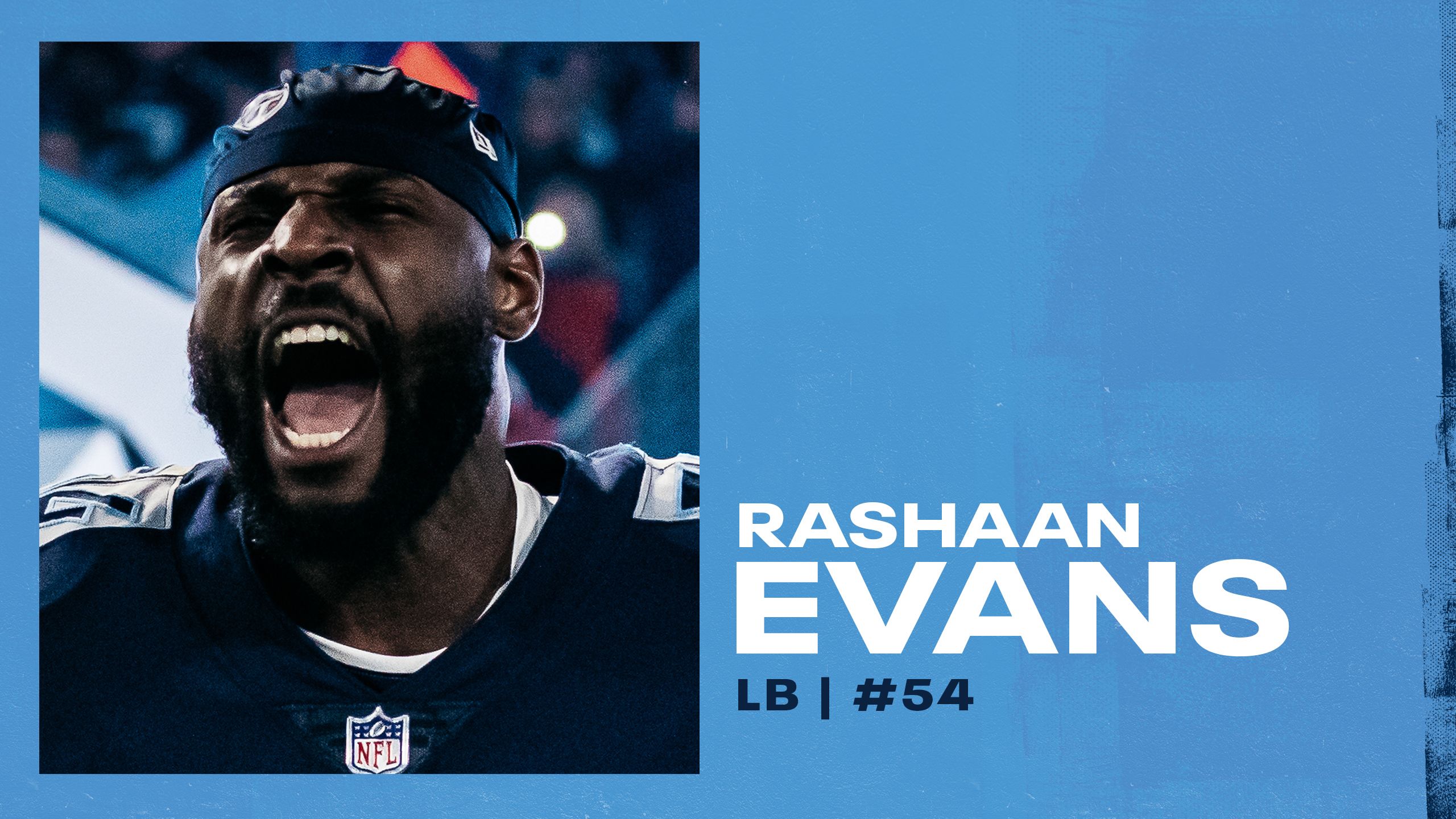 Rashaan Evans
STATUS: Unrestricted Free Agent
LINEBACKER
6-2 | 232 lbs
COLLEGE: ALABAMA
HOMETOWN: AUBURN, AL
ACQUIRED: 1ST ROUND - 2018
NFL EXPERIENCE (NFL/TITANS): 4/4
GAMES PLAYED/GAMES STARTED: 59/50 (PLAYOFFS: 4/4)
The Titans traded up to select Rashaan Evans with the 22nd overall pick in the first round of the 2018 NFL Draft. The 6-foot-2 inch, 232-pound defender was identified as a playmaker that could quickly bolster the linebacking corps and develop into a leader on defense. He appeared in all but one game in his first three campaigns, including starts at inside linebacker in every game from 2019 to 2020. He led the Titans defense with 139 tackles and 11 tackles for loss in his second season.
CAREER HIGHLIGHTS:
In 2020, Evans started every game for the second consecutive season and finished third on the defense with 96 tackles.
In 2019, Evans started every game during the regular season and playoffs. He led the team with 139 tackles and 11 tackles for loss.
As a rookie in 2018, Evans played in 15 games with seven starts at inside linebacker and totaled 63 tackles, six quarterback pressures, two tackles for loss and three passes defensed.
TITANS TIDBITS:
Upon being drafted by Tennessee, Evans was reunited with former Crimson Tide teammate Derrick Henry. Henry phoned Evans immediately after he was selected with the 22nd pick to congratulate him.
He has two pregame rituals. Evans prays before each game and pulls grass from the field early in pregame to get a feel for the turf.
His nickname is 'Razor, because I cut up.'
At Alabama, Evans shared the field with his brother, Alex, a member of the Crimson Tide spirit squad.
Two of his football role models are DeMarcus Ware and Lawrence Taylor. He met Ware, who also is from Auburn, Ala., at the 2018 NFL Draft. He later had a chance to meet Taylor during a trip to Miami and calls each experience an "amazing moment."
Growing up in rural Alabama, Evans would chase wild horses to work on improving his speed and athleticism.
Evans' father, Alan, was a star running back at Auburn. Evans' mother, Chenavis, received four degrees from Auburn, including her doctorate. Evans' older sister was a cheerleader at Auburn, and despite the family ties including his cousins attending Auburn, Evans stuck with his gut and instead chose Alabama.
CAREER TRANSACTIONS:
• The Auburn, Ala., native was selected by the Titans in the first round (22nd overall) of the 2018 NFL Draft.