Free Agency Tracker | Tennessee Titans - TennesseeTitans.com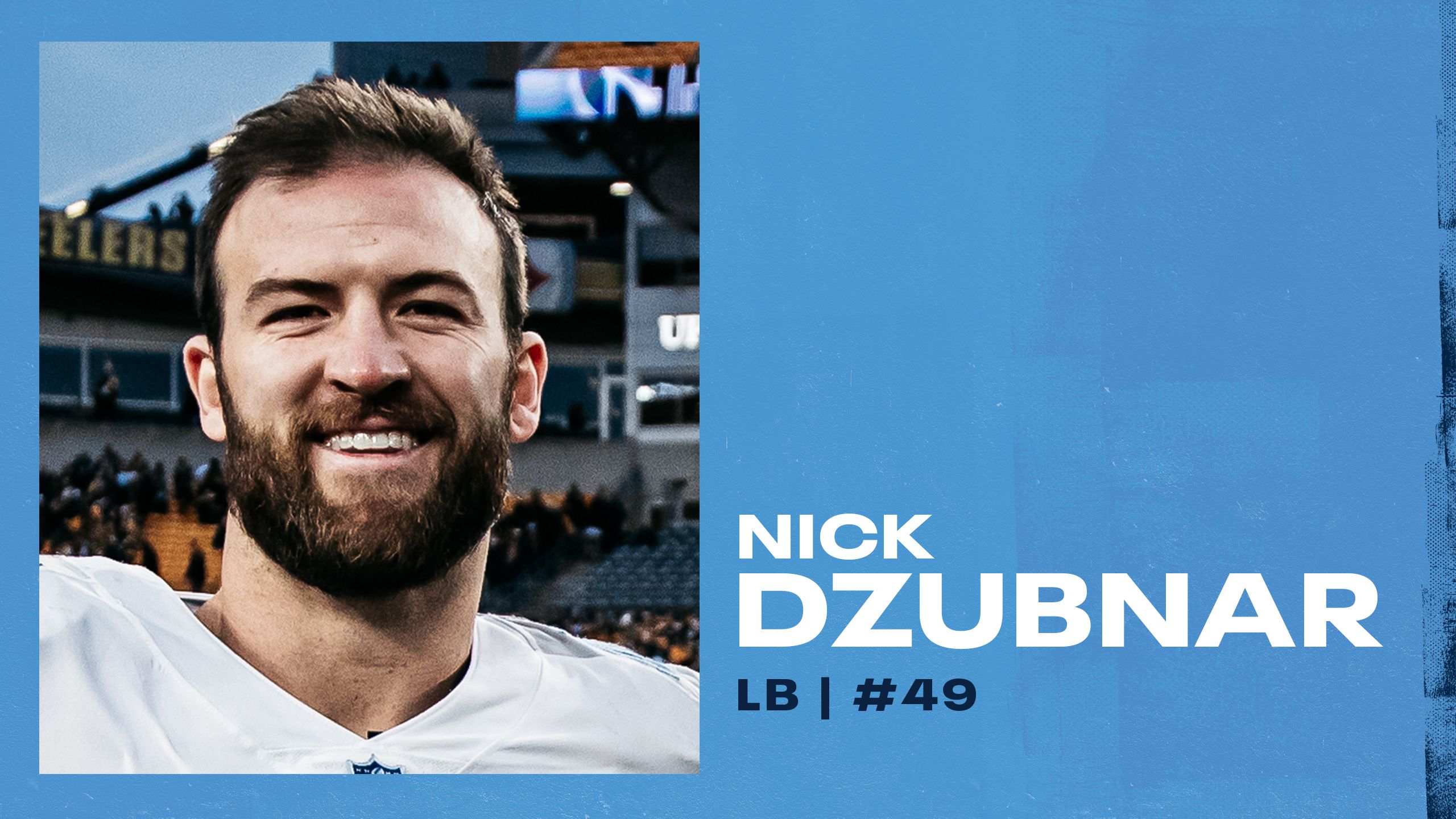 Nick Dzubnar
STATUS: Unrestricted Free Agents
LINEBACKER
6-1 | 240 lbs
COLLEGE: CAL POLY - SAN LUIS OBISPO
HOMETOWN: MISSION VIEJO, CA
ACQUIRED: UNRESTRICTED FREE AGENT - 2020
NFL EXPERIENCE (NFL/TITANS): 7/1
GAMES PLAYED/GAMES STARTED: 98/0 (PLAYOFFS: 4/1)
Nick Dzubnar is a savvy linebacker that has excelled on special teams coverage units during his NFL career. The 6-foot-1-inch, 240-pounder joined the Titans as a free agent in 2020 after spending time his first five seasons with the Chargers organization. Dzubnar, a former rookie free agent, will look to make his biggest impact as a core member of the Titans' special teams units having collected 61 special teams stops in 65 career games, as well as provide veteran depth in the linebacking corps.
CAREER HIGHLIGHTS:
In 2019, Dzubnar appeared in all 16 games for the third time in his career, posting 12 special teams tackles.
In 2018, Dzubnar collected 15 special teams tackles on coverage units and tied for the team lead with three special teams tackles in the 2018 postseason.
In 2017, Dzubnar led the Chargers with a career-best 21 special teams tackles.
TITANS TIDBITS:
Dzubnar feels he was better at hockey than football in high school. He participated as a Junior Anaheim Duck in his youth.
Dzubnar's last name is pronounced duh-ZOOB-nar.
CAREER TRANSACTIONS:
The Mission Viejo, Calif., native was originally signed by the San Diego Chargers as undrafted free agent on May 12, 2015.
Waived by the Los Angeles Chargers on Sept. 4, 2017 and signed to the team's practice squad two days later.
Signed by the Chargers to their active roster from the practice squad on Sept. 23, 2017.
Signed by the Titans as an unrestricted free agent on March 26, 2020.