Free Agency Tracker | Tennessee Titans - TennesseeTitans.com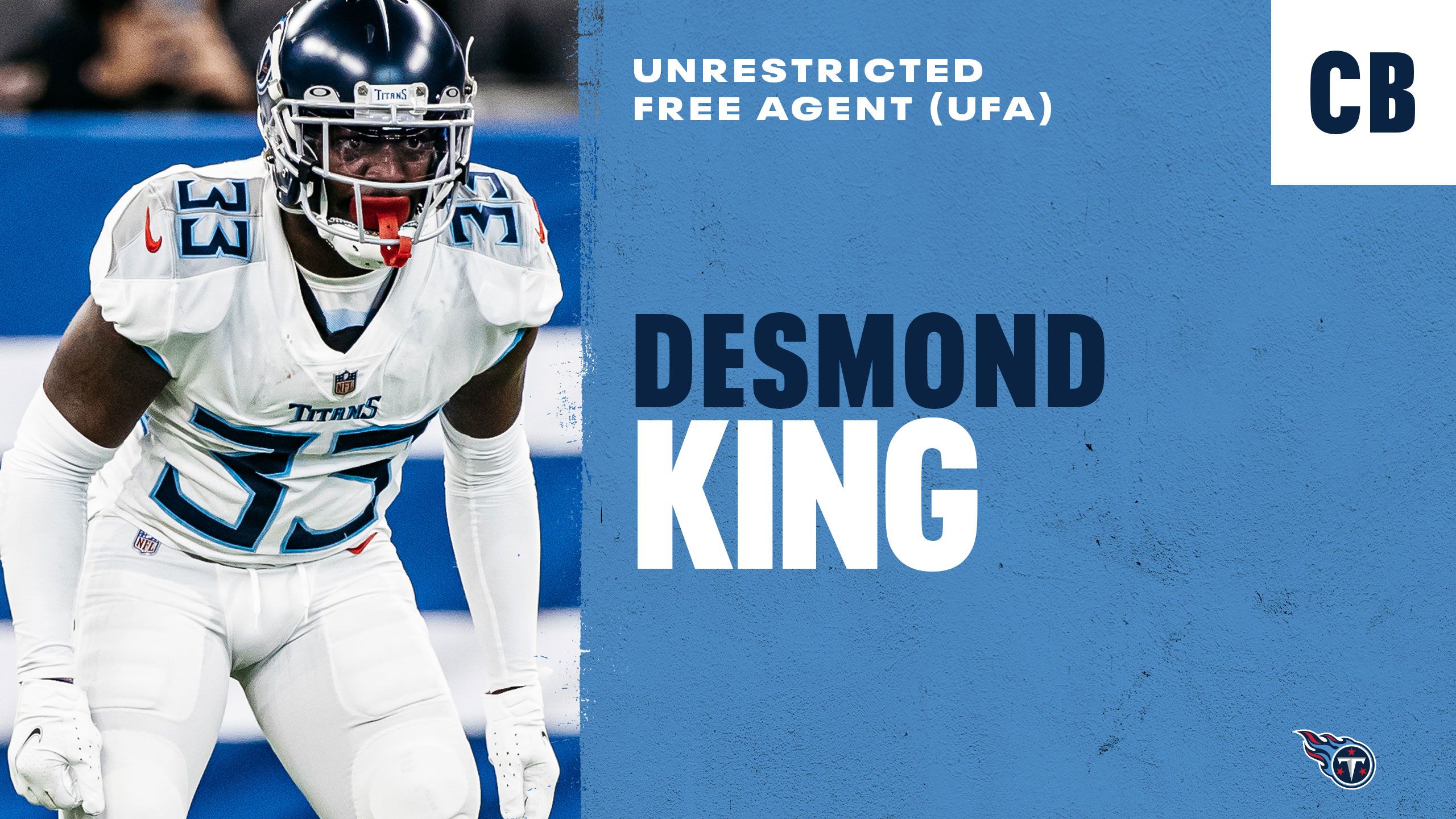 Desmond King
STATUS: Unrestricted Free Agent
CORNERBACK
5-10 | 201 lbs
COLLEGE: IOWA
HOMETOWN: DETROIT, MICH.
ACQUIRED: TRADE (LAC) - 2020
NFL EXPERIENCE (NFL/TITANS): 4/1
GAMES PLAYED/GAMES STARTED: 62/28 (PLAYOFFS: 3/2)
The Titans acquired Desmond King II from the Los Angeles Chargers prior to the 2020 trade deadline. The 5-foot-10-inch, 201- pound playmaker appeared in 53 games with Los Angeles and earned Associated Press All-Pro honors as both a cornerback and punt returner. The University of Iowa product is a skilled cover corner that has excelled in the slot and is also a willing tackler and blitzer. King II is also an accomplished return specialist having returned two punts for touchdowns during his NFL career.
CAREER HIGHLIGHTS:
• In 2018, King II was named first-team All-Pro at defensive back and a second-team All-Pro at punt returner by the Associated Press.
• With four sacks as a rookie in 2017, King II became the second defensive back to post at least four sacks as a rookie (Bill Bates, 1983).
• King became just the sixth player in NFL history and second defensive back ever to post multiple pick-sixes and at least four sacks over the first two seasons of his career (S Roy Williams, 2002-03).
TITANS TIDBITS:
• King founded the King Kares Foundation in 2017, which provides financial support to underprivileged families in the Detroit area. After establishing itself, King Kares Foundation will expand its financial assistance to Eastern Iowa and Southern California.
• In May 2020 during the COVID-19 pandemic, King and his foundation delivered 100 meals to medical professionals at Placentia-Linda Hospital in Placentia, Calif. Additionally, this past Thanksgiving King and his foundation provided 400 ready-to-cook meals to children and their families of Boys & Girls Clubs in the area. Most recently, King Kares held a backpack giveaway in Detroit on July 18, 2020, where recipients received the backpacks filled with notebooks, pencils, football gear and other supplies.
• King is an avid bowler and participates in a bowling league. He has a lifetime high score of 215.
CAREER TRANSACTIONS:
• The Detroit, Mich., native was originally selected by the Los Angeles Chargers in the fifth round (151st overall) of the 2017 NFL Draft.
• Traded by the Chargers to the Titans on Nov. 2, 2020 for a Titans 2021 sixth-round draft choice.