Free Agency Tracker | Tennessee Titans - TennesseeTitans.com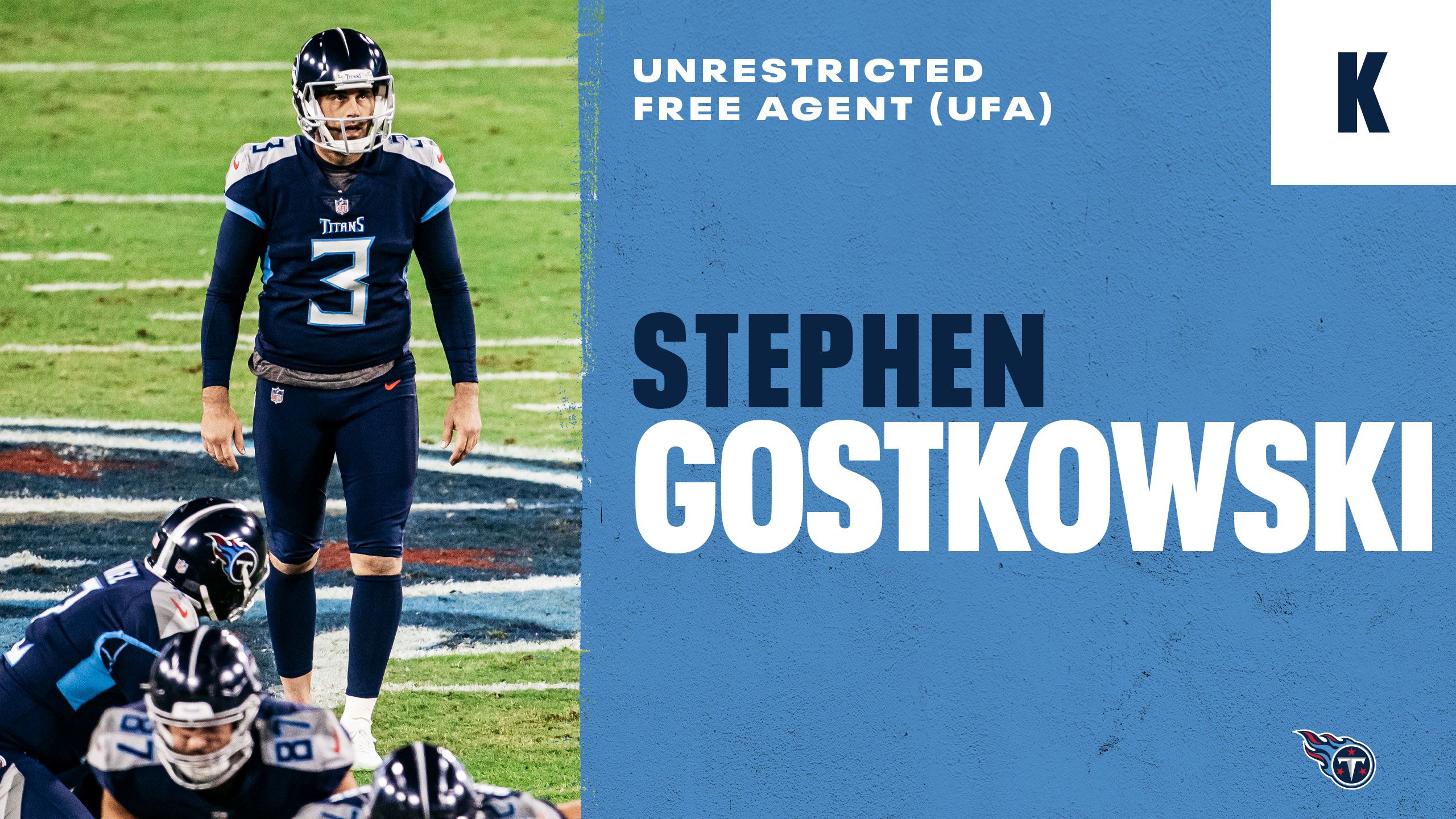 Stephen Gostkowski
STATUS: Unrestricted Free Agent
KICKER
6-1 | 215 lbs
COLLEGE: MEMPHIS
HOMETOWN: MADISON, MISS.
ACQUIRED: FREE AGENT - 2020
NFL EXPERIENCE (NFL/TITANS): 15/1
GAMES PLAYED/GAMES STARTED: 219/0 (PLAYOFFS: 29/0)
The Titans signed veteran kicker Stephen Gostkowski following training camp in early September 2020. After entering the NFL as a fourth-round pick of the New England Patriots in 2006, the 6-foot-1-inch, 215-pounder spent the next 14 years with the club, earning four Pro Bowl selections and three Super Bowl championships. He became the franchise's all-time leading scorer with 1,775 points over 204 regular season games and also added 205 points in the postseason to rank second in NFL history in playoff scoring. At the end of the 2019 campaign, his 87.4 percent success rate on field goals made him the fifth-most accurate kicker in NFL history.
CAREER HIGHLIGHTS:
• Finished his Patriots' career as the franchise's all-time leader with 1,775 career points and 374 field goals. Enters 2020 in 12th place on the NFL's all-time scoring list and 15th in field goals.
• During his time in New England (2006-19), Gostkowski hit 374 of 428 career field goal attempts, and his 87.4 percent accuracy rate is the highest in Patriots history and is fifth-best in NFL history.
• Gostkowski has been selected to the Pro Bowl four times (2008, 13-15), named Associated Press All-Pro first team in 2008 and 2015 and AP AllPro second team in 2014.
• With 151 points in 2015, Gostkowski became one of three players to lead the league in scoring for at least five seasons, and with 156 points in 2017, became the first player in NFL history with five separate 150-point seasons.
• In 2013, Gostkowski finished with a career-high and NFL-leading 158 points, surpassing Gino Cappelletti's Patriots record of 155 set in 1964. The 158 points tied for fifth-most in NFL history among kickers. Also broke his own Patriots single-season record and led the NFL with 38 successful field goals, tied for sixth-most in NFL history.
• Gostkowski became the first player in NFL history to reach the 1,000- point plateau in under 120 games (119).
• Gostkowski converted 478 consecutive extra points in the regular season from 2006-16, an NFL record.
• Gostkowski is tied for second all-time with 39 postseason field goals and second on the NFL postseason points list with 205.
TITANS TIDBITS:
• Coming out of high school, Gostkowski received an athletic scholarship to pitch for the University of Memphis baseball team. He made the football team as a walk-on and finished his college career as the team's all-time leading scorer with 369 points.
CAREER TRANSACTIONS:
• The Madison, Miss., native was originally selected by the New England Patriots in the fourth round (118th overall) of the 2006 NFL Draft.
• Signed by the Patriots as an unrestricted free agent on April 10, 2019.
• Released by the Patriots on March 23, 2020.
• Signed by the Titans as a free agent on Sept. 3, 2020.