Free Agency Tracker | Tennessee Titans - TennesseeTitans.com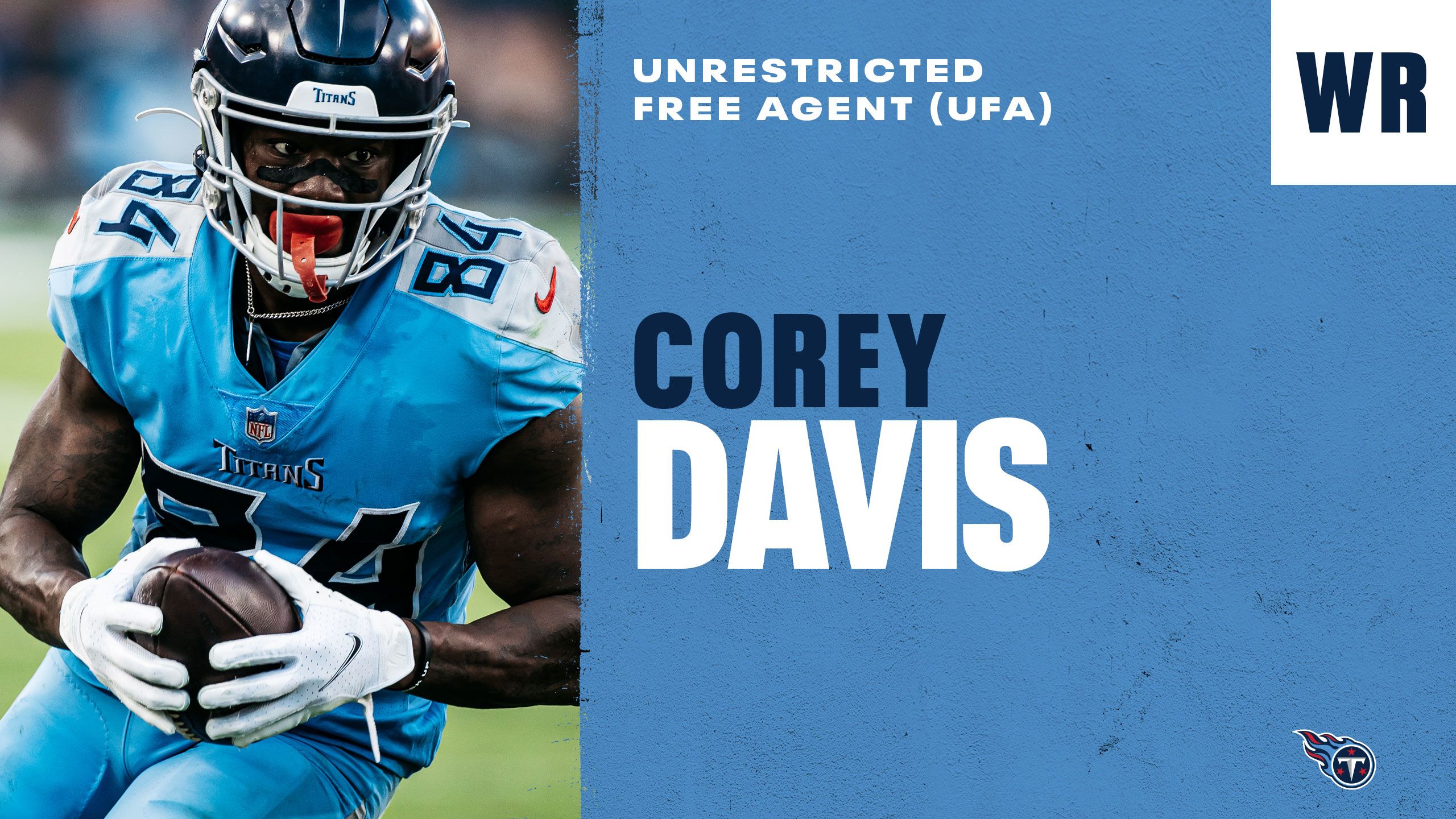 Corey Davis
STATUS: Unrestricted Free Agent
WIDE RECEIVER
6-3 | 209 lbs
COLLEGE: WESTERN MICHIGAN
HOMETOWN: WHEATON, IL
ACQUIRED: 1ST ROUND - 2017
NFL EXPERIENCE (NFL/TITANS): 4/4
GAMES PLAYED/GAMES STARTED: 56/48 (PLAYOFFS: 6/5)
The Titans selected Corey Davis with the fifth-overall pick in the 2017 NFL Draft, which was obtained in a 2016 trade with the Los Angeles Rams. During his first three seasons (2017-19), Davis led the Titans in total receptions (142), receiving yards (1,867) and receiving first downs (97), and his six touchdown catches tied for third place on the club. The 6-foot3-inch, 209-pound wide receiver brings a complete skill set to his position, excelling in route running, making plays after the catch, and blocking. His 5,285 receiving yards at Western Michigan set an all-time FBS record, and he became the second player in FBS history to record 52 career receiving touchdowns. Davis became the highest drafted player from Western Michigan and the first first-rounder from the school since Jason Babin in 2004. The fifth pick was the highest selection ever used by the Titans/Oilers on a wide receiver by 11 slots, topping the 1998 choice of Kevin Dyson with the 16th pick.
CAREER HIGHLIGHTS:
• Davis' 2019 statistics included 43 receptions for 601 yards and a pair of touchdowns in 15 games. He added 68 yards and a touchdown on six receptions during the playoffs.
• In 2018, Davis led the Titans with 65 receptions, 891 receiving yards and four touchdowns. His yardage total ranked ninth among all AFC wide receivers.
• In a playoff game at New England on Jan. 13, 2018, Davis caught two touchdown passes to tie the franchise single-game postseason record (five previous times). He became the first player to accomplish the feat in the postseason since wide receiver Haywood Jeffires did so at Buffalo on Jan. 3, 1993. Davis was the first NFL rookie with two touchdown receptions in a playoff game since Panthers receiver Kelvin Benjamin on Jan. 10, 2015.
• In Week 1 of the 2017 season, Davis caught six passes for 69 yards. This reception total ranks second among all rookies in Week 1 games in the "Titans era" (1999–present).
• During his time at Western Michigan, Davis set an FBS all-time record with 5,285 career receiving yards.
• Davis set Western Michigan records for single-season touchdown receptions (19), single-game receiving yards (272), touchdown receptions in a bowl game (three), career receptions (332), career touchdown receptions (52) and career receiving yards (5,285).
TITANS TIDBITS:
• Davis and his six siblings survived a tough economic upbringing in Wheaton, Ill. While he has always maintained a loving relationship with his parents, Olasheni Timson and Michelle Davis, he made the decision as a high school junior to move into the home of Robin and Dan Graham, who became his legal guardians. Dan, Corey Davis' youth football coach, was an offensive lineman for the Tampa Bay Buccaneers. His son, Ryan Graham, played youth and high school football with Davis and currently plays quarterback at Northern Illinois.
• Davis' late brother, Titus, played football at Central Michigan and was signed by the Chargers as a rookie free agent in 2015. Titus also spent time with the Jets, Bills and Bears.
• One of Davis' favorite quotes is "Never die easy" by Walter Payton, who used the saying as the title to his autobiography.
CAREER TRANSACTIONS:
• The Wheaton, Ill., native was selected by the Titans in the first round (fifth overall) of the 2017 NFL Draft.