Free Agency Tracker | Tennessee Titans - TennesseeTitans.com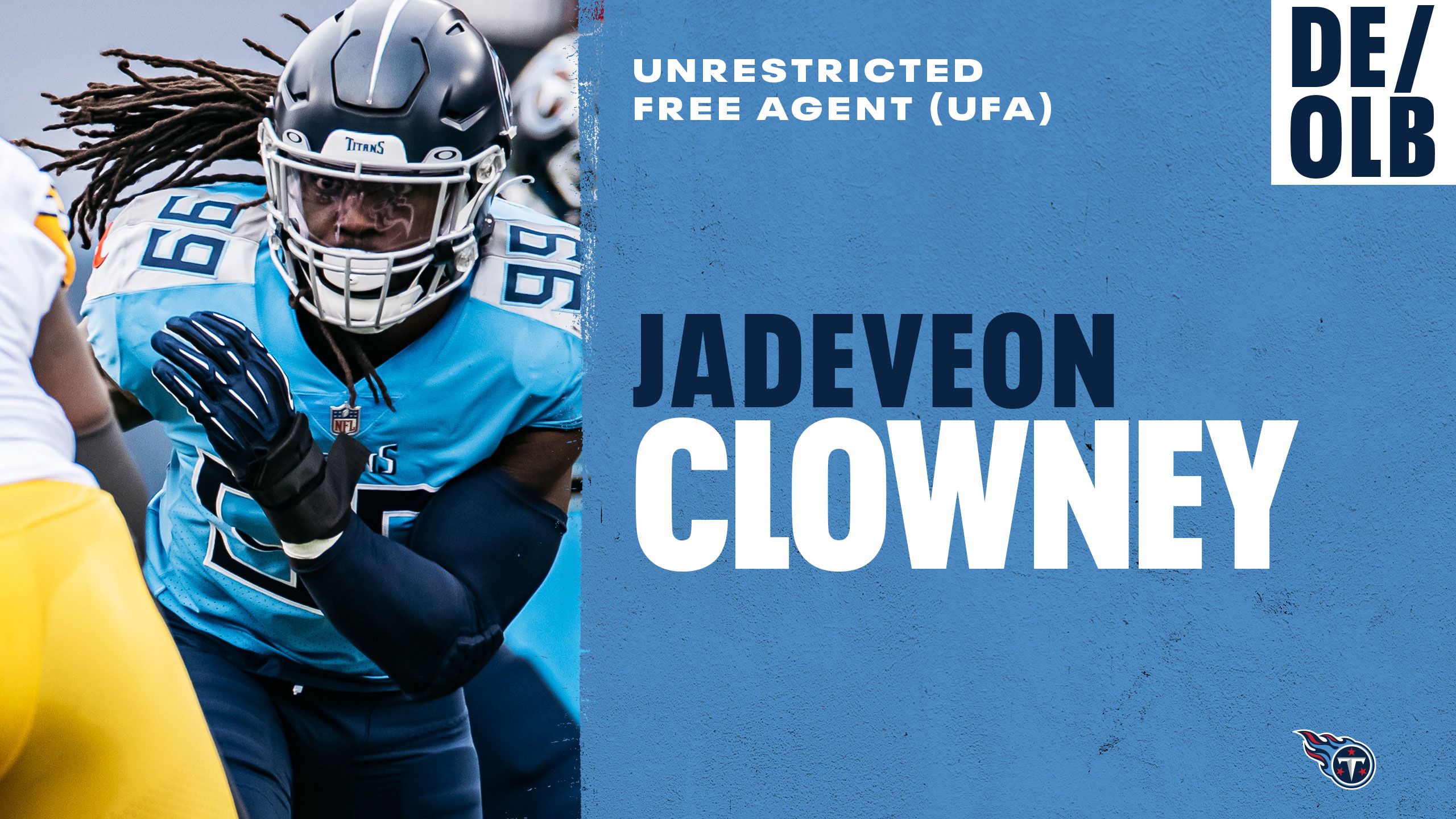 Jadeveon Clowney
STATUS: Unrestricted Free Agent
OUTSIDE LINEBACKER
6-5 | 255 lbs
COLLEGE: SOUTH CAROLINA
HOMETOWN: ROCK HILL, S.C.
ACQUIRED: FREE AGENT - 2020
NFL EXPERIENCE (NFL/TITANS): 7/1
GAMES PLAYED/GAMES STARTED: 83/74 (PLAYOFFS: 5/5)
The Titans improved the versatility and explosiveness of their front seven with the addition of free agent Jadeveon Clowney prior to the start of the 2020 regular season. In his first six NFL seasons, Clowney played in 75 games and tallied 236 tackles, 32 sacks, 71 tackles for loss, 14 passes defensed, nine forced fumbles and seven fumble recoveries. The 6-foot5-inch, 255-pounder was named to the Pro Bowl each season from 2016 through 2018, and he added second-team Associated Press All-Pro honors in 2016. The South Carolina product played his first five NFL seasons with the Houston Texans after he was the first overall pick in the 2014 NFL Draft. He was traded to the Seattle Seahawks in 2019.
CAREER HIGHLIGHTS:
• Over a four-season span from 2016 through 2019, Clowney was one of only three NFL players with at least 60 tackles for loss, eight forced fumbles and 150 quarterback pressures, per Sportradar. The others on the list were Aaron Donald and Chandler Jones. Clowney ranked fourth in the NFL over those four seasons with 60 tackles for loss.
• In 2019, Clowney's lone season with the Seattle Seahawks, he registered 31 tackles, three sacks, seven tackles for loss, a career-best four forced fumbles and two fumble recoveries in 13 games.
• In 2017, the last time current Titans head coach Mike Vrabel was Clowney's defensive coordinator in Houston, he started all 16 games for the Texans and recorded 9.5 sacks, 21 quarterback hits, 21 tackles for loss, two forced fumbles and two fumble recoveries. He joined Jones as the only NFL players to register 20 or more tackles for loss and 20 or more quarterback hits.
• Clowney has scored four total touchdowns in his NFL career—three on fumble recoveries and one on an interception return.
TITANS TIDBITS:
• Clowney and Titans teammate Johnathan Joseph both grew up in Rock Hill, S.C., and played collegiately at South Carolina. Joseph has provided a big brother presence and been a strong mentor for Clowney during his NFL career.
• Clowney attended South Pointe High School in Rock Hill, S.C., where he was named South Carolina's 2010 Mr. Football and lettered for the school's basketball team.
• Clowney was on his high school's track & field team, where he competed as a sprinter, shot putter and discus thrower. He took ninth in the 100 meters at the 2011 York County Championships, with a career-best time of 11.43 seconds. He also ran the fourth leg on the 4×100 meter relay squad, helping them earn a third-place finish at 42.86 seconds.
CAREER TRANSACTIONS:
• The Rock Hill, S.C., native was originally selected by the Houston Texans with the first overall pick in the 2014 NFL Draft.
• Designated by the Houston Texans as the franchise player on March 4, 2019 and signed the franchise tender on Aug. 31, 2019.
• Traded by the Texans to the Seattle Seahawks on Sept. 1, 2019 in exchange for Barkevious Mingo, Jacob Martin and a 2020 third-round pick.
• Signed by the Titans as a free agent on Sept. 8, 2020.