Free Agency Tracker | Tennessee Titans - TennesseeTitans.com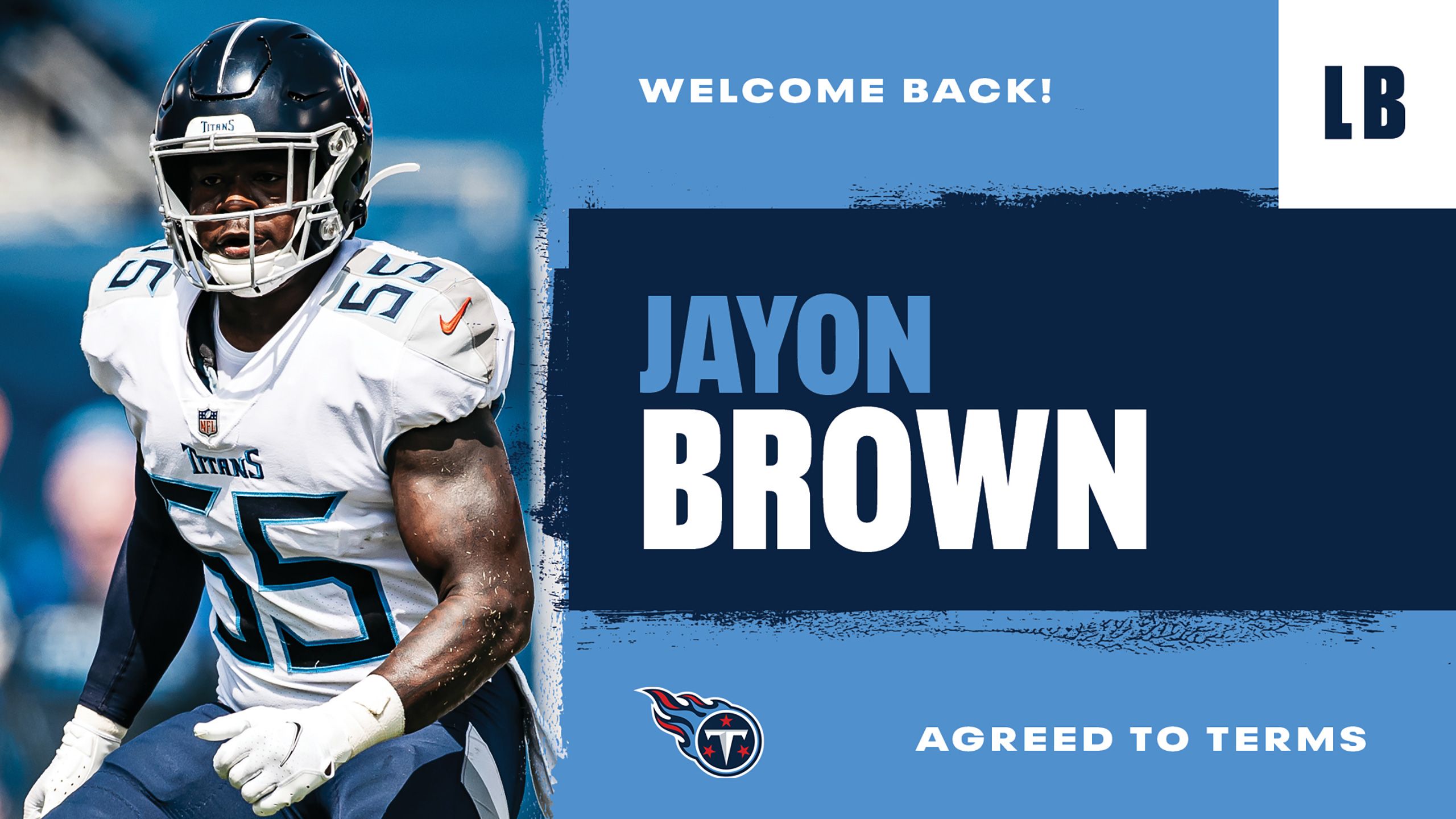 Jayon Brown
STATUS: AGREED TO TERMS - MARCH 19
READ: LB Jayon Brown is Returning to the Titans, and He's Fired Up About It
# # #
LINEBACKER
6-0 | 226 lbs
COLLEGE: UCLA
HOMETOWN: LONG BEACH, CALIF.
ACQUIRED: 5TH ROUND - 2017
NFL EXPERIENCE (NFL/TITANS): 4/4
GAMES PLAYED/GAMES STARTED: 56/33 (PLAYOFFS: 4/2)
The Titans selected Jayon Brown in the fifth round of the 2017 NFL Draft. He possesses tremendous speed for the position and excels at covering tight ends and running backs. The 6-foot, 226-pound defender has emerged as one of the Titans' top defensive playmakers, ranking third on the team with a career-high 117 tackles in 2019 and finishing second on the squad with 107 total tackles and six sacks in 2018.
CAREER HIGHLIGHTS:
• In 2019, Brown started a career-best 14 games and ranked third on the team with a career-high 117 tackles and fourth on squad with nine passes defensed.
• In 2018, Brown finished second on the defense with 107 tackles and six sacks, and his 18 quarterback pressures tied for the second-highest total on the team. He was one of only six NFL linebackers with at least six sacks, one interception, one forced fumble and one fumble recovery during the season.
• Against Indianapolis on Dec. 30, 2018, Brown recorded his first career interception and returned the ball 22 yards for his first career touchdown. He later recorded a forced fumble and fumble recovery, and in doing so, he became the third NFL player in 2018 to record an interception for a touchdown, a forced fumble and a fumble recovery in the same game (Bobby Wagner, Khalil Mack). Brown became the first Titans player to accomplish the feat since at least 1993.
• As a rookie in 2017, Brown appeared in every game as the team's nickel linebacker. He registered 67 tackles, which tied for the 10th-highest total by a "Titans era" rookie (1999–present) and ranked fifth among the team's rookie linebackers in that span.
TITANS TIDBITS:
• Brown went to the same California high school, Long Beach Poly, as former Titans great Jurrell Casey. Brown's older brother, Juwuan, was Jurrell's teammate there.
• He likes spending as much time as possible with his dogs, "a mutt named Lou" and a Rottweiler named Kali. He also enjoys puzzles and watching movies.
• Former Long Beach Poly and New England Patriots star Willie McGinest is a close friend of the Brown family.
• Brown's younger brother, Joshua, is a defensive end at the University of Arizona, and his two older brothers also played college football. Jason played linebacker at Idaho, while Juwuan was a defensive lineman at Southern Oregon.
CAREER TRANSACTIONS:
• The Long Beach, Calif., native was selected by the Titans in the fifth round (155th overall) of the 2017 NFL Draft.