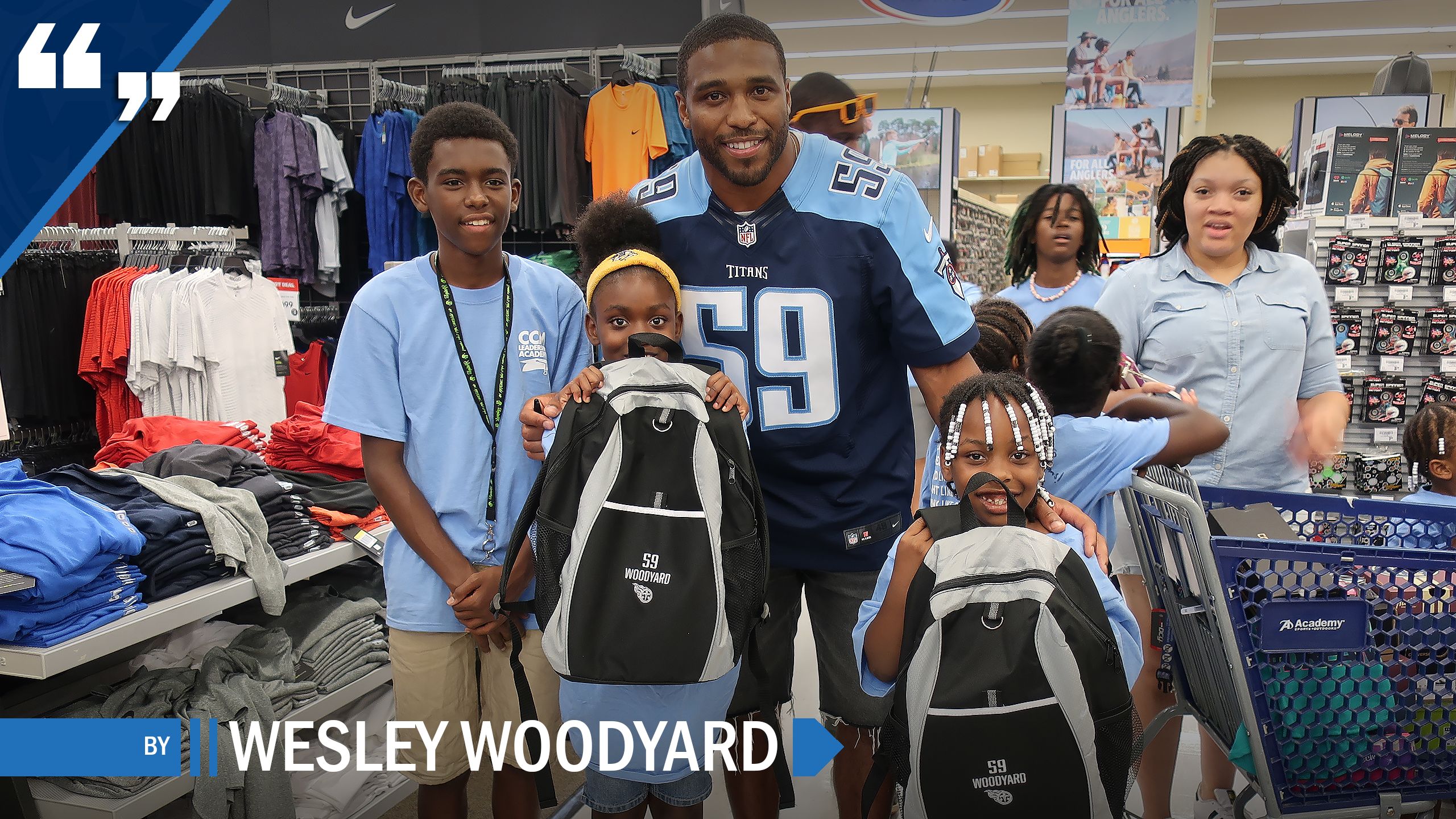 THIS IS MY STORY // by Wesley Woodyard
I've always believed it takes a village to raise a child.
See, one of the most influential people in my life wasn't even my blood relative. Someone that's not blood related to me cared for me like I was his own.
It was my cousin's husband, Derrick Kelley. They've been married more than 20 years. He's been in my life a long time.
I just remember it being time for me to go on college visits. I knew I would play football in college, so there were a lot of visits, and he took me on every one. My brother Jaz Griggs came too.
I told him my goal was to go to college, and he made it his duty to get me in. For him to sacrifice as much as he did for me, treating me like his own…that was huge.
That's the approach I take with kids today. I don't want anyone to miss out on anything in life because their family can't give them the support they need.
That's why Derrick and I started our foundation, 16Ways, in 2010.
In life, you should want to sacrifice for anyone and everyone, whether they're your own blood or not. I would give anything to see a child be successful. Through the foundation, that's what we try to do, set kids up for success.
We host annual youth football/cheer camps in Denver, where I was drafted and played the beginning of my career, and Lexington, KY, where I went to college. The camps aren't just focused on football. We also focus on leadership and building character, things that build life skills.
We're active in Denver, but we also have significant presence in Lexington, KY, and Macomb, MI. We sponsor literacy related programs that provide books and free tutoring because we understand how important reading and writing skills are to children's futures. We want to get kids on the accelerated track.
We have a specific program for girls, too. The girls program was something we wanted from the beginning. From the time we had our first football camp, we thought about how we could reach girls, too.
We wanted to focus on a group of young women and girls throughout the whole year, not just have a one-time event. The program is actually called GYRLs, which is an acronym for "Giving Yourself Respect and Love." We want them to be able to transition through their pre-teen and teen years and arrive into adulthood as women who are capable of reaching whatever personal goals they set for themselves.
The program does a good job of teaching girls about self-esteem and confidence and how to be strong and independent. We have genuine discussions with the young ladies about the kinds of obstacles they face and how to overcome. Keeping it real is important, and I think that's why the program works.
Now that I have daughters, I look at things so differently. I want to be an advocate for them. I look at the girls in my program and I think about my daughters, and what I would want them to know, how I would want them to view themselves.
I also have a son, Greyson. He's only four, but he's the big brother. I always try to teach him that his sisters are looking up to him to do the right thing. He has to take care of them, especially when I'm not around.
I teach him to treat women respectfully. I teach him that he's setting an example for how his sisters should expect to be treated.
He took a toy from a girl at school one day and they got into a little kid scuffle. When he came home and I asked him how he would feel if someone did that to one of his sisters, he got it. He said it would make him sad.
His favorite thing is opening the doors for his sisters and his mom. He gets mad if we don't let him open the door, but that's what I want. I want him to set the standard for his sisters and for all the women in his life.
I try to lead by example, too, especially in the way I treat their mother. I definitely know that my wife and I are equally yoked. We believe in the same things; we want to see the same things in the world. We want to be that old couple on the porch playing with their grandkids.
When I think about what we want to see in the world, part of it is everyone being treated the same way.
I believe that kind of thing starts in the home. I teach my kids to treat everybody the same. Right now they don't see color. They just see friends, and I think that's the way it's supposed to be.
But it hasn't always been that way for me.
The first incident I can remember occurred when I was six-years-old. My brother was around nine, and we were in a retail store. We were held at the store by one of the clerks. He grabbed us and wouldn't let us leave. He accused us of stealing a video game, which, of course, we didn't. My mom had to come down and sort it out.
That was my first time being profiled, but I didn't realize that's what it was at the time.
My mom used to tell us when we went into stores not to touch anything. I realize now why she said that. She knew what could possibly happen and she was planning for the worst. That experience in the store was my first time really understanding how the outside world can treat people that look different.
Another time that sticks out in my mind was when I was in high school. I was accused of stealing my own car. The officer didn't listen to what I was saying. I didn't get it. I reasoned that I was getting ready to go to college. I had good grades in high school, so how would I fit the profile of a thief?
He said there had been break-ins in the area. He held me there for 30 minutes until he figured out it really was my car and I wasn't lying. I've been honest my whole life. I've never had a record. He just assumed.
We shouldn't live in a world where there are different rules just because your skin is a different shade.
That's why it's really important to me to be a good role model to everyone but especially to young black men.
There's one kid I've watched grow up in my football camp in Lexington. He's been coming for five years. The first year, his mom drug him to camp. He didn't want to come. She said he was disrespectful at home and in the classroom.
Now he's making A's and B's and he was even one of the leaders in my camp. He got to lead a group of the younger kids.
To see kids listen and apply the lessons we share to their lives is what it's about. It's about their success.
These kids are our future, and I'm just looking for every opportunity to play a small part in it.
Wesley Woodyard
This is My Story // Wesley Woodyard