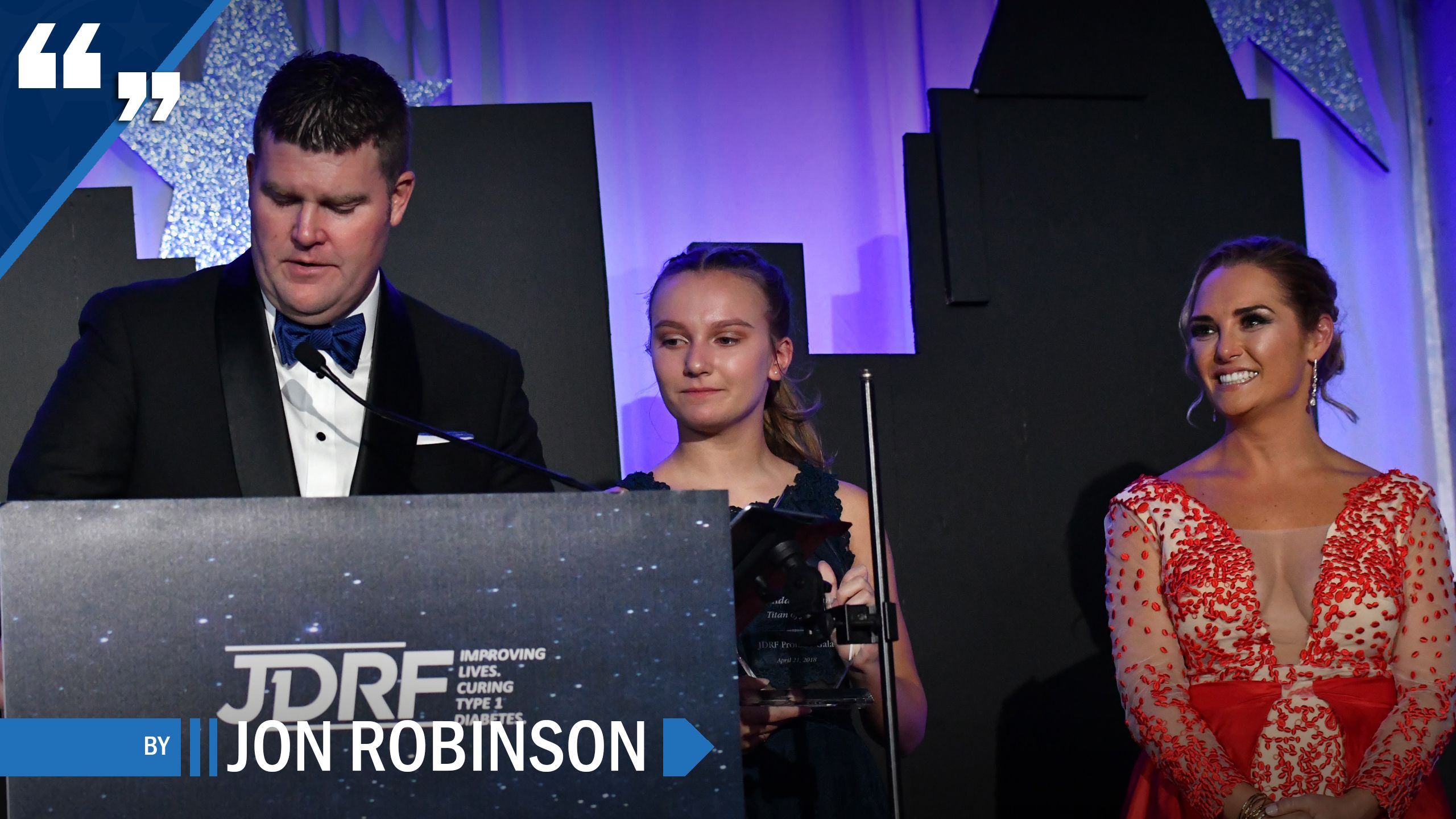 THIS IS MY STORY // by Jon Robinson
One email spawned so many memories…..see, our community relations staff asked for a letter I penned back in 2013. At that time, I was the Director of College Scouting for the New England Patriots…and as I scrolled through Facebook to find the letter, I passed through so many things that have gone on in just 5 short years. So many things to be proud of…my girls and how they've grown, the awesome job my wife Jaimie has done raising them, the funds we have raised for JDRF (Juvenile Diabetes Research Foundation)…our time in Tampa with the Bucs, all the great people we met there….and our homecoming, back to my home state of Tennessee, as GM of the Tennessee Titans…our team, our fans, our friends, our community….Thank You!!!.....From Go Pats, to Go Bucs…..the 2 words I waited 15 years to say…..Titan Up!!!!
**********
Monday April 8, 2013. This day, the final day of the Super Regional Combine in Dallas. I now sit on flight 428 DFW to RDU, seat 18D. Hope it's a good flight……
Headed over to a workout in Greensboro, NC, followed by a couple workouts in Alabama. This is my life each spring as the final pieces take shape for the NFL Draft.
However, on this day 1 year ago…my normal routine was interrupted….no detoured. It was Easter Sunday, typical day, baskets were awaiting in the living room from the Easter Bunny's visit, he'd also put his eggs in our yard. Taylor 6 & Bailey 3, rushed to our bedroom to wake Jaimie and I, wanting to go see what had been brought.
Down the stairs we raced, jaws dropped…lots of sighs and "O look what he brought us Momma and Daddy" were shouted by both. Baskets rummaged…it was on to the next thing….egg hunt. They quickly scooped up the eggs in the yard with friends Brooke and Kendall, then back inside as we began to do breakfast and prep for church.
Typical Easter Sunday breakfast…..candy. Reese's eggs for Bailey….Peeps for Taylor. Our Taylor suddenly didn't feel so good…belly ache. We assumed it was her version of hooky to stay home and build Legos instead of Church. She was different though, doubled up, not moving around much, just kind of writhing in pain. Not moaning, but Jaimie and I sensed something wasn't right.
We debated back and forth, and settled on a lazy day….who knows maybe she was getting a bug and we didn't want to spread it around. About an hour or so later she was better, at least we thought. Little did we know…..
Taylor was up, building her Lego set from the Bunny. And it seemed every 5 minutes she would race to the bathroom….followed by an "I'm thirsty"…..bathroom….2nd glass of water….bathroom….3rd glass. This went on most of the morning….til about 9-10am.
I sat in my chair, just watching the girls play. Bailey with her trinkets and sneaking more Reese's Egg bites…Taylor intent and exact with every Lego she placed. I watched Tay, and she looked different to me….she looked skinny….cheeks sunken in a little…skin a pale'ish green color…even her hair looked thin…she looked sick.
She was a ticking time bomb and neither Jaimie nor I had a clue.
On a whim, we played a game….let's play doctor, get a checkup….first we must get our weight. It was our clever way of checking to see if she'd lost. The thirst and restroom trips had me spooked…her sickly look had me scared.
4 lbs. That was the verdict from her last doctor's visit….LOST. Not supposed to happen to a growing girl. She was hurting, no…..dying….something, we didn't know what, was eating her little body. We didn't let the girls know, but we were in full alarm mode.
The internet is an amazing thing. I can't describe how it works, who invented it, or how it's connected. All I know is if you want pizza, the internet will deliver. If you want flowers, the internet will deliver. This day, I needed something to help my little girl.
The internet delivered…Google. WebMD. Yahoo. I typed 3 things into those search engines…EXCESSIVE THRIST, FREQUENT URINATION, WEIGHT LOSS.
All 3 answered the same.
5 hours later we are in the ER. Blood drawn, tests run, careful watch by nurses & doctors. I'm certain on this Easter Sunday they weren't expecting to meet a Southern transplant family to the North East because of the Pats…..weren't expecting to prick and needle our little 6 year old girl to confirm what Dad had found on the Internet, but that's how life is sometimes. You don't have the cards….God does. He doesn't give us any burden we can't bear; his Son bore the ultimate burden for all of us. So, any 3rd & long with less than 2 to go in the game of Life, with God on our side….is better than Brady and Bill leading the Pats to another W (no offense 12/Bill…..).
We had no idea how our life would change 1 year ago today. Our sweet, smart, awesome little Taylor, had been carrying this disease….
Type 1 Diabetes.
Left untreated, she would have gone into a diabetic coma…we would have called 911, who knows, maybe even lost her. God didn't deal us that card though. He gave us a chance. The first 48 hours were horrific, we had no idea….needles, measuring food, constant finger pricks, round the clock monitoring. We didn't ask for this, how can we do this, why us, why Taylor???
Answer…God chose us. He chose our strong, smart, little Taylor cause he knew she could handle it….NO FIGHT IT. God chose Jaimie. This spitfire that isn't going to sit on the sideline and accept the outcome…she's jumping in the game to WIN. This awesome little Cajun gal raised almost $20,000 within 6 short months, all towards research to find a cure for Type 1.
Tay's Team was born. We ran a 5k, even Taylor and Bailey, well Bailey kind of ran/carried/rode…but who's taking notes, she finished!!! Tay's team did the walk in Boston for JDRF. Taylor quickly moved to an insulin pump (within about 5 weeks of diagnosis), so no more syringes throughout the day. Tay's Team won Rookie of the Year for JDRF.
Jaimie has taken it as a challenge, an opponent…We aren't laying down and quitting…we are fighters. She's organized yard sales, wine tastings (her fave), auctions, cookbook sales, t-shirt sales, and this spring the JDRF Gala. All to raise money for JDRF.
Taylor is doing awesome, typical 7-year-old going on 13.
We are managing though. I'd say more than managing….flourishing…blessed!!!
1 year ago today, I had my doubts as Taylor lay there. Jaimie and I not knowing what awaited us…but God did. God knew he picked the right family. A little girl strong enough to overcome anything…a mother willing to exhaust everything to fight T1D.
And me. Criss-crossing the country…looking for the next Brady, Wilfork, Gronk!!! Just doing what I love to do…..Football.
About to land in Raleigh, NC. Has been a good day thinking back to Taylor, Bailey, Jaimie, & this year with T1D. We've accomplished a lot in 1 short year….God's been our Team Captain. And Taylor, though not cured, is healthy and managing her disease like a 20-year pro.
I'm proud of you Taylor!!! And I love you with all my heart!
Bailey…doctor B!! Your support for your sister has never wavered…I love you sweet girl!!
And Jaimie, you are THE BEST! Only 1 woman could do what you do…..YOU! I love you!!
A year ago today, I thought it was the end. Today I know it was only the beginning….
Yep….Flight 428 has been a good flight….very good actually!!!
Jon/Dad
Jon Robinson
This is My Story // Jon Robinson